Melbourne's Best Kept Secret
By Ivor Craine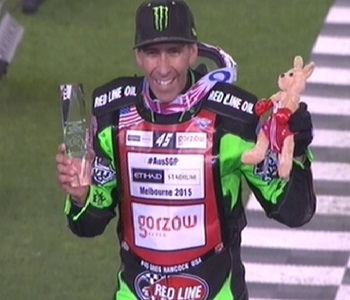 Melbourne GP Winner - Greg Hancock
The chance to break the record for the highest number of spectators at a Speedway GP was sadly wasted in Melbourne on Saturday October 24. Unlike the Edinburgh Tattoo which is scheduled for February 2016 at the same stadium and has been advertised nightly on TV since last August the Speedway GP was not advertised on either on TV or local sports radio.
Despite this, over 26,500 spectators attended, however they were all diehard motorcycle enthusiasts, many from other cities, and the general sports mad public of Melbourne were totally unaware of the event.
I have spoken to a number who claim they would have attended if they knew the event was on.
Another example of the promoters lack of expenditure was the facilities for transporting injured riders which can only be described as pathetic:- a stretcher overhanging the back of an open short tray utility.
However there was a big plus for the meeting in that the track preparation could not have been better, far and away the best temporary track I have seen, and this created some great racing and a worthy winner in Greg Hancock.
This article was first published on 25th October 2015
---

Jack Babrovskie:

"I have to bow to Ivor's local knowledge I suppose, but during the television commentary Jason Crump made several complimentary references to the RACESAFE medical team that he stated attended all motor sports events in Australia. Apologies if Ivor has a different view of their capabilities, but Crumpy was impressed anyway."
Roger Stevens:

"Have to agree 100% with Ivor's comments on the Aussie GP.....perfect summation. A real shame but they have a four years left on this contract to correct the misgivings, hopefully they will do so."
Graham Mitchell:

"They must of allowed the price of three ticket-sales to cover the cost of advertising, also no live commentary during the heats, should of bought out the English pair that do a top-job."

[ Use Mobile Version ]

Comment on this Article | Contact Us | Go Back to Main Menu