Middleton Mystery Resolved
By Tony Webb
"What happened to Garry Middleton?" Whenever speedway folk meet this is often a conversation topic. At last the truth on his resting place known, through an amazing set of circumstances, Christmas Eve saw me in a Brisbane cemetery where I took the photos that ended the years of myths and mystery.
"Garry Middleton passed away on November 23 1994. He lays at rest with his mother and stepfather in a secluded part of a Brisbane cemetery".
I have been researching the Garry Middleton story for six years, the trail took me from England, to New Zealand USA and back to Australia.there were many twists and turns. Little did I know that all this time Garry was at rest in my local cemetery, a place where I had attended the funerals of Syd Littlewood and Jeff Ryrie in the last year, and in fact sat in an area only metres from Garry's grave!
The closure came a few days ago with another set of amazing facts. Allan of SpeedwayPlus, who had run my Garry Middleton story three years ago, forwarded a message advising me to contact Martyn Adams, son of Halifax identity, the late Doug Adams. Martyn who now lives in South Austraila where he runs an engine restoration business, is a Garry Middleton admirer. Now the story gets even stranger, Martyn had attended the Brisbane funeral of former Halifax rider Rob Ashton in early December. I was also there, we must have rubbed shoulders, but never met! Whilst in Brisbane Martyn discovered the whereabouts of Garry's resting place but ran out of time to check out the finer details.. I took up the trail, visited the site which is only 5 minutes from my home and took the photographs. I then enlisted the help of John Williams who is good on family history, to check out the dates on the headstone.
The final result is a great co-operation by dedicated speedway folk around the world. As far I am concerned this is closure, he is at peace.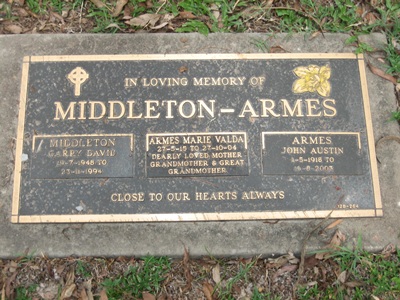 Click on picture for larger version
The words on the headstone state
"Close to our hearts always"
© Tony Webb 25-12-2011
---

Stephen Roberts:

"Tony, Thank you so much for confirming Garry's death and final resting place. He was one of my first heroes and it's very sad indeed that what was rumoured was actually true. R.I.P."
Tony Mac, Retro Speedway:

"Excellent work, Tony. Well done."
Andy:

"Thanks Tony for closing the chapter on Garry. I only saw GM a few time at Hackney from bend two near the supporters shop, and that would have been in the early 70's."
Peter Jackson:

"Thank you for the research that was undertaken in discovering the death of GM. Is the cause of his demise known?"
Norman Gordon:

"I always wondered what happened to Garry Middleton. Now I know, what a shame. This site is very good, many thanks."
Geoffrey Ward:

"I remember that season of 72 at Sandy Lane, Garry was on fire that year, may he rest in peace."
Ken Howes:

"Close to our hearts always indeed. I followed Hackney and West Ham during the late 60s up to 1976 and, latterly, my now local club Newcastle from 1990 to 2003. Of all the riders I've seen Garry is my favourite and I find it sad that he died at such an early age but sadder that he never realised his true potential. I've been lucky to have seen many wor ld champions at club level and for my money Garry could have been a contender. R.I.P. mate."
Sue:

"So sad to read Garry died at such a young age. My sister and I met Garry and his wife Ann at Belle Vue when we was on a coach trip with the Hackney supporters. They ended up driving us home. Such a lovely couple. "

[ Use Mobile Version ]

Comment on this Article | Contact Us | Go Back to Main Menu