The Molyneux Mystery
By Ian Gill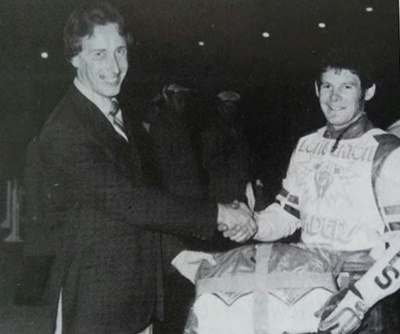 With the dark, winter evenings now well and truly upon us, hopefully the Speedway Plus readership can help solve a bit of a "Who dunnit" or in this case a "Who is it"?
I've provided a 'short' and a 'long' version of the conundrum!
Short version. Does anyone know who the well-dressed guy in the photo making a presentation to Long Eaton's Alan Molyneux, is? The photo appeared in a Station Road programme for the Best Pairs Handicap meeting on September 22nd 1982.
The caption reads "Last week's (v Exeter) presentation to Alan of a new set of leathers especially for Wimbledon."
The long(er) version.
I have the privilege of being good friends with Alan - one of my true Station Road heroes during his two spells - and I love to hear his recollections of riding for Long Eaton (and about his career in general).
"Do you remember when........?" is my well-worn phrase, and fortunately, he's got a great recollection of his speedway years to usually provide me with an anecdote or some information from 'behind the scenes'. However, occasionally I'll come up with something that he's completely forgotten about which stumps him and that's why I'm writing this piece.
It all started when I was re-reading my Invaders' programmes from 1982 and I saw the attached photo. I must have seen it many times over the years but this time the fact that Alan was in his mid-70's TMS sponsored red/white/black leathers posed a query. I certainly couldn't remember him using them during that 1982 season, so I messaged him to ask why they had made a re-appearance and, as a supplementary question, could he remember receiving a new set of leathers as a perk of topping the averages and qualifying for the National League Riders' Championship?
Alan, unsurprisingly, couldn't remember wearing the leathers and why they had made that re-appearance! He did confirm that he only ever had one set of those TMS leathers and had used them from 1974-76 (at Long Eaton/Stoke/Coventry) when riders tended to make things last just that little bit longer and didn't require six different race-suits per season.
The real conundrum was that Alan had no recollection at all of 'the handing over of the new leathers' occasion and as he said, "Presentations to me at Long Eaton were such a unbelievably rare happening, you'd think I'd easily remember them all!"
As we discussed the photo further, Alan recalled that he'd certainly never been given a new set of leathers for the Riders' Championship and that on closer inspection, we wondered if the package might have been a new kit-bag or similar? Whatever it was, neither of us was any the wiser.
I have delved deep into my memory but simply can't recall the occasion either and, as I used to stand at the starting gate every week - where the presentation is being made - (and being the 'Long Eaton Anorak' that I am), I'm as baffled as Alan is!
The guy making the presentation is certainly not dressed as 'your average 1980's speedway fan' and would appear to perhaps be the sponsor of the presentation. Neither Alan nor myself recognise him and, in a bid to shed some light on the occasion we have made numerous enquiries of Long Eaton personnel from that era, supporters and - as Long Eaton were regularly involved with Radio Trent at that time - I have contacted one of the long-standing presenters, (and Radio Trent historian) David Lloyd to see if he recognised our 'mystery person'. Unfortunately, all the enquiries have drawn blanks!
It's been bugging me - and perhaps more so Alan as we have photographic evidence of him being there! - for a few months now, so we're just hoping that someone out there in Speedway Plus Land can solve the mystery or at least point us in the right direction to identify the mystery man. That would be brilliant.
This article was first published on 22nd December 2019
[ Use Mobile Version ]
Comment on this Article | Contact Us | Go Back to Main Menu