Good Ole Days Once More....by Burt Tyrell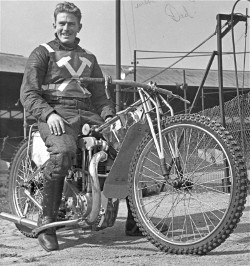 Eric Chitty
I was pleased to hear that my 'tales of woe' were not as boring as I might have thought! Thanks to all for the feedback. I am sorry for the delay in more of Speedways memoirs but I have been very busy here in Thailand, however let me see what my memory brings up.
The good ole days for me was of course Rye House and of course my hero of that era was Dicky Case. Rye House was in those days a very rough and ready track, but enjoyable to ride as were most of the training tracks those days, by the way, I have remembered the trainer's name, it was the good old Canadian Eric Chitty.
There were no sponsors to turn to for support as there are today, of course money was rather scarce we had to rely on our speedway earnings for everything. Oh yes I nearly forgot , the changing room at Rye House was a small wooden shack situated near the pits and when one was changing many female eyes were to be seen peering through the knot holes and various cracks in the timber slats. I don't need to say what they were looking at or hoping to see, it wasn`t autographs I can assure you.
How times changed when I went to Harringay with good changing rooms, hot showers and a silky smooth track , where you could take a big handful of throttle without the worry of deep ruts and of course the safety fence of corrugated steel and spectators getting as black as the riders. Rye House was one of the old dirt tracks as they were called those days, what a difference to the new tracks covered with the new medium called shale.
I am sorry but when I was attending the meetings at Hackney Wick Stadium in the thirties my memory does not store the various happenings but with my rattle and black and white hat I could sit on the rail and cheer like mad, my age then was around 7 years old. I believe that the Wick opened around 1932.
I was very unfortunate in as much that my career in speedway started just before the sport slumped and of course a lot of clubs were 'hanging their boots up' so I had to go back to work in London and at that time I was riding at the Swindon Robins track in Wiltshire. By the way does any one out there remember the Speedway shop in Tottenham, I think was called Victor Martins where they had a very good mechanic, an elderly gentleman whose name escapes me. During the season he used to tune the J.A.P motors for quite a few of the top riders in the sport and in fact was so busy that he had a bed in the workshop and had to grab the odd kipping hours whenever he could, such were the days of old.
I can remember an incident which at the time was not at all amusing. I was with the Robins at the time and had a second half booking at St Austell in Cornwall, and I was unfortunately racing the night before in Swindon, this meant that I had to drive to the far end of Cornwall as soon as the Swindon meeting had finished. At around 3 a.m I was driving across Dartmoor when bang went my half shaft, I pondered a while and way in the distance I could see signs of habitation in the form of a vehicle. What luck, when the lorry got near I beckoned him to stop which he did, he was trunking milk to Exeter. The driver of course knew the road well and said that we were not very far from a garage which had many old broken vehicles. The driver then offered me a lift so I readily accepted and off we went. Having got to the garage, I then had the task of awakening the owner for help, this I did and eventually a pyjama clad figure appeared. Under the circumstances he was very helpful and agreed to help. Having given him the details of my van he exclaimed that we were in luck as he had a vehicle being broken up of the same variety as mine, we then got to work and removed the half shaft and luck was with us it was the same shaft as mine, we then went to the scene of the crime and remove the stub shaft and replaced the new shaft, a perfect match what luck we were having.
By then he knew that I was riding at St Austell and luck was with me once again, he was a very ardent supporter and when I was finally leaving he would not take any money for the job which was done but I made him accept and on my way I went with the man's intention of meeting me that evening and showing him around the st Austell track etc.
Well I could ramble on for more stories but it is time to close the 'Good Ole Days' and now sit back and relax a while here in a temperature of approx 110 degrees Farenheit / 45c. I hope that the ramblings of an old codger has given you something to ponder with.
This article was first published on 15th April 2010
---

Joy Holt:

"Your sister sent me the link to your article and I just loved it, especially the english accent. My brother used to do auto cross which was just as bad, but what a lot of fun we had, I like the good ol days. Thanks for a very good memory."

[ Use Mobile Version ]

Comment on this Article | Contact Us | Go Back to Main Menu