Speedway Plaque for Road Bikes
By Bill Hamilton
Mention has been made of the lack of 'bikers' attending the tracks, which made me remember this Glasgow MCC plaque / badge which could be fitted onto a motor-bike by putting screws into the 3 bored holes.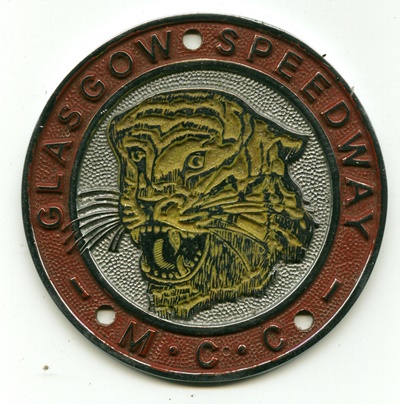 It's an unusual item which was made in the Clyde shipyards possibly sometime in the late 40's ( I can't actually recall exactly why or when it was made! ).
An interesting piece of nostalgia that you might not have seen before.
Measuring approximately 3.5" in diameter, about an 1/8th of an inch thick, silver colour on the reverse and made completely of an unknown ( possibly steel?) metal, ( which makes it fairly heavy compared to normal badges).
I think it would normally be bolted / screwed onto the side / front of a motor cycle.
I've seen similar for sale on E-bay but not for many years.
This article was first published on 21st January 2018
[ Use Mobile Version ]
Comment on this Article | Contact Us | Go Back to Main Menu