Riders to Remember....Murray Burt
By Tracy Holmes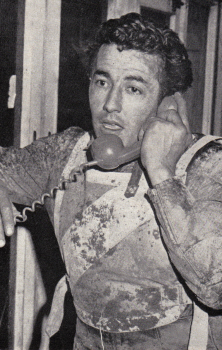 Murray Burt
Murray Burt loved the Speedway from his first taste. He would visit the Aranui track in his home town of Christchurch, New Zealand with his friend Wayne Briggs. He even got to push for Wayne's brother, Barry.
When the Templeton track opened in 1962, Murray was keen to get started. The following season, he had progressed to the A-grade and got to represent Canterbury. The 1965 season saw him rocket to local stardom, winning the New Zealand Champs, at Templeton, unbeaten from Allan Brown, Jackie Hart, Bruce Cribb and Freddie Timmo.
The 66 NZ Champs were held at the Waiwakaiho Speedway in New Plymouth. Bob Andrews this time scored the maximum and Murray was second with 13 points, ahead of Bryce Subritsky, Dave Gifford, Bob Duckworth and Bernie LaGrosse.
Convinced he had a speedway future, Murray set off to the UK in 67. He got to trial at Wimbledon, won a team place and went on loan to Newcastle. His British League debut season saw him ride 25 matches for the Dons, netting a 2 point average. While 6 matches for Newcastle saw an average of 1.7. To complement his income and finance his off season, Murray laboured on building sites, built fences and worked for a gas company.
The 68 season saw him stay with Newcastle, riding 19 matches, ending with a 2.2 average and in the 2nd division for Nelson, 15 matches saw an average of 8.7. In the Nelson Trophy, he was 2nd behind Reading's Johny Poyser. The 2nd Division Riders Final was held at Hackney and Murray blew his shot by falling in round two. He went on to score 11 points to finish 5th behind Graham Plant, Ken Eyre, fellow Kiwi Graeme Smith and Mike Handley.
For the next year, Murray fondly remembers how, although the racing was great fun, it was the friendships that hold the dearest place in his heart. Flatting with Terry Shearer, Gary Peterson, Paul O'Neil and Ole Olsen, they shared the good, the bad and Murray's cooking, him being delegated 'chief cook and bottle washer'. He also acted as driver for Ivan Mauger and Ole Olsen, carting bikes and picking them up from airports after Continental gigs. Torbjorn Harrysson was another friend who wanted Murray to follow him to Sweden and drive snowplows in the winter. Yes, Murray was thoroughly enjoying himself.
In the 69 season up to August, he had ridden 13 matches for Newcastle, for an average of 3.2 and 11 matches for Nelson, 8 points his average there. Then, a smash resulted in a broken femur and 5 months in hospital and 2 operations! He eventually returned to New Zealand where back at Christchurch, he needed a further 3 operations to "fix what cock-ups the poms had made!". This resulted in physio sessions, every single day for a year and a half!! And while this ended his career on two wheels, an offer he couldnt refuse saw him return to the track on four.
Midget cars were and are huge in this part of the world. For the 1970-71 season, Murray was offered a sponsored car, the works. All he had to do was show up, get changed and drive. This he did and Murray got very good at it.The 72-73 season saw the NZ Champs at Templeton and Murray got third behind the legendary Barry Butterworth and local ace Edwin Murray.
The following season at Western Springs, Auckland, he was 3rd equal this time with Trevor Carnell behind the winner Trevor Morris and Leo Vercoe. He also got to represent NZ in a Test against Australia and while he top scored for the home team, the Aussies won. Murray finished that season as South Island Champion.
In the 74-75 season, he again represented NZ against Australia and the U.S.A. When the Woodford Glen car track opened, Murray again took up an offer to drive, this time Saloon cars.
Away from speedway, Murray has always been a dedicated family man, with a passion for gardening. His Avonhead home in full bloom has to be seen to be believed! He still has many friends from the speedway days, Ole Olsen just one of them. Murray and his wife looked after the Olsen's baby son for a few weeks while Ole toured Australia. They keep in touch today. And Bob Andrews with wife Lynda stayed with the Burts a few years ago when visiting Christchurch for Ronnie Moore's anniversary.
He holds no bitterness at how his speedway career ended. For a few short years, he lived a life that most could only dream of, and besides he jokes, "life is too short and you're a long time in that box!!!"
We want to feature similar articles on riders from any era of the sport's rich history. If you'd like to contribute a piece then email us at speedwayplus@hotmail.com or fill out our form here.
This article was first published on 12th June 2008
---

Phil Thompson:

"Good to read about Murray. I remember him as one of my favourite riders when I first started watching speedway. I always wondered what happened to him - now I know!"
Dave Gardner:

"Great to find out what happened to Murray after so long. Used to travel with him to Wimbledon away matches and help work on hs bike. Glad you are ok and wish you all the best. Keep well. "
Jack Lee:

"I rode at Nelson with Murray and the late Garry Peterson, they used to come to my house nearly every night in the close season and we had a great laugh offten playing my daughter's board games untill the early hours, mousey mousey was a big favourite. Burty was a very funny guy who always had us in stiches on a Sunday, when they came for dinner they would insist on New Zealand lamb. My wife Dianne and I still have good memories of those days in 1968/69. He never once got in touch after he returned home to New Zealand, that was a dissapointment as we got on so well. It was also very sad when Gary was killed he was a nice lad"

[ Use Mobile Version ]

Comment on this Article | Contact Us | Go Back to Main Menu