My Mate Alec
By Brian Buck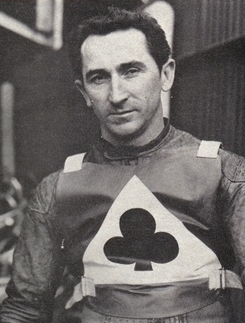 Sandor Levai
I have a fund of memories of Sandor Levai whom I first saw ride in 1957 and who later became a very good friend and allowed me the privilage of being Godfather to his son, also named Sandor. He was born in Debrecen Hungary's second city in 1934 and fled his home country after the Hungarian Revolution of 1956 when he and another speedway rider Zoltan Zeke, walked across Hungary to Vienna, and then came to England. Zoltan whom we all knew as Zolly, was quite a bit older than Sandor and although he had a few practice spins at Belle Vue, he was really too old to seriously contemplate a speedway career in this country, but Sandor (pronounced "Shandor") showed considerable promise before Belle Vue moved him down to Birmingham.
At Perry Barr he looked useful in second half rides, but his equipment was antique and at the time he did not have the financial means to do anything about this. Birmingham closed down in July 1957 and he then rode in second halves at Leicester for the next year before lack of funds forced him to give up racing. He lost all contact with speedway for a few years and was not aware of the formation of the Provincial League until he was told in 1963, by a casual acquaintance that the Stoke track was in operation so digging out his ancient bike which had been lying in the corner of a shed for five years, he went up to Sun Street and despite the poorness of his bike, he succeeded in making the Potters team only for the track to then close down!
He then did the rounds of second halving at various tracks before gaining a toe hold at Norwich where with some better machinery he confounded many people by holding his own in the National League, and when Norwich closed at the end of 1964 he returned to Belle Vue where he became a consistent scorer. Later, he did very well at Newport, Ipswich and Cradley Heath before Anno-Domini caught up with him and it was time to retire. A number of Second Division tracks particularly Ellesmere Port, tried hard to persuade him to drop down to the lower level but Sandor's pride would never let him do this.
It was to his enormous credit that after arriving in this country with nothing but the clothes on his back and unable to speak a word of the language, that he was able to not only make his way in speedway but was also able to establish a very successful car repairs business first in Birmingham and later in Sheffield. His Birmingham enterprise was in Bevington Road, Aston, just round the corner from Aston Villa's football stadium, and I have happy memories of calling at the premises on Saturday afternoons to chat about speedway with Sandor (who we always called "Alec" (Alexander being the English translation of Sandor) and his mechanic Laszlo Munkasci, as they prepared for their weekly trip to Belle Vue.
One Saturday, Alec was keen to be on the road to Manchester but was waiting for a delivery of some parts needed for a customer's car, so I offered to stay at the garage and wait for the delivery and then lock up the premises, switch off all the lights and then push the keys through the letterbox. I signed for the delivery, locked up and pushed the keys through the letter box as arranged, and then realised that I had forgotten to switch off the lights, so after trying fruitlessly for over an hour to hook the keys back out of the letterbox with a length of wire, I noticed that under the eaves of the garage was a fusebox, so climbing onto the garage roof, I reached down and pulled out the fuse. Immediately, the lights went out so very relived, I went home and rang Alec on the Sunday afternoon to explain what I had done. However, late on the Monday afternoon he phoned me at work to say that he couldn't find the fuse box I had told him about, so after work I went down to the garage to find that not only was the garage in complete darkness but so were all the houses on one side of Bevington Road - with an army of irate women clustered in the street blaming the City Council for what they thought was a power cut! Alec thought it was hilarious, but we said nothing, and after I had climbed onto the garage roof and replaced the fuse, we were able to bask in the glory being the blokes who had located the fault and put it right!
Alec was a hard rider but he didn't mind others riding him hard in return but one rider he couldn't get on with was Colin Gooddy with whom he had a number of hairy tussles over the years. In contrast, Alec's wife Ilse who was a very refined and very good looking German lady, and Colin Gooddy's wife were the very best of friends. One night at Wolverhampton, Alec and Colin Gooddy clashed on the track and after the race came to blows on the start line. Ilse and Mrs Gooddy, enjoying a drink together in the bar, looked at each other, shrugged their shoulders and said "let them get on with it - they aren't going to spoil our evening."
Alec had two weaknesses though, these being the women and the spirits. He and Ilse eventually parted and he then married a lovely girl from Sheffield named June, and moved to Yorkshire where he set up a new business "Woolley Wood Service Station" and he married for the third time when he went back to Hungary about ten years ago. Like most Hungarians, Alec was totally unreliable, but was always marvellous company and had an incredible sense of humour. He never lost his thick Hungarian accent and would bring a crowded pub to silence by loudly declaring that "there is too many bloody foreigners living in this country."
I still keep in touch with his son Sanyi who now lives in Thailand and his daughter Sarah who lives not far from me in the Black Country. I last saw Alec at Wolverhampton when he was helping his countryman Antal Kosco when he Kosco, was riding for Bradford, but I spoke to him occasionally on the phone after he had gone back to live in Debrecen. He never changed, and we always enjoyed a laugh about the old times. He was always one of speedway's characters and it was impossible not to like him.
Rest in Peace Alec my old friend.
This article was first published on 21st January 2010
---

Ged Howarth:

"Great story Brian, spent many happy times with Sandor, in Hungary at his sisters, Pardubice, at the garage with a pigs head in the pan, and at his home. Still have a Jawa I purchased from a corner of the garage. A man who always stood his ground, and a friend."

[ Use Mobile Version ]

Comment on this Article | Contact Us | Go Back to Main Menu