A Mystery Solved
We brought you the below picture and autograph a couple of weeks ago of a rider that Bill Hamilton had been trying to identify for nearly 50 years.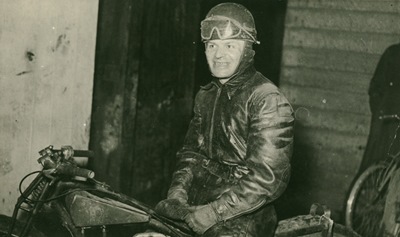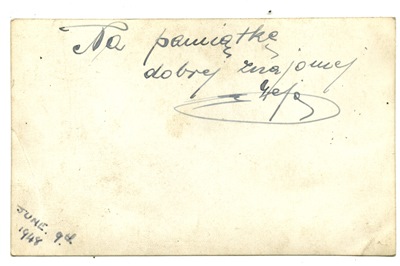 The only other clues we had were that it was taken in 1948 and there was a reasonable chance that it was taken at Glasgow.
Jim Henry from the fabulous Speedway Researcher website couldn't resist the challenge and turned detective. We think you'll agree his analysis looks spot on:
"I have looked at the writing on the back. The inscription and the date don't look to be written by the same person. The handwritten part appears to be a foreign language.
I think it's written in Polish as 'Ja = I', next word not clear, 'dobrey = good' and the last word I think is 'znajowej = (approximately) friend / s'.
About this time there was a Polish novice / occasional second half rider at Glasgow called Wilhelm Szeja.
The signature could be Szeja. This adds to my thoughts it is 1948 second halfer Wilhelm Szeja
I googled Wilhelm Szeja and came across an extract from The Edinburgh Gazette. By 1954 he had changed his name and was applying to become a British citizen. He was described as being a cabinetmaker with an address in Glasgow."
Many thanks to Jim for his diligent research. Needless to say, Bill Hamilton was delighted:
"Wow!! Less than a week on the website and an almost 50 year old mystery has been solved.
After looking at the Speedway Researcher website, I totally agree with Jim, it certainly seems to be the second half / novice rider Wilhelm Sjeza.( totally unknown to me and probably the majority of others )."
Any other mysteries out there that we can get speedway's very own Columbo to investigate?
This article was first published on 14th May 2017
[ Use Mobile Version ]
---

Dave Hitchen:

"Very interesting article on Wihelm Szeja . I have also done a search and came up with a birth and death record for someone of the same name.

Born 29 December 1909 and Died 1st April 1977. resting at Mikolow St mary's parish cemetery Wojciech.

Could this be the same person? I don't know but it would mean him being 39 in 1948, however the photo could have been taken much earlier."

Comment on this Article | Contact Us | Go Back to Main Menu