Mythbusters
By Tracy Holmes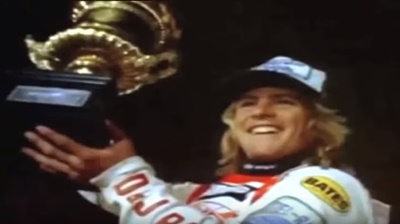 Bruce Penhall - Master of Speedway
Have you seen the footage from Hollywood? From the movie, On Any Sunday 2. View on You Tube (from 28 mins). Bruce Penhall winning the World's Master of Speedway series in 1979. It's classic stuff BUT, if you are into facts rather than fiction, this is for you. Not into 'Mythbusting'? Stop reading now.
The piece is set at Vojens on August 10. Round 3 of the series. So the fun begins with the American commentary. "Peter Collins looking for his 3rd consecutive Masters Title".
Well, 3rd sounds far more impressive than "second". But for the record, the Masters had only started the year before. But yes, Collins was the defending Champion. Now it gets into 'Fake News' like Donald Trump could only dream of.
The action starts at heat 3. The commentary picks up, "... Ivan Mauger, the 6 times World Champion out in front." Hold on, Ivan did not win his 6th World Title until a month later. Oh come on, it fits the story so we'll let that go.
Lets continue, "Penhall passing Mauger on the third turn, stunning him ... Penhall in front, Mauger second. Sweden's Anders Michanek and Michael Lee battling for third. In the first heat, Penhall ran away from the best riders in the world to take the chequered flag." WOW!!! Oh, hold up, wait a minute. The official result of heat 3? Bruce Penhall yes. But behind him? Tommy Knudsen, Hans Nielsen and Phil Crump. Say what??? Does it matter?
Where's Mauger? He was not only not in that race, he was not there at all! Ivan only rode in the Masters second round at Bremen scoring 6 points. Such was his lack of interest. He was not going to let this series or anything else interfere with his World Final aspirations. How that paid off! Where's Lee? He was there but he met Penhall in heat 7. Result; Collins, Penhall, Lee, Mike Lohmann. Where's Michanek ? He was there too but he met Penhall in heat 9. Result; Gordon Kennett, Penhall, Malcolm Simmons, Michanek. What I don't get, is why include Michanek in the line, "... from the best riders in the world"? Don't get me wrong. Anders was still a world class act. But why not Ole Olsen? He was afterall the reigning World Champion and he too was there on the night.
Lets continue with the movie, "It all comes down to the final race of the night. Penhall in the white helmet cover only has to finish 3rd or better to win the prestigious Masters title and take the crown away from Collins." This was heat 20 and no mention of his opponents, Ole Olsen, Alf Busk and John Davis. [ Result; Penhall, Olsen, Busk, Davis. ]
The action then goes into fast forward and makes this classic race look like a Mickey Mouse cartoon. It ends with Penhall holding the trophy after becoming 1979 World's Master of Speedway. Rightly so. No mention of Scott Autrey, the only other Yank in the Vojens meeting who actually scored 14 points, beaten only by Penhall and who won the meeting. And Autrey was third in the series behind Penhall and Collins. Well, there was no time and the piece was all about Penhall anyway so fair enough. And when it came to Speedway in California in those days, Autrey was not in the authorities good books!
So, all about editing. Oh dear me, who cares? Real speedway fans!!!
But I do understand that the speedway section of this movie was never pitched at real speedway fans, for the eyes of Joe Public only. True and Catch 22. Why? Because it never rains in California. This was Bollywood, I mean Hollywood and we all know that Hollywood movies based on facts are just that. And the word 'based' is so fake, it makes a Big Mac with fries look like a gourmet feast. Which it is in many third world countries.
It's a good thing that Penhall won the 1982 World Final. If he had not, 'CHiPs' would have made sure he did, that's for darn sure! All of this was such a long time ago and for speedway to feature in a movie, it had to be good. "For suuuure!" Any advertising is better than no advertising. Maybees. I just remember seeing this movie and knowing the commentary was bollocks, thinking that if Hollywood could cook this story, what else could they cook? The Profumo affair? Good heavens, what a Scandal!
This article was first published on 28th January 2018
[ Use Mobile Version ]
Comment on this Article | Contact Us | Go Back to Main Menu