Not The News Feed - 7th February 2016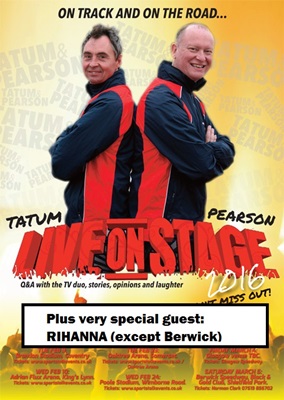 A tongue-in-cheek look at current speedway happenings.
Rihanna has been forced into an embarrassing u-turn after her eighth album ANTi limped into the charts at number seven. The Barbados born star has now reconsidered her earlier decision to snub a support role on the upcoming Pearson and Tatum tour. Initially the star had declared participating in the tour was "unnecessary", but dwindling album sales have highlighted the need for her to raise her profile and the upcoming tour by the ever-popular Sky television presenters offers that opportunity.
The organiser of the tour explained:
"We were always keen for Rihanna to participate, so it's great news that she'll now be tagging along. She'll perform a thirty minute set while the fans arrive, which will be ideal to get everyone warmed up for the lively evening of speedway banter ahead. She'll then return later in the evening to perform a greatest hits medley which we'll sandwich between the 50/50 draw and the update from the promotion".
"Due a prior engagement she's unable to perform the night we hit Berwick, but discussions with Wagner from the X-Factor are at an advanced stage and we're hopeful he'll plug the gap".
Programmes for the tour are available to pre-order and a special four-page "wraparound" to mark the addition of Rihanna to the bill will be available (for a small additional charge) on the night.
* * * *
King's Lynn Stars have been forced into a late team change after Simon Lambert withdrew from the side due to the number of fixture conflicts with his Premier League commitments. The Stars have turned to Terry Betts to fill the gap after successfully lobbying to have the 72 year old added to the Elite League draft.
Boss Rob Lyon said: "We looked at the draft list and there weren't any realistic options available to us. We asked for Terry to be included on the list and thankfully the other seven clubs were co-operative in that process."
* * * *
Relations between Scottish rivals Edinburgh and Glasgow hit a new low this week when the clubs refused to acknowledge the existence of the other. The teams have been locked in a bitter custody battle over Friday nights and have cancelled their traditional Spring Trophy curtain raiser.
The Tigers explained the situation thus:
"We were keen to open our season with a local derby but both Berwick and Workington were unavailable to visit us on our preferred date. Having exhausted all options we've therefore decided to invite Coventry Bees up for a glamour friendly to give our fans something a bit different".
When pressed on their relationship with the Tigers, a Monarchs spokesman said:
"I'm not going to talk about THEM. They've changed their phone number and un-friended us on Facebook. They'll probably block us on Instagram when they realise we can still see what they're up through that route."
Not to be out-done, the Monarchs are now making eyes at Belle Vue in the hope of enticing them north for an early season encounter. Their spokesman continued:
"They're definitely going to phone us and arrange something soon. We've kept our phone on so they can get in touch via text or can give us a call. Yes, I suspect we'll hear from them very shortly indeed. We'll maybe phone them 'by accident' later just to give them a nudge."
This article was first published on 7th February 2016
[ Use Mobile Version ]
Comment on this Article | Contact Us | Go Back to Main Menu