---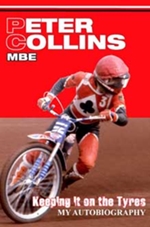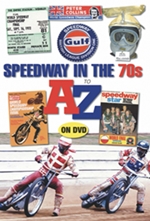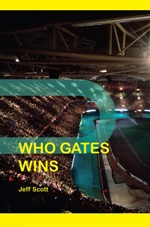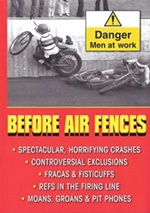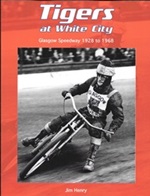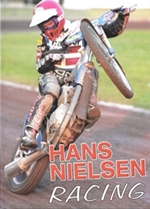 New Zealand 72/73
By Tracy Holmes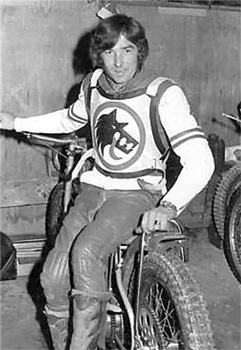 George Hunter
George Hunter came all the way from Scotland to join the ranks at Western Springs and certainly had Gary Peterson, Bob Andrews, John Goodall and Bryce Sutritzky shooting sparks off their steel shoes. Peterson was making his comeback after missing the British League season. [ see Riders to Remember ] Ian Ross was showing his improvement after a stint with Cradley under Andrews' wing. Mike Fullerton and John Roberts were not far behind.
Down South at Templeton, Ronnie Moore, Frank Shuter, Graeme Stapleton, Allan Brown, Roger Wright and Tom Black took the starring rolls with Ronder McKinlay and Stephen Foster proving ever so impressive. Gavin Rhodes, Dennis Sincock, Kevin Burt and Larry Ross also keenly making impressions. The South Island Final, with Moore a non-starter was won by Shuter who beat 'Stape' in the 1st place run-off. Tom Black got a shock as he was overtaken by Foster in the 3rd place decider.
With the British Lions on their way for a four match Test series, selectors were keen to see whose form would see them wearing the Silver Fern/ Kiwi jackets. A Test trial was held at Templeton and the home team thumped the visitors 53 to 27. Ronnie Moore and 'Stape' were an unbeaten partnership while Roger Wright stood out with 3 wins and a second to his partner Shuter. But Freddie Timmo, Gary Peterson, Bob Andrews, Lance Gandy, Dave Whitaker and Graeme Smith all tried hard, Timmo being their standout.
The NZ Championship was meant to be staged at The Springs on Saturday, January 27. However it was rained off and held on Monday 29th. Colin Farquharson was unable to get time off work and had to return home to Napier. Gary Peterson made his comeback complete as he was unbeaten to become NZ Champion. The almost overwhelmed hero told the crowd, "I am really very thrilled !"
1st Gary Peterson 15
2nd Bob Andrews 12
3rd Graeme Stapleton 12

Roger Wright 12, Bryce Subritzky 11, Mike Fullerton 9, John Goodall 9, Freddie Timmo 9, Ian Ross 9, Dave Whitaker 5, Tommy Sweetman 5, Rob Priestley 5, Colin Tucker 3, Cliff Anderson 1, Colin Fullerton 1, Raleigh Page 0. Res Eric Grayson 0. Res John Roberts dnr. Colin Farquharson unable to attend.
Nigel Boocock's Bombers, officially The British Lions arrived to take on The Local Yokels, officially New Zealand. The first Test was at Western Springs on Febuary 3rd and this turned out to be an epic battle with the result being unknown until the very last heat. Lions reserve Barry Thomas lasted just one race, falling on his already injured knee. He was off to Blighty the next day.
All 18 heats were full of drama and excitement. In the penultimate heat, Ronnie Moore and Graeme Stapleton held out Arnold Haley and Eric Broadbelt meaning that a last heat 5-1 would see a draw. This is how it went, heat 18, George Hunter gated just ahead of Gary Peterson who went wide allowing his team mate, Roger Wright to come into second, Chris Pusey at the back. Pusey and Peterson had a real ding-dong with Wright unable to challenge Hunter. Peterson held out Pusey but the win for Hunter saw victory for The Lions.
1st Test Western Springs Febuary 3

British Lions 56
Bob Kilby 12, Arnold Haley 12, Chris Pusey 12, Geroge Hunter 11, Eric Broadbelt 7, Nigel Boocock 2, Res Barry Thomas 0

New Zealand 52
Ronnie Moore 14, Bob Andrews 12, Roger Wright 9, Graeme Stapleton 8, Gary Peterson 6, Bryce Subritzky 3, Res John Goodall 0. Res Ian Ross dnr.
Now on the same night down in Christchurch, despite the acrimony caused by the previous season's debacle, they did it again ! They didn't just shoot Speedway in the foot, they blew its bloody leg off! World Champion Ivan Mauger, dethroned Champion Ole Olsen and old comeback warhorse Barry Briggs did 3 'races' all 'won' by Sir Ole. The less said about it, the better.
Normal transmission was restored 4 nights later when The Kiwis took on The Lions in a friendly match at the Ocean View Speedway, Wanganui. While I don't have any details, the home team won with a line-up of Ivan Mauger, Barry Briggs, Ronnie Moore, Gary Peterson, Graeme Stapleton, Graeme Smith and Lance Gandy.
The second Test at Templeton was a White-Wash to the Kiwis. Only Polkadot Pusey put up a spirited fight and caused a sensation in heat 3,
Chris Pusey took Ronnie Moore and Graeme Stapleton by surprise. Stape had the lead with Mirac second when the Lion pounced, coming off the south bend in a blinding prey attack. He shot between the stunned Kiwis and gave them a right old mauling!'
This was THE highlight of the evening.
2nd Test Templeton Febuary 10

New Zealand 77


Ivan Mauger 18, Barry Briggs 17, Ronnie Moore 15, Graeme Stapleton 11, Roger Wright 9, Frank Shuter 7. Res Stephen Foster dnr. Res Ronder McKinlay dnr.

British Lions 31
Chris Pusey 11, Eric Broadbelt 9, Nigel Boocock 6, Arnold Haley 3, Bob Kilby 2, George Hunter 0.
Test number 3 was back in Auckland, booked for Febuary 17 but this was rained off and held Febuary 19. And it was another cliff-hanger with the lead changing hands numerous times. In the end, The Kiwis needed a 5-1 from the last heat and what happened?
This was a sensational affair. Pusey & Hunter V Moore & Stapleton. From the start it was Moore and Hunter. On the second turn, Stape went underneath Hunter and then went straight up the concrete cycle track, making no attempt to turn, almost putting Hunter off. The Scotsman took evasive action to avoid disaster while Stape took off after Mirac. Pusey avoided the havoc while Hunter coasted down the finishing straight and stopped his bike on the line. Lions team manager Colin Tucker pulled George and his bike off the track as the race continued. On the third lap, a fired-up Pusey got between the Kiwis and as the crowd went wild, a blanket could have covered the three. One last lap saw them all together and as they came out of the last bend, Moore edged ahead to win with Stape holding second, half a wheel from his Lionhearted opponent.
That gave the Test to New Zealand 55-53 BUT, The Lions protested that result. Hunter claimed that Stape rode dangerously and had nearly caused an accident which is why he pulled out of the race. After a very lengthy and heated debate, Hunter's protest was upheld. Stapleton was excluded for unfair riding and had his points deducted. This meant that the final score for heat 18 was NZ 3, Lions 2 which saw the overall result; Lions 54, New Zealand 53. What a night, what a Speedway meeting, The Real Deal in the heat of the arena where there is much weeping and gnashing of teeth. No humbug with this one!!!
3rd Test Auckland Febuary 19

British Lions 54


Bob Kilby 15, Arnold Haley 14, Chris Pusey 9, Eric Broadbelt 8, George Hunter 8, Nigel Boocock 0. Res Tommy Sweetman 0.

New Zealand 53
Ivan Mauger 15, Graeme Stapleton 12, Ronnie Moore 11, Gary Peterson 8, Roger Wright 4, Bob Andrews 2, Res Bryce Subritzky 1. Res Ian Ross dnr.
Taking a break from Test action, the Western Springs faithfull were treated to an 'Air New Zealand Super 6' on Febuary 21. Ivan Mauger, Ole Olsen, Ronnie Moore, Barry Briggs, Bob Kilby and Jim Airey. Those last two would ensure that this would be no paid practice. Kilby confirmed that by winning the first race in a photo-finish from Olsen. While he was unable to keep it up, it set the tone for a very entertaining evening. After 6 real races, Mauger and Olsen tied on points but Ivan won on countback. Two wins each but Ivan had three second places to Ole's two. With the Dane all changed into civy clothes and a taxi waiting to whisk him to the airport, there was just enough time for the presentation snaps, Briggo joining in being 3rd.
Back to the Test series and it was off to Upper Hutt and the Te Marua track out in the countryside for the Febuary 24 fourth Test staging. New Zealand needed to win and draw the series, they did just so, easily. Only Pusey and Broadbelt shone for the visitors which reflected in the scorechart.
4th Test Upper Hutt Febuary 24

New Zealand 67


Ivan Mauger 18, Barry Briggs 16, Ronnie Moore 11, Graeme Stapleton 9, Graeme Smith 9, Lance Gandy 2. Res Freddie Timmo 2.

British Lions 41
Chris Pusey 14, Eric Broadbelt 12, Nigel Boocock 8, Bob Kilby 7, Arnold Haley 0, George Hunter 0. Res Tommy Sweetman 0.
The following day, Sunday Febuary 25, the Ocean View Speedway at Wanganui hosted an evening of the Stars. An interesting track with one wide, sweeping turn down to a sharp hairpin at the other end. Roger Wright said it was like you almost had to change down 3 gears to get around! Mauger, Briggs and Moore were joined by Pusey, Gary Peterson, Roger, Frank Shuter, Graeme Smith, Lance Gandy ... and even Christchurch riders Merv Salt, Graeme Stewart and Paul Fewings. In just his second season, it was young Paul's first Speedway trip away and he certainly had his eyes opened, wide! He recalls,
"It was so bloody cold, Ronnie kept his helmet on all night !"
He also remembered the practice session and Briggo's sage advice,
"aahhh just f**kn screw it on ..."
On the night, the slick track provided many a thrill, Pusey in particular pulling off some desperate manouvres and overall, it was a wonderful entertainment package for the very appreciative locals.
Tuesday 27th saw the crews converge on the Palmerston North Showgrounds, for The New Zealand Open Championship. The World Champion Ivan Mauger came into his own and won with a splendid 15 point maximum. Gary Peterson was second with 14. The NZ Champ caused the main controversy of the night. In round 2, he stayed on the startline as the raced started. The ref stopped the race and ordered all four to start again. Ivan was unruffled and beat Gary at his own game. Then he did it again in round 3. Ronnie Moore was so annoyed, he refused to do the restart. Round 4 saw a clean start but Gary and Briggo made contact, sending Barry into the fence. Again, all 4 lined up and this one proved the race of the night as the lead changed hands many times. At the chequered flag, Gary beat Barry!
Ivan Mauger 15, Gary Peterson 14, Briggo and Chris Pusey 12, Ronnie Moore 9, Bob Andrews 9, Bill Andrew 9, Roger Wright 9, Graeme Smith 7, Frank Shuter 6, Freddie Timmo 4, Graeme Stapleton 3, Stephen Foster 3, Res Merv Hodgson 3, Mike Fullerton 2, Lance Gandy 1, Ronder McKinlay 1.
Wednesday 28th, it was over to the East Coast's, Awapuni Speedway, Gisborne. For his efforts the previous night, Gary Peterson was sin binned and didn't get to ride against the Big 3. But what a brilliant spectacle! Those 4 with Freddie Timmo, Dave Whitaker, Colin Farquharson, Graeme Smith, Bob Andrews, Ian Ross, John Goodall, Mike Fullerton ... all putting on a brilliant show, the likes of which would never be seen there again. Peterson rode so hard, he busted his steel shoe in half! He walked into the pits, a huge grin on his face with one piece in each hand, Mauger just shook his head! Some magical moments will stay with you forever!!!
Thursday March 1, Napier's Meeanee Speedway did it in grand style, hosting a 20 heat 'Speedway Spectacular'. And what a show it was! With one race to go, no places decided, all on 12 points after 4 wins each were the Big 3 and the home favourite, Freddie Timmo. Heat 20, Mauger and Briggs swapped the lead throughout as Moore did his best to hold out Timmo. On the last corner, Briggo just got his wheel in front to win his first trophy since the Wembley crash.
Barry Briggs 15, Ivan Mauger 14, Ronnie Moore 13, Freddie Timmo 12, Ian Ross 9, Bob Andrews 9, Merv Hodgson 9, Lance Gandy 8, Mike Fullerton 7, Dave Whitaker 6, Colin Farquharson 6, John Goodall 5, Paul Walch 3, Noel Suckling 2, Rod Short 1, Malcolm Chambers 0, Mark Sylvester 0.
Saturday March 3 and Templeton presented the 20 heat 'Cooper Henderson Motors International'. The Christchurch Speedway Association seemed determined to make up for the Febuary farce and this was a good step. Not without their problems, efforts to secure Billy Sanders, Bert Harkins and Phil Crump all eventually came to nowt. Never mind, the meeting went ahead with Chris Pusey representing England, George Hunter Scotland and Greg Kentwell Australia. And it was a magnificent spectacle on a sunny afternoon with every competitor giving their all for the sellout crowd. All four reserves got three rides each!
The meeting would be won on heat 19 with Mauger and Briggo unbeaten, winner take all. Here's how it went, the first attempt to start the race was a disaster. Russell Lang, 'Mr Templeton' and ACU steward, ordered all motors to be stopped while he read the riot act to Mauger. Pure theatre! If it was staged, the effect was spot on as the crowd went wild! In the re-run, Mauger made the gate but Briggo never said never. They fought a neck and neck duel but Ivan had the final edge. A real meeting with real hardout racing. No-one went home dissapointed. Now that's what Speedway is all about!!!
Ivan Mauger 15, Barry Briggs 14, Ronnie Moore 13, Chris Pusey 12, Graeme Stapleton 11, Frank Shuter 10, Graeme Smith 9, George Hunter 8, Stephen Foster 7, Greg Kentwell 6, Gavin Rhodes 3, Merv Salt 3, Alan Brown 2, Paul Fewings 2, Larry Ross 2, Ronder McKinlay 1, Roger Wright 0, Graeme Stewart 0, Dennis Sincock 0.
Sunday afternoon, March 4. Mystery Creek near Hamilton saw the last meeting of the tour. Despite the early morning flights and roadtrip, all the lads put on a good show. Briggo took the top honours from Ronnie and Chris Pusey. The hungover and sleep deprived Mauger cruising into 4th. Gary Peterson, Greg Kentwell, Bob Andrews, Ian Ross, Mike Fullerton ... all turning it on in the afternoon sunshine for the appreciative crowd on their blankets, hooking into their picnic baskets. Speedway magic!
New Zealand fans had certainly enjoyed a feast! Us youngsters could all fill our scrapbooks and put our autographed posters on the walls. Dreaming of what we may expect next season. Aahhh the methanol fumed memories!!! Now it was time to dig out the Brittons models, each lovingly preserved and the dice with only 6, 5 or 4. Set up the track on the dining room table with mum's green placemat as the centre green. An elastic band for the tapes and they were off ...
This article was first published on 4th May 2014
---

Mike Wilson:

"Fantastic as always Tracy. I was about 6 years old back then living in Auckland with Mum/Dad and I still have some great memories of those meetings and the absolutely huge parties afterwards. Thanks for the article."
Paul Goodwin:

"I went to the meetings at Wanganui and Upper Hutt recorded here. Unfortunately finding out about meetings in NZ was not easy as publicity seemed to be limited to the towns putting on the meetings and we didn't have an internet in those days. Had I known about the meeting at Palmerston North or even Gisborne I might have gone. Word of mouth or being well connected was probably the only way to know about who rode where and when in those days. I only lived in NZ from 71-73 so was lucky to see meetings at Western Springs, Kihikihi, Templeton and those mentioned earlier, I drove past Napier once to see what the track looked like but there was no meeting as far as I could tell. Yes, the Wanganui meeting was superb.I wished I had been able to go to New Plymouth as well as Palmerston North and Napier/Gisborne etc. but it's too late now! "

[ Use Mobile Version ]

Comment on this Article | Contact Us | Go Back to Main Menu