New Zealand 73/74 - Two Ducks and a Circus
By Tracy Holmes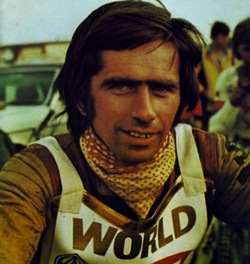 Edward Jancarz
After a super-sensational UK and European season, we could only dream of what was in store. And the British Lions tour was going to be FAB! Fearless Fearman's Ferocious Feasters taking on the Keen-as Kick-ass Kiwis, what a delight! Nigel Boocock, Peter Collins, Jim McMillan, Reg Wilson, George Hunter, Eric Broadbelt and Doug Wyer WOW!!!
Then came the news, 'The British Lions tour has been cancelled.' Why? I didn't know then and I still don't know, care even less. I believe it was something to do with insurance ... We would however get to see the Lions eerrr, but only just. More on that later. AND a lifeline was thrown in the form of a proposed tour by a British League squad featuring John Louis, Chris Pusey, Bert Harkins, Tony Lomas, Pete Smith and Kevin Holden. A fresh team in the country taking on the locals in the new year would be just the ticket! The excitement train was back on the rails!
In November, a mini test at Western Springs whet our appetite, NZ V OZ. Ronnie Moore and Graeme Stapleton took on Jim Airey and John Langfield. Only 4 races would decide the outcome;
Heat 1. Airey, Moore, Langfield, Stapleton.
Heat 2. Moore, Airey, Stapleton, Langfield.
Heat 3. Moore, Airey, Langfield, Stapleton.

With the score at 9 all, here is how the decider went, Airey got a great start with Langfield right behind him. Moore then took Langy on the outside in the first lap and went after Jimbo. Langfield then broke down. As the crowd cheered excitedly, Ronnie got up alongside Airey only to drop out with engine failure! Stape tried hard to catch up but the evergreen kangaroo took the chequered flag;
Heat 4. Airey, Stapleton. Moore e.f. Langfield e.f
That gave the visitors victory by 12 points to 11. Great entertainment that ended with a Big Six Scratch, won by Jim Airey from Stapleton, Bob Andrews, Ian Ross, Langfield and John Goodall.
Missing from the action was the reigning NZ Champion Gary Peterson. Now we know Gary had returned to live and work but what we don't know is why he stopped riding. If you do, please let us all know. This season was much the poorer without him. Napier had Freddie Timmo and Colin Farquharson heading the solo section and when they travelled up to Gisborne, it was such a delight for the wide eyed locals.
Down in Christchurch, Ivan Mauger arrived at Templeton with those iconic Circle Industries, red white and blue leathers. He may not have been World Champion but my goodness, he was still the sports ultimate Super Star! He took on the locals Ronnie Moore, Graeme Stapleton, Roger Wright, Allan Brown, Graeme Stewart, Stephen Foster and Tom Black. And he didn't have it all his own way as Ronnie beat him in the Super Six Scratch with Stape 3rd.
Ronnie and Ivan were at Western Springs on November 24, this time Ivan had the night all to himself. Bob Andrews, John Goodall, Mike Fullerton, Ian Ross, Bruce Mitchell, Paul Jensen and Paul Church all enjoyed the evening and having a taste of Ivan's back wheel. And what an experience for Church, a raw novice in only his third meeting! The Super Six Scratch finished Ivan, Ronnie, Ian Ross, Andrews, Goodall and Mitchell.
Brit Mike Hiftle later joined the ranks in Auckland while Malcolm Brown got to mix it in Christchurch.
On December 8 at the Springs, Bob Andrews was involved in THE most spectacular crash ever seen there. What happened? It was the A Grade Scratch Final, Bob lined up alongside John Goodall, Robin Fullerton, Mike Hiftle, Ian Ross and Mike Fullerton. Here is how one newspaper reported it;
'From the gate, it was Mike Fullerton and Goodall with Andrews right behind. On the second lap going into the Pine Tree bend, Fullerton fell. Goodall laid his bike down as Andrews tried to avoid them by riding around toward the concrete cycle track. But Bob hit Goodall's bike at full speed and he was hurtled towards the fence. Like a rocket off a launch pad, Bob and bike went up the fence. Shocked spectators gasped as the bike stopped with Bob being flung over the fence and down six feet on to the terrace.'
Bob somehow survived this horror smash with his pelvis broken in four places, the base of his spine broken and a broken foot. His season was over and so were his riding days. Or so we all thought!
Then came more bad news;
'The tour of NZ by an English team in January and February has been cancelled by the Kiwi promoters. The decision was relayed to the six riders a week before they were due fly out from Heathrow. The NZ authorities reluctantly came to their decision after the insistence of the Control Board in England that the riders could not perform together as a team in any shape or form. Allied to the threat of fuel restrictions in Febuary, it was decided that the expense of importing six riders from England could not be justified.'
Speedway Star reported, 'It was a bitter blow for Louis, "I was really looking forward to the trip. It was ideal in every way." So, once again the public missed out on something very special.
That disappointment was blown away by the announcement, "Roll Up, Roll Up to see the greatest speedway show on earth. Ivan Mauger and Barry Briggs present The World Champions Speedway Series. Roll Up, Roll Up ..."
Yes, Mauger, the 'Star Turn' and Briggs, the 'Ring Master' had been cooking up this Circus for ages and here it was. The line-up was;
Ivan Mauger, New Zealand.
Ole Olsen, Denmark.
Barry Briggs, New Zealand.
Ronnie Moore, New Zealand.
Ove Fundin, Sweden.
Zenon Plech, Poland.
Edward Jancarz, Poland.
Antoni Woryna, Poland.
Jim Airey, Australia.
Scott Autrey, USA.
Chris Pusey, England.
Bert Harkins, Scotland.
Ove Fundin? For real? No Anders Michanek, Christer Lofqvist or Tommy Jansson? Just how would the long since retired, 5 time World Champion go in such company? Well, more to come.
Airey was replaced by fellow Aussie Gary Middleton while Woryna, already on tour of Australia, did not join the NZ series. Where was the World Champion, Poland's Jerzy Szczakiel? The man who had thrashed Mauger twice at the World Final to relieve him of his World title? He had been invited but the Polish authorities refused him permission to leave the country. Why? This humble hero had a deep faith that he retains today. His views back then did not always line up with the Governments. Reports that he was ill and unable to travel may or may not have been that accurate.
Auckland would not get to see 'the troupe'. Mauger put out the following statement,
"Even after the World Series guaranteed them a handsome profit and agreed to take all the financial risk, the Auckland promoters still denied the Auckland public the opportunity to see the greatest speedway racing ever to come to the Southern Hemisphere."
Well Ivan would say that wouldn't he?! Was he proved right? mmm naa ...
The show had a warm-up at Palmerston North. Some of the troupe were on show, an International Pairs event where Fundin was replaced by Aussie Ace, Bob Valentine. Jancarz teamed up with local star Robin Adlington to take the top honors while Plech and Valentine stood out as the most spectacular performers.
Back in Christchurch on January 19, the NZ Championships saw Mauger take the title with a 15 point maximum from Ronnie Moore on 14. Barry Briggs 13. Jim Airey 12. Graeme Stapleton 11. Roger Wright 10. Allan Brown 9. Max Brown 6. Stephen Foster 5. Tom Black 5. Kevin Burt 5. Barry Read 4. Paul Fewings 4. Graeme Stewart 3. Malcolm Brown 1. Gavin Rhodes 1. Merv Salt res 1.
The North Island 'no show' was a shame because John Goodall, Ian Ross, Mike Fullerton, Robin Adlington, Graeme Smith, Freddie Timmo and Colin Farquharson would certainly have spiced up the dish. Still, it was a hard fought battle with Mauger having to pull out all stops especially against Moore and Stapleton. A real speedway championship with real racing, real action and oh yes, the real deal.
The Big Top opened officially on January 23, 1974 at Templeton, Christchurch which was at the same time hosting the Commonwealth Games. This was the biggest solo night ever hosted [ no, not the most important ] and the over capacity crowd were treated to all the fun of the fair. Mauger was the unbeaten master while Graeme Stapleton kept everyone honest and thrilled his home fans by coming second in the Grand Final ahead of Ole Olsen and Briggo. Yes, Stape was racing his heart out and he made his guest appearance a Kingly one indeed! Roger Wright enjoyed lining up as reserve. All the others looked the part but as expected, Fundin struggled to stay on the pace. Ove really was not fit enough for this and he had been ill back home in Sweden before the tour. Still, here he was! Sadly, for Stapleton this was his one and only appearance. Plech and Jancarz were a little uncomfortable riding in borrowed gear but all was well for Round 2.
Te Marua was the host venue and another massive crowd enjoyed the fun which was only marred by many bike troubles. Zenon Plech stole this show winning 5 out of 6 heats including the Grand Final from Olsen, Mauger and Middleton. Robin Adlington was 12th man and enjoyed two 2nds and a third with reserve Graeme Smith.
Round 3 was at Palmerston North before a disappointing 6,500 spectators. Perhaps that warm-up meeting wasn't such a good idea after all. Adlington and Smith again making up the field. Former NZ Champion and promoter Ray New introduced the field and told the crowd, ".. in fact the only difference between Wembley and tonight is that we have 12 riders and not 16."
The bikes gave a lot less trouble here but Ole Olsen broke down leading his Semi-final. Gary Middleton took Mauger from the back in the next Semi, knocking Ivan out and he was not a happy Super Star! The Grand Final was a cracker with a right old ding-dong between Moore and Briggo. The crowd enjoyed it as much as they did with BB just getting home ahead of Ronnie with Middleton third and Plech. As at Templeton and Te Marua, Ove Fundin was a shadow of his former self. Still, just seeing this track colossus in sparkling leathers and riding a speedway bike was a sensational thrill, getting his autograph was like 'KAPOW!!!'
So how had this and the other two 'Night of Nights' stacked up? Two sides to every coin. 'Joe Public' certainly got their moneys worth. What was advertised in the paper was what they got. Speedway Royalty doing what speedway riders do. And they went home happy. For the speedway purist? Well, Graeme Stapleton's performance captured the imagination. Two comments I remember so well after the North Island rounds from older guys;
"A shame this wasn't a 16 rider field. Plenty of good local guys could have taken these guys on and done ok."
He was right. Stape and Adlington proved that while Roger Wright, Freddie Timmo, Graeme Smith, John Goodall, Ian Ross and Mike Fullerton were missing ingredients that would have made a complete full course. Reality check, some or all of these guys may not have been able to get time off work, true but it's fun to play 'what if?'
"Colorful show, shame about the action."
I got where he was coming from. Yes, seeing these guys riding speedway was magic! But as to how much racing was really on show? Oh sure, there was some and what a thrill it was. But uummm, the real deal? And that set the scene over the next few years of The Mauger/Briggs Circus. I well remember when Gary Peterson and Henny Kroeze joined the fun in 1975. They really blew some fresh air up their exhaust pipes!!!
Decades later, Mauger would claim that this and later World Champions Series would be the foundations for today's World Championship Grand Prix. Oh Really? If that's true, thanks for nothing!
On Febuary 9, the Lions roared at Western Springs. The British Lions who had overdosed on Kangaroo Stew, winning the series 6-1, swam over the ditch to take on a 'Rest of the World' side. They won this too but it really was a thrilling encounter with the outcome down to the wire. In the penultimate heat, ROW reserve, local ace Mike Fullerton got his only ride and got a standing ovation, coming home 2nd behind Lions Captain Nigel Boocock, ahead of his partner Steve Rienke pushing Eric Broadbelt to the back.
British Lions 55.
Peter Collins 17, Jim McMillan13, Eric Broadbelt 11, Nigel Boocock 7, George Hunter 4, Reg Wilson 2, Doug Wyer res 1.
'Rest of the World' 53.
Jim Airey (Australia) 15, John Titman (Australia) 12. John Boulger (Australia) 8, Steve Rienke (Australia) 7, Mike Hiftle (England) 6, Antoni Woryna (Poland) 3, Mike Fullerton (NZ) res 2.
What a meeting! Peter Collins' paid maximum was ever-so impressive and it backed up everything we had heard about him. Airey was poetry in motion and to see Boulger, 73 OZ Champ and Rienke, 74 Oz Champ in the action was Thunderbirds!!!
Back in Christchurch, a NZ V 'Rest of the World' Test was scheduled for Febuary 16 with a further two Tests booked for Wanganui and Wellington. However, rain set in and the 16th date was rained off. Another two dates were also soaked with the Test finally taking place on Saturday 23rd. This meant the cancellation of the North Island Tests. The delay also cost the place of ROW Captain Ole Olsen and Ove Fundin. Their places were taken by Poms Howard Cole and Richard May. As it turned out, the ROW put up a hugely spirited fight to defeat the locals 59-48. Polish stars Plech, riding with broken bones in his foot and Jancarz stole the show. Roger Wright and Howard Cole had a terrific smash in their first heat but both got to walk away. It was however the end of Roger's night.
'Rest of the World' 59.
Edward Jancarz (Poland) 16, Zenon Plech (Poland) 12, Chris Pusey (England) 12, Scott Autrey (USA) 9, Bert Harkins (Scotland) 7, Howard Cole (England) 3, Richard May (England) res 0.
NZ 48.
Ivan Mauger 14, Barry Briggs 13, Ronnie Moore 11, Graeme Stapleton 7, Robin Adlington 2, Allan Brown res 1, Roger Wright 0.
And that was it. A season that started with the promise of SO much. And were we not entertained? Certainly aye! Shame about the proposed Tests though. Roast chicken and all the trimmings became McDonalds. Mind, all those autographs and chatting with Ole Olsen and Gary Middleton, oh boy! I even got to talk to Zenon Plech, Edward Jancarz and Bert Harkins, all of whom I could hardly understand! What a dream come true. Seeing Mauger and Olsen blasting around sideways, turning schoolboy fantasy into art before my eyes!!! Two ducks and a circus? Ah well, never mind eh, "just a bit of fun Den!"
This article was first published on 15th June 2014
---

Mike Wilson:

"I sat wide eyed in the stands as a young boy the night Paul Church stunned Mauger and the crowd by hanging off Ivan's back wheel. So inexperienced was Church that it would be like seeing a Development League rider hounding Woffy for a GP win. The night Bob Andrews had his accident we were sat next to his Wife who was talking to my Mum. We were on the same bend but just a bit further round from where it happened and I can still picture the scene and hear her scream as we all witnessed him being rag dolled over the catch fence to land on the concrete terracing."

[ Use Mobile Version ]

Comment on this Article | Contact Us | Go Back to Main Menu