New Zealand - '75/'76
By Tracy Holmes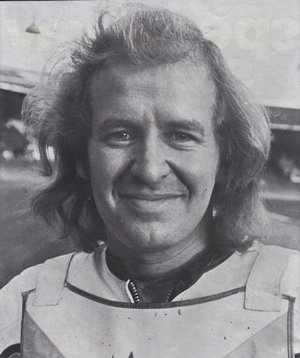 Graeme Stapleton
This was going to be big, really big. The British Lions were back, no Nigel Boocock but it was still an official Test side. And Auckland's Western Springs would host the first Australasian Final, quarter final to the World Final itself. After decades, Australasian Speedway had come of age and would now host its own World Championship qualifying rounds.
The Lions tour was inevitably going to be a 3-0 result. Why ? The year before, NZ had lost Ronnie Moore, near fatally injured and there could be no come back. And Gary Peterson had been killed. Still, with Ivan Mauger and Barry Briggs, the scores may have been respectable. HOWEVER, there would be no Mauger or Briggs. They were too busy with their 'World Series' dates to turn out for their country. In November 75, this series had toured South Africa and Rhodesia, despite the political climates and 'Apart-hate' systems. Well so what, many sports stars and musicians made heaps of money in the African sunshine! To hell with politics and the people who suffered under those rulers.
Meanwhile, in Australia, The Lions spent November and December mauling the Kangaroos. They won the series 6-1. If the Ockers were the main course, The Kiwis would be dessert! And that's no disrespect, Graeme Stapleton's side rode their bollocks off but it was always going to be a Whitewash. At least they rode proudly and did their very best!
1st Test. January 24. Western Springs. Auckland.
British Lions 85. Peter Collins 18. John Davis 16. Chris Morton 14. Chris Pusey 12. Dave Morton 12. Doug Wyer 11. Res Gordon Kennett 2.
NZ 23. Colin Farquharson 7. Larry Ross 5. Graeme Stapleton 4. Mike Fullerton 3. Colin Tucker 2. John Goodall 2. Res Paul Church 0.
This appeared in the programme for the 2nd Test, "It was hoped that Ivan Mauger and Barry Briggs would be here to strengthen the home team's chances. But, alas, both are committed to the World Champions' Troupe, currently racing in Melbourne. Efforts were made by the president of the Christchurch Speedway Association [Mr Tony Nesbitt] to fly Ivan back specially for the meeting but this proved impracticable."
2nd Test. January 31. Templeton. Christchurch.
British Lions 84. John Davis 17. Chris Morton 17. Peter Collins 15. Chris Pusey 13. Doug Wyer 12. Dave Morton 10. Res Gordon Kennett dnr.
NZ 24. Graeme Stapleton 8. Larry Ross 5. Colin Farquharson 4. Max Brown 4. Mike Fullerton 3. Robin Adlington 0. Res Paul Fewings dnr.
I've been told that Peter Collins had his steel shoe come off. So instead of pulling over, he kept racing, trying to get it back on ! The result was a spectacular crash that put PC out of the rest of the tour.
3rd Test. Febuary 9. Western Springs. Auckland.
British Lions 83. John Davis 18. Doug Wyer 17. Dave Morton 13. Gordon Kennett 13. Chris Pusey 12. Chris Morton 10. Peter Collins inj. dnr.
NZ 25. Colin Farquharson 8. Graeme Stapleton 6. Colin Tucker 6. Mike Fullerton 3. Larry Ross 2. John Goodall 0. Res Paul Church 0.
All thoughts now turned to the Australasian Final, especially as most of the top Aussies were on board the 4 valve machines made by Neil Street and Ivan Tighe. Well Mauger and Briggs returned to NZ with them too.
Street was furious, this from an interview; "I said to Ivan [ Tighe ] that under no circumstances was anyone to sell one of our engines to Barry Briggs, Ivan Mauger or Ole Olsen. [ Ole was the World Champion and part of the World Series ] They were all works Jawa riders and I didn't want any of them to have one of our engines until we started production. I knew it would go straight back to the factory and, with their resources, they could have an engine out within a few weeks to shoot us down. I knew I could be broke overnight and Ivan agreed not to sell to the Jawa works riders. Then quite by chance I got a call from a guy in New Zealand asking what chance there was of getting an engine off me. I said I'd like to help but we had only 15 initially for the Aussie blokes but would be in production for 1976. He told me Ivan Mauger was going to Brisbane to get one! I rang Ivan Tighe and he told me Mauger had promised plenty of publicity and we'd all sell thousands of engines. But I knew we were only doing a conversion and I knew we'd never sell many."
Only 4 riders could qualify from The Australasian Final and on Febuary 21, the air at Western Springs was simply electric! The only ripple in the matrix was that Mike Fullerton was not on parade, having had a nightmare NZ Final in Christchurch. Kiwi Prime Minister Rob Muldoon opened the meeting and it proved every bit as magic as it had promised. Six riders broke the tapes and were excluded. Barry Briggs, John Langfield, John Titman, Ivan Mauger, Phil Crump and Ricky Day. It was heat 11 for Mauger, up against the unbeaten Crump and Boulger, alongside Phil Herne. What a downer ! THE biggest race of the night was wrecked ! Crumpy beat Boulger and should have won the meeting but, he sailed through the tapes in round 4.
At night's end, the four favourites had made it, John Boulger beat Billy Sanders in their last heat decider. Crumpy third with Mauger taking the last place, beating Phil Herne and Mitch Shirra in the run-off. [ and that is a story in itself that one day may get told ! ]
Peter Collins had sold his Weslake to Graeme Stapleton and in the Kiwi Captain's third ride, it blew into a million pieces. The flash was blinding and how no-one got hurt, we will never know! Or perhaps someone did ? Mind you, that fireworks display was nothing compared to the show when World Champion Peter Collins walked back into Norjo Motors [ Motorcycle shop owned by Ronnie Moore and Stape ] in Christchurch the following season! Alan Mason, shop apprentice said that Stape went ballistic !!!
A few nights after the Australasian Final, a hastily arranged meeting saw some of the Flying Circus riders at 'The Springs' and again, it was a tape breakers paradise. Anders Michanek made fun of it all and when he was put back ten yards, he simply sneaked up and ducked under the tapes, making everyone look silly. Mauger and Briggs yelled and screamed, it was awfully embarrassing. Especially as Speedway was meant to be a family sport! Anyway, Anders won the meeting from Mauger and Billy Sanders. Tommy Jansson was one of the stars we enjoyed seeing that season and we all eargerly anticipated his return.
Larry Ross had won his first NZ Championship at Napier's Meeanee track. Freddie Timmo country! He was unbeaten while the home favourite Colin Farquharson had to settle for 2nd. The very impressive Aucklander Paul Church 3rd ahead of Graeme Stapleton, Noel Suckling, Mike Fullerton, Robin Adlington and Jim Wells. Howzat for a blast from the past ?!
So what happened from a Kiwi perspective for the rest of the year ? Mauger and Briggs again failed to turn out for NZ, this time in the World Cup. On May 16 at the UK Q.round, Bruce Cribb, Colin Farquharson, Larry Ross, Dave Gifford and Jack Millen proudly wore the orange and black, Kiwi jackets. While 4th and last, they could for sure hold their heads high! That was the meeting where Australia knocked England out of the competition. John Boulger captained the side that went on to win the World Cup Final.
Four days later, May 20, Tommy Jansson was killed in Sweden. His autograph was now priceless.
On June 6, Mauger and Briggs represented NZ at the World Pairs Championship. They safely qualified for the World Pairs Final on June 17 where they finished 5th.
Peter Collins won the World Speedway Final and Ivan Mauger, the World Longtrack Final, on a brand new 4 valve Jawa !!!!
And finally, the Olympic Games were held in Montreal with the track and field especially shot to bits because of the African boycott. What was that all about ? Oh yes, New Zealand's continued sporting contact with South Africa !
'Oh Doctor I'm in trouble ! Well goodness, gracious me !!!'
This article was first published on 15th September 2013
---

Mike Wilson:

"Keep the articles coming Tracy, I am especially looking forward to the telling of the 76 Australasian Final 4th place run off. Always a great read."
Tracy Holmes:

"Cheers Mik ! 1976 Australasian Final 4th place run-off; "Heave too me hearties Yo-Ho!" Phil Herne and Mitch Shirra, who had ridden well above his raw teenage years, lined up and were under starters orders. Along comes Ivan Mauger at 20ks or so and as he gets to the tapes, up they go! He flys into the corner as his opponents are leaving the gate. Well almost. Ivan rode in magnificence and I watched in awe as he 'aced' 4 perfect laps and flew across the line to set a new track record in the process. This is for me, THE best race I ever saw Ivan ride. BUT that is NOT the story and I'm sorry, I can't tell it. The solids would hit the airconditioning and I'm not keen on that kind of fallout. The guy who could tell it won't and I must protect my source! Love 'Hill Street Blues' me! HOWEVER, how good are you at joining the dots? Not mentioning any names, the story involves a referee who did not operate the starting tapes. A starter who did operate the starting tapes and a Speedway Superstar who had to win to safely qualify to the next round of the World Championship. Throw in that mother of all flyers and ... Was Enola Gay? Who shot JFK? Follow the Yellow Brick Road my friend and Y'all have a nice day !!!"

[ Use Mobile Version ]

Comment on this Article | Contact Us | Go Back to Main Menu