Oh, What a Night!
By Tracy Holmes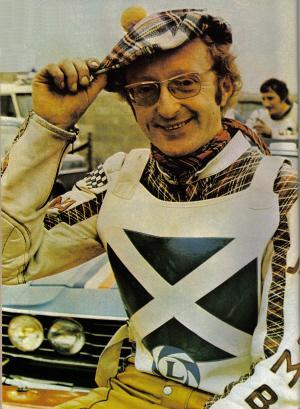 Bert Harkins
Jan 19, 1974. This was the date for the NZ Champs at Templeton but on the same night in Palmerston North, a World International Best Pairs meeting was held at the Showgrounds. It was a curtain raiser to the Mauger/Briggs circus aka 'The World Champions Speedway Series'.
Top of the bill was the 5 time World Champion from Sweden, Ove Fundin. However, illness had delayed Ove's departure and he was a no show. This was a bitter disappointment BUT, his replacement was just the opposite. Australian star Bob Valentine in his fire orange leathers that matched his hair had a splendid night and all but stole the show. He was a joy to watch and to get his autograph with a smile and a pat on the back made a wide eyed 15 year old feel ever so special.
The headliners were Polish stars Edward Jancarz and Zenon Plech. [ Jancarz, World number three in 1968. Plech, World number three in 1973. ] We had seen them both on the telly when the 1973 World Final highlights had been shown. Ever such a shame that the World Champion himself, Poland's Jerzy Sczcakiel was not allowed to make the trip but these two did not let any fan down. They also freely and happily signed autographs. Hearing them speaking in their native tongue was another treat that night.
British Lion Chris Pusey was no stranger and he shone brightly until a heavy fall knocked off his Polkadots. Poor Bert Harkins, looking oh so Brigadoon in his tartan leathers, had nothing but bike problems so we only got to see a pale shadow of the Flying Scotsman. He was just as hard to understand as the Poles!
Scott Autrey was a long way from California but looked right at home in this company and England's Mike Hiftle, contracted to Western Springs also enjoyed his night among the stars.
The 3 Palmy Kiwis? Robin Adlington had one of THE nights of his career. Partnering 'Steady Eddie' Jancarz, they won the match to the delight of Robin's hometown fans. He rose to the occasion in splendid fashion, following his team-mate home in three of their four races. A maximum score eluded the pair in a bizzare heat 6 affair. Hiftle was the only finisher as Jancarz had an engine failure. Pusey had taken a nasty tumble and Adlington had laid down to avoid the carnage. And the way he held out the previously unbeaten Valentine in the last round brought a standing ovation!
Bill Andrew had a rewarding night, partnering Plech to second place. Graeme Smith had the honor of riding with Valentine but on this occasion, making up the numbers. Still, he looked as stylish as ever!
The meeting was a huge success. Former NZ Champion and Coventry rider Ray New had done a splendid job as promoter and 'man on the mic'. I remember too that this meeting actually outshone the 'Big Top' meeting a week or so later, despite all the Super Star World Champions. The racing was different. More racing than riding. Plenty of you will understand that one. And I remember the electric, exciting atmosphere. Sparks flying off steel shoes, dusty hot-dogs and cans of coke. Collecting programmes and autographs and going home bubbling over with Speedway magic for which there is no cure, "Oh what a night!"
Heats
1 Pusey, Hiftle, Autrey, Harkins.
2 Jancarz, Adlington, Andrew, Plech.
3 Valentine, Pusey, Hiftle, Smith.
4 Jancarz, Adlington, Autrey, Harkins.
5 Valentine, Plech, Andrew, Smith.
6 Hiftle. Jancarz ef. Adlington nf. Pusey fall.
7 Plech, Autrey, Andrew, Harkins.
8 Valentine, Autrey, Harkins, Smith.
9 Plech, Andrew, Hiftle, Pusey.
10 Jancarz, Adlington, Valentine, Smith.
1st Edward Jancarz (3 3 ef 3) 9 and Robin Adlington (2 2 nf 2) 6 = 15
2nd Zenon Plech (0 2 3 3) 8 and Bill Andrew (1 1 1 2) 5 = 13
3rd Mike Hiftle (2 1 3 1) 7 and Chris Pusey (3 2 f 0) 5 = 12
4th Bob Valentine (3 3 3 1) 10 and Graeme Smith (0 0 0 0) 0 =10
5th Scott Autrey (1 1 2 2) 6 and Bert Harkins (0 0 0 1) 1 = 7
Invitation:

Heat 1: Hiftle, Plech, Andrew, Pusey.
Heat 2: Valentine, Autrey, Adlington, Smith.
Consolation: Andrew, Adlington, Harkins, Smith.
Final: Plech, Hiftle, Valentine, Autrey.
This article was first published on 18th January 2015
[ Use Mobile Version ]
Comment on this Article | Contact Us | Go Back to Main Menu