Neil Grant
By Calum Macaulay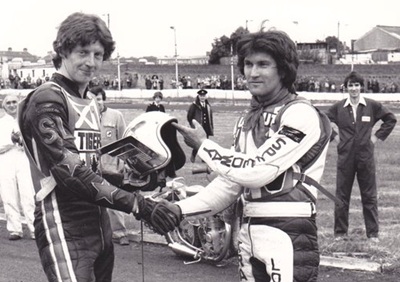 The first Blantyre Track: Super Steve Lawson and Martin Yeates
get ready to do battle overlooked by Neil (Right of Shot)
Neil Grant was barely into his teens when Glasgow Tigers moved to Hampden Park in April 1969, literally just round the corner from his Cumming Drive home.
As the bulk of the track-staff at Glasgow promoter Les Whaley's Hampden Park operation came from the ranks of cycle-speedway riders Neil, who by that time had become a cycle speedway racer with the Hampden Hawks, quickly became part of the speedway culture.
When Glasgow Tigers moved to Lanarkshire Neil became the "main man" of the pits crew at Coatbridge and both Blantyre tracks.
By the time Glasgow Tigers moved from the greyhound stadium in Blantyre "over the wall" to Craighead Park Neil was Clerk of the Course on race-nights, as well as having been involved in the transfer of equipment between the Blantyre circuits. Again, although Alastair Craig and Kenny McKinna operated the heavy plant as the track was being laid, Neil led the volunteers who laboured long and hard in building the safety-fence and other facilities.
It was Neil who first suggested a radio microphone could be used to the benefit of a speedway presentation, and under his guidance such a system was introduced to British speedway at the Blantyre track in the autumn of 1977.
Such was the respect Neil built among the British speedway fraternity, he was given an "access all areas" pass by the BSPA for the 1985 World Final, when he was instrumental in boosting the Odsal public-address system during the meeting, and famously waved through into the pits by security officers who were at the same time turning away a former World Champion!
As one friend observed Neil had the talent to get people to do what he wanted without having to issue orders or over manage their activity. He was very much a natural leader who made management effortless people wanted to work for and with Neil.
His leadership qualities came to the fore during the Tigers "wilderness year" at Workington, when it was only his determination that allowed several of the more-eventful meetings at Derwent Park to even begin, let alone run to a finish, but even Neil had to give best in the face of promotional problems which eventually resulted in the club being flung out of league speedway.
Make no mistake - Glasgow Speedway at that point was dead in the water, except that Neil Grant refused to accept the verdict, and with the permission of Jimmy Beaton set about saving the sport for the city of Glasgow.
Neil met and worked with the Shawfield ownership, addressed the Council's planning requirements and set up a series of vital fund-raising meetings at which fans dug deep to provide funding. He travelled to the BSPA conference at the end of 1987 along with Dick Barrie to plead strongly for another chance which was grudgingly granted by a fairly narrow majority!
Neil masterminded the return of the Tigers to the city in 1988, directing the construction of the circuit within Shawfield in a startling timeframe of eleven short weeks from the cutting of the first sod on January 25th to the tapes going up on April 15th, 1988 in front of 7,996 spectators - a miracle achieved with virtually no financial support other than the proceeds of regular fund-raising evenings and little outside labour other than a volunteer force of fans.
His work was recognised by the BSPA at the end of 1988, when the league's promoters awarded him the title of "Promoter of the Year" and gave his Shawfield creation another trophy for "Stadium of the Year". He was just 32 years of age. His reward from the Tigers' ownership was however the sack and his marvellous, probably-unparalleled achievements have now almost been eradicated from Glasgow Tiger's history.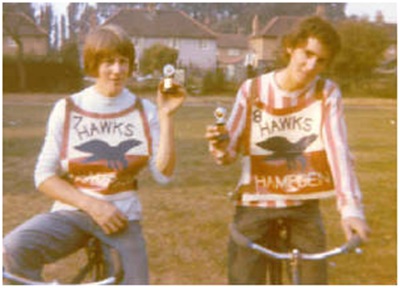 Moosh Nicholson and Neil Grant two very young Hampden Hawks
Cycle speedway wise Neil was a member of the Hampden Hawk's Les Whaley Cup winning team - indeed he was instrumental in securing Glasgow Tigers promoter Les's backing for the event as by then he was a leading member of the Tigers track staff - all this and he was still only thirteen years of age!
He quickly became an established team member for the Hawks and by 1971 was their top points scorer. He rode in two National Amateur Cycle Speedway Association (NACSA) Junior Individual finals in 1971 and 1972 at Uxbridge and Rye House respectively. Despite his young years he became Team Manager of the Hawks in 1971 and served as an official on the Control Board. Even in these days it was apparent that organising and management were his forte and it was no surprise that he was to go on and become a "captain of industry"
Cycle speedway in Glasgow wound down in 1973-74 but was revived with the opening of Edinburgh speedway at Powderhall in 1977. Neil made his comeback with Hampden, now named "Rebels" in 1978 and they powered, undefeated, to the Lothian League championship. At the end of that season, Neil took over the Team Managers role and once again his organisational skills were in evidence. He negotiated Hampden's entry to the ASC National League, quite a feat given the travelling that would ensue. This was solved by gaining valuable sponsorship from Beatons Coaches. After a thrilling season Hampden annexed the Division 2 title at the first time of asking - a feat unequalled by any Glasgow team before or since. Neil's contribution to this was pivotal.
At school Neil excelled especially in physics and I remember Mr Craig our physics teacher telling him to concentrate because he "could do better." A that time Neil had just attained 98% in a physics exam!
Despite his heavy involvement in speedway and cycle speedway, Neil also found time to attain an honours degree at Glasgow University in Electronics & Electrical Engineering and, following successful post-graduate work, he took up full-time employment with Pilkington Optronics (formerly Barr & Stroud Ltd) where he led a major defence project and championed the concept of software engineering, reaching the level of Development Manager.
Later he took up positions at Yarrow Shipbuilders (Technical Director), Marconi Marine (Operations Director) and BAE Systems (Planning Director).
Neil's next move was to become Operations Director for Coherent Scotland Ltd, There he led the creation of a major manufacturing capability for this hi-tech laser company at Glasgow Science Park, before finally in 2005 he moved to take up the position of Operations Director with Babcock Naval Services who manage the Faslane Naval Base and Rosyth Dockyard.
He was also this year serving as a non-executive director of learndirect scotland, a member of the Court of Glasgow Caledonian University, panel chairman for Prince Charles' Scottish Youth Business Trust, a Visiting Professor at Strathclyde University and a member of the Scottish Manufacturing Advisory Board.
Neil passed away suddenly on 5 December 2010 his passing is a sad loss to his family and to his many friends. I am honoured to say that I was one of them.
Farewell Neil.
With very grateful thanks to Douglas Nicholson and Dick Barrie for much of the excellent information contained in the above narrative.
This article was first published on 30th December 2010
---

David Primrose:

"I am absolutely gutted to hear the news about the passing away of Neil Grant. I knew Neil through working on the trackstaff at Coatbridge (raker then pusher) and also more especially through the close-season working parties that helped get the track and stadium into shape. I was press ganged into these work parties by Neil's younger brother Colin, who I knew from college in Glasgow. Those were hard but fun times and I have a smile on my face now as I remember some of the fun we had and "experiences" we shared. Sad news to end the year but it brings back very fond memories of Neil and speedway at Coatbridge before I moved south to England (Leicestershire). He will be sadly missed by all who knew him."
Bruce MacKay:

"What a shock, I've just read the sad news of Neil's death. I lost touch with Neil over the last 10 years, I guess, but often thought about him fondly. I first got to know Neil through cycle speedway riding both with and against him. Neil gave me my first vehicle, a blue marina van, which serverd me well for a few years. Neil also helped me when I gave speedway a try at the Blantyre celtic park, always encouraging me with wise words and practical advice. I then helped on the track staff at Shawfield under Neil's direction. Neil certainly made a positive and lasting impression on me and I will miss him very much. "
Archie McDermid:

"Sad to hear of the sad passing of Neil Grant. I too remember him at Coatbrige speedway. My thoughts go out to his family and friends."
Steve Barton:

"It was a terrible shock to hear of Neil's passing. I got to know him in 1988 as one of the merry band of helpers at Shawfield that year. Neil was an exceptional person. He had an incredible capacity to combine technical know-how with deft people skills. He also combined imagination and quiet determination. It was no surpise to learn of his towering career achievements. He also loved talking about speedway and had fascinating insights. It was hard not to learn something just spending an hour or two with him at the track. He remained private about the details of the promotional rift at the end of that extraordinary year, but whatever the rights and wrongs one unquestionable sadness was the loss of Neil's talents to speedway. Not many people are inspiring; but Neil was one of them. Rest in peace."

[ Use Mobile Version ]

Comment on this Article | Contact Us | Go Back to Main Menu