Concerned About Newport
By Dudley Jones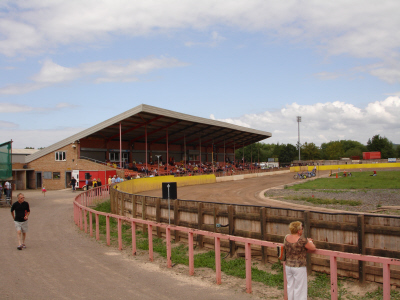 Newport Speedway

I was very concerned to see a 'make or break' situation being described by the Newport promotion, and doubts expressed over next year.

I have to confess that I was never a great follower of the club in earlier years (I live little more than 30 minutes away (albeit in another country!), partly because the Sunday race day tended to upset family arrangements, but mostly because a trip to Hayley Stadium under the previous regime seemed a frustration. Over several years the team seemed to be serial losers, and there was no 'atmosphere'. Also, the meetings seemed to drag and be hapless affairs (I went one Sunday to a double header versus Somerset (PL) and then Plymouth (then new to the NL). The PL meeting took so long that we left before the PL match, to be home for dinner. That was then. Last year there were many signs that things were much improved, this year I have been most impressed - Newport even have a winning team. There is a bar, track lighting, the meetings are well run, the M/C is good - this is now, in my view, a very good speedway, good track, good racing, competitive team. Newport now deserves to be well supported. I hope very much that word will get round, and that the press will support them. I urge all those one time followers to support the new look Wasps - I dont think you will be dissappointed. You will find a competitive team, and very exciting entertainment.
---

Ivan Blacka:

"Now there is a true Speedway supporter. No better place to advertise then Speedway-Plus. Nice article Dudley and I hope the word gets out...."

[ Use Mobile Version ]

Comment on this Article | Contact Us | Go Back to Main Menu