Nick's Notebook
By Nick Lee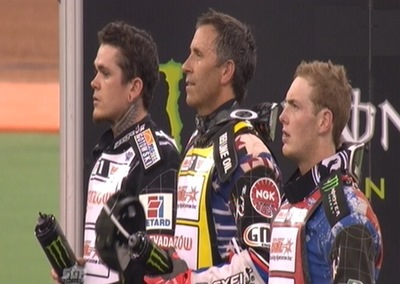 The Podium at Cardiff 2014
Wow! What a weekend!
Like many of you, I hit the road on Friday morning and headed to Somerset for the Premier League Pairs championship, a logical stopping off point en-route to Cardiff for THE BIG ONE!
I've been to Somerset a few times over the years and the racing seldom disappoints. What a great track, demonstrating just what can be achieved when you build a track from scratch with no greyhound track to consider. The Pairs was a great meeting, marred only by an unnecessary exclusion for Nick Morris in the final heat. While I have sympathy with the referee's dilemma, I really don't think that anyone would have complained if he'd allowed all four back. Up to that point the meeting had everything you would ever want - great racing with a few twists and turns along the way. Congratulations to Edinburgh, who came to the party late but were deserving winners.
After a hearty breakfast, I was on the move again to fully enjoy the Cardiff experience. A few hours in the city centre, mixing with old friends and speedway personalities in the FanZone and in some of the hostelries. That was followed by the walk to the stadium, entering later than I'd planned but in plenty of time to see the excellent and innovative parade. What a noise! You always forget just how loud it is.
After last year's track debacle, I had some misgivings about making the trip again this year, but I'm so glad that I did. It was the best British GP I can remember, certainly from the six I have attended in person. The outside line on the back straight was something else and those brave enough to try it got their rewards.
Greg was a deserving winner, his longevity at the top is absolutely incredible. In my view he's a stick-on for a podium place at the end of the season. He'll probably be joined there by Tai Woffinden and Darcy Ward - two young riders who should go on to become legends of the sport. Both rode bravely and well at Cardiff, their dynamism and confidence are incredible. Great to watch and both will be happy with the points they picked up. It won't be lost on Tai that Greg topped the podium, but actually fell further behind Tai in the overall standings.
When the tickets go on sale for 2015, count me in! See you there?
My trip to the Millennium was much enlivened by listening to the fabulous Speedway Tavern podcast. Scott Frame and his team put together a 90 minute special previewing both of the events I attended over the weekend. They were joined by many great speedway names - Ermolenko, Hancock, Havelock, Screen and Bachelor amongst others. If you haven't listened to one of the podcasts then I thoroughly recommend them. The presenters are very well informed and cover all the latest speedway news. They definitely make any time on a train, bus or treadmill much more enjoyable.
Talking of media, I greatly enjoyed two recent speedway documentaries on television. The Life of Tai (currently available on youtube) was shown on Sky and followed the World Champion through a week in his life. There were great insights into the relentless slog that the top riders face from March to October. Woffinden came across really well, he truly is a brilliant ambassador for the sport. If you haven't seen it then click on the link above.
The other was "One Room, Five Champions", which was shown on Eurosport and saw Jason Crump leading a conversation with Woffy, Nicki Pedersen, Chris Holder and Greg Hancock. My only criticism of the programme was that it was far too short. It was great to hear from these champions, speaking quite openly about the ups and downs of their careers. All of them come out of it well, though Pedersen's claims of mind games seemed lost on most of the others. They clearly don't work as well as he imagines!
I hope you've enjoyed my first contribution to the Speedway Plus website. I hope to be invited back again soon.
This article was first published on 13th July 2014
[ Use Mobile Version ]
Comment on this Article | Contact Us | Go Back to Main Menu