Noel Johnson
By Nigel Bird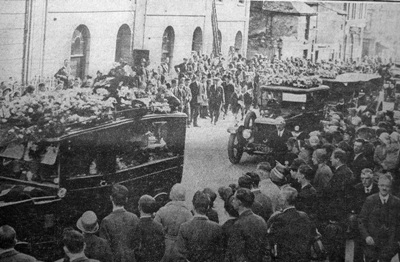 Noel's funeral cortege (Western Evening Herald)
(John) Noel Johnson
b 25 Dec 1902
Brisbane, Australia.
Noel was killed in a track crash at Plymouth Speedway while riding for the home side in a challenge match against Coventry 25th Aug 1931. His funeral made front page news in the Western Evening Herald, crowds lined the road 5 deep to watch his cortege pass through the centre of Plymouth. The burial was attended by a who's who of south western speedway, Directors promoters etc of both Plymouth and Exeter speedways. Team mates were pall bearers, his crash helmet and team race bib were dropped onto the coffin before the earth covered him forever.
Noel was never a star rider but he is significant in the history of Speedway as one of the original group of pioneers headed by A J Hunting who sailed Australia aboard the Oronsay in 1928.
Noel was one of the first riders to race on the White City (London) track promoted by Huntings "International Speedways" Ltd.
He later moved to Exeter where he gained most of his successes. He joined Plymouth in June 1931, a move which looked to give Noel some real success as he was riding better than ever until his life was cut short.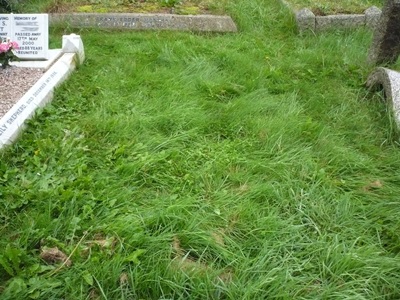 Noel's burial plot in Efford cemetery Plymouth
(copyright Nigel Bird 2010)
Shame then that his last resting place is but a bare patch of grass, no marker, no memorial stone ...nothing. I was indeed saddened and moved not to say very upset at the complete lack of anything to commemorate his passing. Buried then forgotten?
One would have thought that the well heeled promoters/business men, fellow riders and the supporter club could have raised the money for a memorial stone. I believe it was reported the supporters club had money left over from a collection which was donated to the local hospital.
I hope something can be done to mark the resting place of this pioneer speedway rider as grass is his only memorial!
This article was first published on 7th October 2010
---

Tony Webb:

"Nigel a great article, I researched the story of Noel for my book The Davies Park story. I discovered his nephews Peter and Noel live in the same suburb as I in Brisbane. I have in my office a sash won by Noel in 1927 at Davies Park. His leathers are in the speedway museum at the wildlife park, there is also a story there. we have been chasing a photo of the grave site for some time. I will inform the family today."
Tony Lethbridge:

"I was about to drive down to Plymouth from Exeter this morning to try to find and photograph Noel's grave myself when I saw this report. I am as appalled as Nigel that the grave is unmarked as I had read reports that a collection had been held at a Pennycross meeting for just this purpose. As Noel was an Exeter rider in 1929 I want to try and get the situation rectified by next August to mark the eightieth anniversary of his death."
David Briggs:

"It is indeed a travesty that the Grave of Noel Johnson remains unmarked. I do remember my father, Alan, telling me about the tragedy. I also remember reading in a scrapbook that a collection had been made which would fund, I think, some type of light for the hospital in Plymouth. Was there not a story of an apparition on the track after his death? Maybe I am confusing another tragic story with this one. It would be good if a collection could be made so the grave should be marked with a suitable stone."
Tony Webb:

"I can give an update over the plans to improve the gravesite of Noel Johnson at the Plymouth cemetary. I have spoken to Noel and Peter Johnson, Noel's nephews, who live here in Brisbane, they have given permission for any work to be done, they are overwhelmed that their Uncle is still remembered in England. Tony Lethbridge is investigating the options for funding and we will make a statement on this shortly. My role is at the Australian end, keeping in touch with the family, etc. You might like to know that the speedway bug is still active in the family, Noel races a speedcar in the classic events and there is a grandson who is also showing an interest, albiet on four wheels."
Cindy Robinson:

"Loved reading about my great Uncle Noel Johnson. I am his great neice and his legend still lives in the family to this day. I have a 12 year old and he knows about his great, great Uncle Noel. When I was in my teens we had his sister live with us for a while Aunty Ollie and she told us about him and how proud every one was of him. Bless you for keeping his legend alive."
Jamie Evans:

"Was looking for information on AJ HUNTING and saw this, very interesting though it's sad for any old speedway rider to be forgotten."

[ Use Mobile Version ]

Comment on this Article | Contact Us | Go Back to Main Menu