Odsal Petition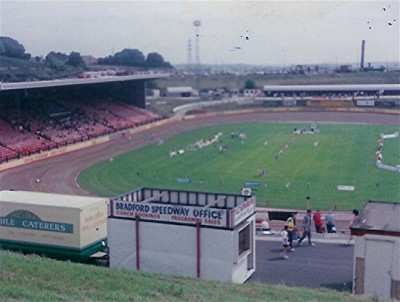 Odsal - Bradford
The recent news that Tony Mole had seemingly ended his interest in reviving Bradford was terrible news for those hoping the bikes would return to West Yorkshire. The final straw was the removal of the protective metal barrier that surrounded the track, an essential item and expensive to replace. The loss of the fence was even worse news for Stock Car fans who were similarly hoping that their sport would return to Odsal.
Stuart Calvert is a Stox fan and has set up a petition aimed at bringing Motorsport back to Odsal. He takes up the story:
"I am by my own admission a keen F1 Stock car supporter but I believe that it is in all of our interests to bring motor racing, two wheels and four back to this "world class" arena. I know that Stock Cars and Speedway seem to have a bit of a "Love/Hate" relationship but NOW is the time to put that in the past and possibly work together to reap the benefits of claiming back one of the finest venues in the country.
Therefore the petition is targeting a broad spectrum of supporters with the aim being to add weight to the argument that all forms of sport can work together to fully utilise Odsal not only ensuring the stadium's future but also returning revenue to the surrounding community and providing a place for thousands to enjoy the spectacle of sport.
I have consulted with Steven Rees, the owner of Startrax promotions, he in turn has had discussion with Tony mole about the proposed move to bring Motorsport back to the "Wembley of The North". Wouldn't it be great to see the return of the "Bradford Dukes"?
If you'd like to sign Stuart's petition then you can find it here.
This article was first published on 16th March 2014
[ Use Mobile Version ]
Comment on this Article | Contact Us | Go Back to Main Menu