EDINBURGH - Old Meadowbank
Home of the Edinburgh Monarchs from 1948 until 1967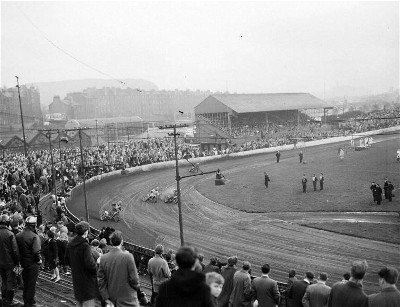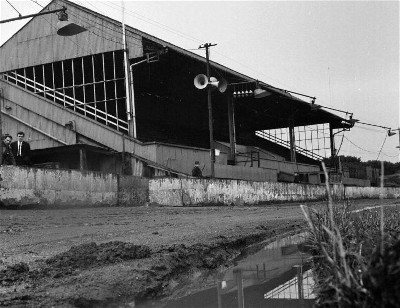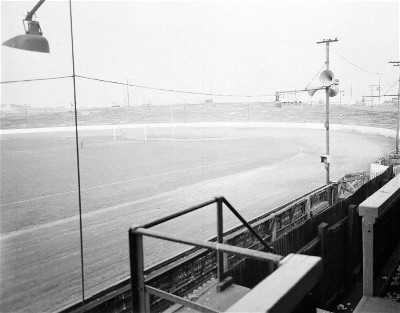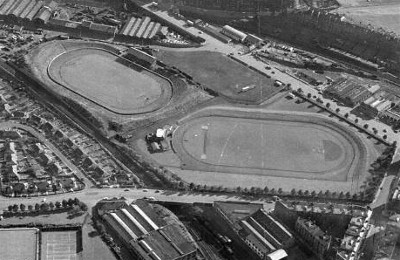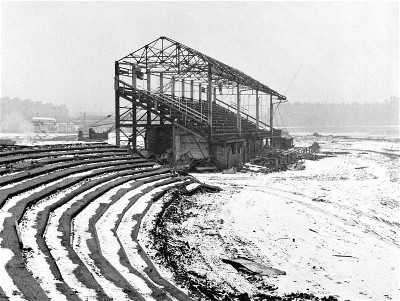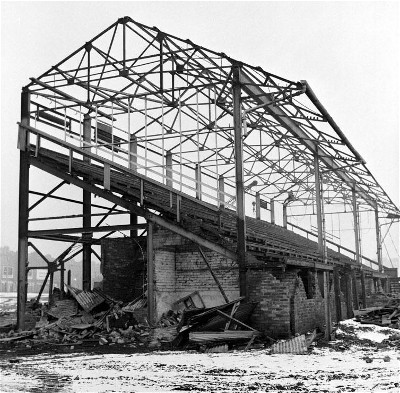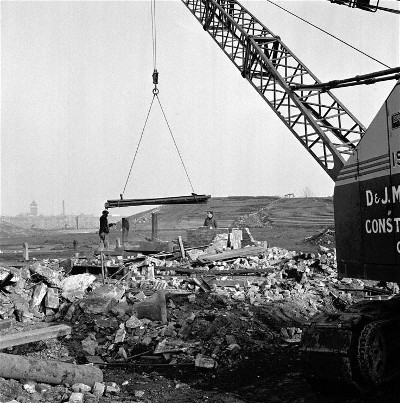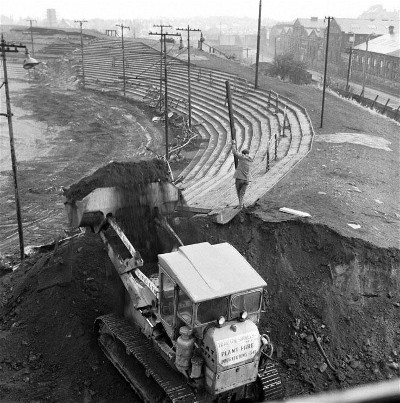 Pictures below courtesy of Bob Cole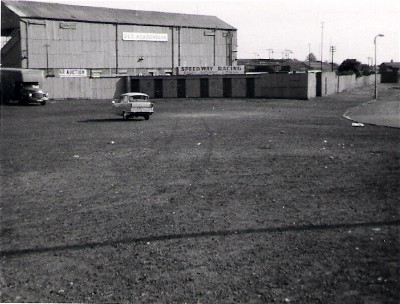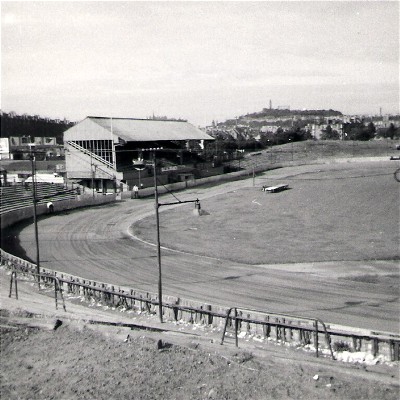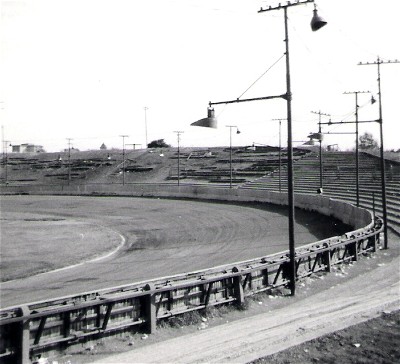 This article was first published on 30th October 2004
---

Graeme Bow:

"My late wife and I, Glasgow White City Tiger supporters, saw the opening meeting there with the superb Jack Young. Another year we stood in this stand one March with snow coming in through some broken windows, although not as bad as this looks, and the show went on. Undoubtedly, by far, the best circuit in Scotland, with lots of passing, and happy memories."
A minor correction from Jim Henry on Graeme Bow's comments:

"The opening meeting of Old Meadowbank in Edinburgh took place in 1948. Jack Young made his debut in Edinburgh in 1949.

I'll take the chance to 'plug' 'The Speedway Researcher' which is a must for all established and budding speedway historians. £4.00 inc P&P for four editions in Volume 7. Available from Graham Fraser, 7B Bruce Street, Stirling.

If you are interested in heat details from 1946 - 1948 take a look at Too Small's Middlesbrough site - News section"
Bert 'Haggis' Harkins:

"Very good website which I just found on my steam-driven computer. Enjoyed seeing photos of Edinburgh's Old Meadowbank Stadium, it looks even older than the days when I wobbled around there as a struggling novice. I wonder who owned the 3-wheel reliant in the photo? Perhaps promoter, Ian Hoskins was trying to save money on petrol? Keep up the good work."
Neil Graham:

"Wonderfully nostalgic to see the shots of Old Meadowbank, no palace, but what a reacetrack!! Happy days!"
Laurie Thompson:

"Ah nostalgia! In the late fifties / early sixties, I lived nearby in Marionville Road, and I used to go regularly to both the stock car racing and the speedway at Meadowbank Stadium. In fact I could see - and hear - the stadium from my bedroom window. I also had (and wish I still had!) my Monarchs Supporters Club badge, with four year-bars.

Not all good memories, though - Health & Safety and the lawyers nowadays would have a field day with the "safety" arrangements at the stadium at that time. In September 1956 (aged 10) when at a stock car event there, I was hit in the face by a largish piece of a black Ford V8 Pilot that was involved in a collision with another car on the south-west bend of the stadium and which then part-disintegrated, and I came within quarter of an inch of losing my left eye. I still have the scar and chipped eyesocket bone as a permanent memory. Nowadays the Strict Liability laws and a hotshot injury lawyer would really go to town on a case like that, but in 1956 I just got my 15 minutes of fame in the local evening paper, had a week in Leith Hospital, and then got on with my life. Nice to see the old photos, though."
James McEwan:

"It's good to see pictures of Old Meadowbank and a glimpse of Clockmill Road also. Saturday night was Monarchs' race night and the nearby St Margarets shed would be full to overflowing with steam locomotives over the weekend. The smoke and sulphur added to the methanol exhaust fumes from the bikes were a heady mix! The most thrilling meeting I recall was against Rayleigh Rockets in 1961. Top riders for Rayleigh were Reg Reeves and Stan Stevens, the match went to the last heat and I think Monarchs snatched a draw. Best ever visiting rider, Eric Boothroyd in my opinion. Bit of trivia...although demolition commenced in 1967, there is still a red brick retaining wall between the back straight and the rail line visible to this day f rom the main road at Meadowbank and also from Marionville. Although a ramshackle stadium, Old Meadowbank probably had the smoothest track in the country, so that there was little 'home' advantage to Monarchs. Ian Hoskins was a real showman and Don Cumming also was an entertaining announcer. Happy days..."
George G. Maben:

"I met my wife at the speedway track, her dad used to sell ice cream from his van at the Clockmill Lane corner. Many happy memeoies from then. I had all the programes til recently but still have some badges from then. These were the days of George Hunter, the Templeton brothers and Jimmy Cox and the rest of the gang. "
Rob:

"The grandstand in the picture was originally the stand from the Gymnasium ground home to St Bernards FC. It was dismantled and rebuilt at Meadowbank."
John Potter:

"1967, 3rd June, my neighbour took us back to Meadowbank, I had been before with him, August 1965, but being only 9/10 years old, was too busy making a pest of myself. Now I was wee bit older and wiser. The first thing that hit me was the smell, aroma, the riders starting up their bikes and 3 riders coming over to us stating something about gate 2 having a problem (nieghbour was a starting marshall) - Reidar, Douggie, and George Hunter. I was vey impressed my neighbour knew these people and they knew him, even more so after the racing was finished. Ever since I have been addicted to speedway, there is no other sport as engrossing, long may it continue, Meadowbank so sorely missed, the atmosphere, crowds, mostly the racing and presentation."

[ Use Mobile Version ]

Comment on this Article | Contact Us | Go Back to Main Menu