Interview: Olly Allen
By Alex Raby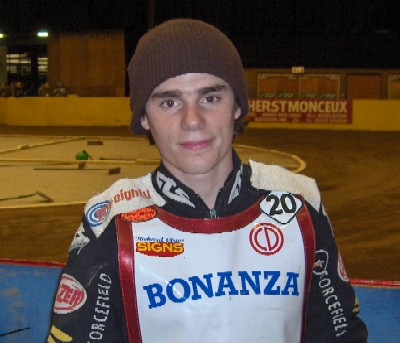 Oliver Allen
(Pic by Alex Raby)
While riders were preparing for another exciting Brighton Bonanza Individual Championship, the tenth since 1997, one rider was relaxing in the narrow confines of the dusty loading-bay pits. Oliver Allen was preparing for a meeting in which he was among the favourites in his own way, and allowed us a glimpse into his career, one which stretches back to his early days for Peterborough in 1997.
After the early days for the 'Thundercats' in what was then the Amateur League, he moved on to ride for Norfolk and Mildenhall in the Conference League. In six matches with the latter he boasted a 9.00 average, while in his six matches with Norfolk he registered an impressive double-figure sum. He still fondly recalls the learning curve which he undertook. "They were fun times, that was one of the reasons it was helpful is because I really enjoyed it. There's kind of no pressure on you at that age, the teams I rode for then were a joy to ride for." The 1998 season was indeed a busy one for the young Brit, as he also took on rides with Peterborough's Premier League team as well as Arena Essex in a very important period for any young rider, the early stages.
The 1999 season was a full-time step up into the Premier League, and after making the commitment many fans quickly saw the potential and ability in their new signing who became the team's only ever-present that year. Allen stayed with Premier League and Swindon despite the many pundits who opined that a shorter stay and swift obtention of an Elite League berth would be wiser. As he explains "I was really happy there, I think the track there had everything to make you as a rider. It's fast, and you also have to turn the bike pretty sharp. As a young rider you can learn everything at that track, so I had no reason to leave and I was happy there with the promotion."
Many have been critical of the doubling-up rule, which allows young riders to compete for two different teams across different leagues in an attempt to allow them to experience more difficult races and to progress as a rider. Olly took advantage of that rule to its fullest extent, and sees no reason for it to be scrapped. As he states "Yes, it was very helpful; it's a good thing for the English riders. I don't think anyone else should be able to do it, but for English guys its good. It's a great way to encourage people to take the step up into the Elite League."
The full-time move into the sport's highest tier was simply a natural move for Olly, as Swindon also moved into the Elite League at the same time. However, the transition was not as easy as many had expected, and Allen struggled to get to grips with his full-time berth. "It was quite hard for me, really. I started the season really good, then I had a few accidents and got knocked out a couple of times, and I lost my way in the sport for a year to 18 months. I wasn't anywhere near as focussed as I should have been, and I lost my way. I lost track of where I was going and where I wanted to go, and I didn't work hard. Whether that's to do with the club, or whether it's to do with the people that were around me, I don't know. No, it's unfair to blame anyone else; really, I was the only one to blame. It's up to yourself to look after yourself, so it was a hard step up. I was ready for it, at the time, but after the crashes I had it kind of got me down; it was a bad time really."
After such a struggling period, the natural progression was to take a backward step and to take time to prepare for another assault on the top-flight. Although it was seemingly a two-pace reverse move, it did help to boost the rider's confidence, and he was soon banging in great scores once again. The move had clearly paid off, "it was good; good to ride for a local track and I went there to enjoy my speedway again and get focussed again, and it worked for me. I can't say enough about how much I enjoyed my time at Kings Lynn Speedway, it was fantastic."
Towards the end of that same season, Allen was in demand once again for Elite League rides, and soon found himself on his way to south-coast team Eastbourne, once again taking advantage of the doubling-up ruling. "It was good; Eastbourne has been a track that I have always liked, and the track held no fear for me. There's a real family atmosphere at Eastbourne, I love it, and I can't say enough good words about the track, the promotion, or the other riders. It was really good."
The success he enjoyed further bolstered the number of interested parties as he looked to re-join the Elite League for a second full-on assault. This time he rode with Coventry, for whom he has also signed for the 2007 season after a brilliant debut season in the yellow and black of the Bees. He has clear targets set for the coming season in the British League, and shows a determination which will be useful in the future. "On a British League level, I have upped my average by a couple of points this year, and I intend to do the same next year. I will work as hard or harder this winter, and I'll carry on doing the same things as I did last year to improve, and hopefully I can push another couple of points on my average and go from there."
Olly has had a huge amount of success for a rider at just 24. His appearances in the World Under-21 Championship gave him useful experience, and culminated in him becoming a World Under-21 Finalist back in 2002 in the Czech Republic. He has also earned places in the final of the British Championship, with one memorable match being one of his early competitions back in 2003, when he finished 8th at Eastbourne's Arlington Stadium. At a club level he has won cups and trophies galore; including league titles, knockout cup success, a 4-team tournament win and young shield victory. Despite this glory, he is still focussed on his individual aims for the future. "On a long term basis, I want to be in the Grand Prix. That's why I started speedway, to be part of that kind of circus, and I want to be in the England team. I don't think that's out of sight for this season, I really don't. If I can improve really quickly at the start of the season, there's no reason why I can't be in the World Cup team."
This article was first published on 15th February 2007
---

Robert Griffin:

"Olly Allen is a very useful rider with the elite league champions the Coventry Bees. He played a very imported roll in the winning of the treble. I think Allen will be a better rider in 2008 with the Bees if they have him back. He is improving all the time. He has a good lot of lads with him who will coach him to be a better rider. Olly Allen is a useful rider to have in your team. He is a real gater from the start and can mix it with the top riders in the league. He played a very important part in the World Cup at Brandon and was useful rider."

[ Use Mobile Version ]

Comment on this Article | Contact Us | Go Back to Main Menu