Open Pit Policy
By Robert J. Rogers
Well done to Lakeside for their open pit policy. At some matches, before the pits become a 'mad-house', Lakeside allow the fans a chance to mingle with not only the riders, but all the other people for whom Speedway would not exist without their input. Gives you a chance to get the sort of photo normally only the Speedway Press would get access to.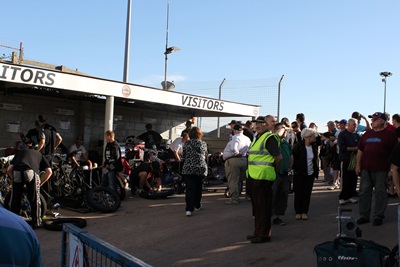 This picture was taken before the start of the GB vs Australia match. A bit of advice for away fans, because of the very high fence that surround the Banger racing track that is on the outside of the Speedway track, if you want to get action shots at Lakeside, you need to use a zoom lens, and get up high on the banking, as the GB vs Aus photo shows.
Shame about Adam Shields he did not half give the safety fence a belt coming out of the second bend! He was taken to hospital by Ambulance and is expected to be out of action for a while, so let's all wish him well.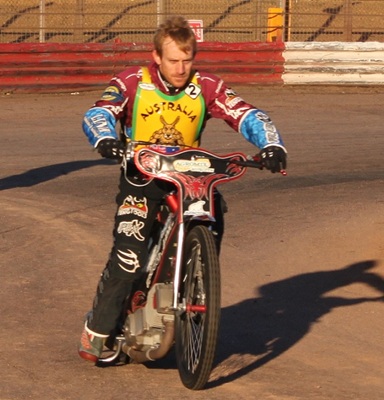 As an old fan, the site of the Ambulance coming on to the track brings back some sad memories. In June 1965, an ambulance was called on to the track at West Ham to another young Aussie, his name was .... Dave Wills.
The team dedicated their triple crown victory to his memory. The site of his racing colours draped over the Alter at his memorial service still remains in my memories.
The Aussies did well at Lakeside, considering all the problems beyond their control. They had to draft another rider in at short notice following an injury at the first test on Wednesday, they lost a second rider within hours of the start of the match with illness, (which it was too late to replace) then their Aussie 'Hammer', Adam, after winning his first race, decided to inspect the safety barrier (at High Speed!), so they were down to five riders for most of the match.
This article was first published on 16th June 2011
---

Geoff Langley:

"With regard to Robert Rogers photographs of the England-v-Australia Test Match at Lakeside and in particular Adam Shields crash, the good news is that Adam did not break any bones although he has unfortunately sustained quite serious ligament damage to his knee and is likely to be out for at least a month. Elsewhere on the site last week it was mentioned in connection with West Ham that both Christer Lofquist and Kevin Holden died in track crashes but this is no entirely correct. Christer actually died as a result of a brain tumour, although it was at a tragically young age (I think he was only about 27). Kevin certainly died after a track crash but the cause of death was said to be a ruptured artery and it could not be medically proven whether the crash caused the artery to rupture or whether there was some pre-existing weakness in the artery that caused it to rupture and that in turn caused the crash. However as it was such a simple and innocuous looking crash, the balance of opinion seems to be that the artery ruptured first and that caused the crash."
Paul:

"Eastbourne has an open pit policy before all meetings; until the bikes start. It was introduced, I think, by Jon Cook - now at Lakeside. Eastbourne pits are also open after the meeting, once it is safe to let public in."

[ Use Mobile Version ]

Comment on this Article | Contact Us | Go Back to Main Menu