All to Play for at Oxford
By John Fray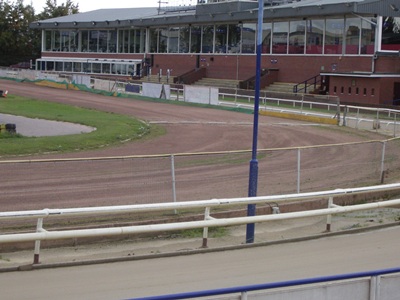 Cowley in 2008
The struggle to save our stadium goes on and perseverance is giving us hope for Speedway to return to Oxford. Many are playing their part and it is coming together with a wide range of support.
The Oxford stadium site can only be used for recreation after the local council ruled it as part of Oxford's heritage. A Save Oxford Stadium meeting on the 26th November was well attended and a business man gave an outline for greyhound and speedway with the finances in place to get it up and running again.
Yes a lot of work needs to be done to return the site back to its former glory.
There is a business case to be made and planning permission to be gained, but it's said that there is money available, with £20million quoted.
There is limited room for development, which could be supported by Labours controlled City's Council if used to make the reopening of the stadium a viable proposition.
There is still strong support for greyhound and speedway racing even among the very local residents.
Our local paper the Oxford Mail has always given great support with recent two full page speedway spreads. At the tail end of Oxford speedway and even though we were in the lowest league we still had good support in 2007 when it closed.
The number of supporters was not the real problem because as we know it was the intention of the stadium's venture capitalist owners was always to flatten the site and build rabbit hutches for housing. The high rent set for the stadium's use was far too much and that's what they wanted in their resolve to drive the promoters out.
The stadium could be compulsory purchased by the council if the owners won't sell for the value as it stands as unused deteriorating sports and leisure arena. The council is open to part of the site being developed and there is enough room for this to happen without interfering with the greyhound and speedway tracks while still allowing a small stand to be built. An integrated commercial proposal with a small number of apartments may make it financially attractive and acceptable to all. Oxford is a very expensive area and there may well be money to be made.
Our hopes are still high and there is all to play for.
This article was first published on 15th December 2019
[ Use Mobile Version ]
Comment on this Article | Contact Us | Go Back to Main Menu