New Hope at Oxford?
By John Fray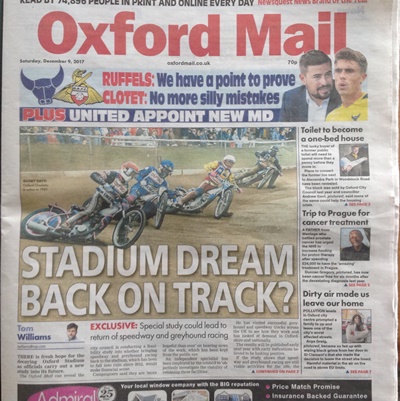 Click on the image to see it in a larger size
Saturday's Oxford Mail's had a great front page, showing four Speedway riders racing round the pits bend on what was once a great competitive Speedway track and still could be. We are given hope once again by the council that our family sport can return to Oxford. In truth it was only the greed of the hedge fund owners why we lost speedway back in 2008.
Impossible high rent set by the venture capitalists forced the Speedway promoters out. Instead the owners attempted to do all they could to undermine the stadium's viability, closing down greyhound racing and taking away fixtures and fitting. All along they were pursuing their money grabbing scheme with plans to demolish the stadium and replace it with a high density house building applications, which the council rightly voted down.
The stadium needs to be managed as a business that wants to make it a successful multi use sports venue again. Compulsory purchase by the council is the only way forward in order to free the stadium from the current owners who have no interest in making it a success they just want to destroy it.
I hope that the survey takes stock of all the community values the stadium gives to those who want to use it and to those of us that enjoy Speedway as a relatively inexpensive family friendly sport. Let the Cheetahs Roar again!
This article was first published on 16th December 2017
[ Use Mobile Version ]
---

David Pickles:

"Many thanks to John Fray for the excellent article and superb front page with the action photo from the Oxford Mail. Oxford was always a friendly place to visit, the banter with the home supporters always a highlight of a visit. Unlike football, speedway fans are, on the whole, friendly, knowledgeable and above all else more than willing to acknowledge a good meeting regardless of the result. The fans at Oxford always came high on those attributes.

There is far too much greed around these days regarding property development, the continuing clarion call of a "housing crisis" playing right into the hands of developers (witness Wimbledon's fate) and greedy landlords. Three cheers to the council for their refusal to buckle under. All our great sport needs now is a vote of confidence in the stadium's future, a compulsory purchase and it could well be tapes up in 2019."

Comment on this Article | Contact Us | Go Back to Main Menu