Stadium Ownership Change at Oxford
Interesting developments at Oxford where ownership of the Sandy Lane stadium has recently changed hands. The new owners are "Cowley Property Investment Ltd", a company which was incorporated on 6th September this year and the ownership of the stadium transferred to them the following day.
The new company is registered in the Westminster area of London. Their "nature of business" is "buying and selling of own real estate". The company has two directors, both of whom were once directors of the former stadium owners "GRA Acquisitions". Between them, the two can claim to hold 62 current directorships in different companies, clearly very busy men indeed.
The new owners have made no comment on their plans for the site, but restoring the stadium to its former uses seems unlikely to feature in their plans.
Oxford City Council remain supportive of retaining the stadium for sporting and leisure uses. They are still hoping to take control of the situation by raising a Compulsory Purchase Order for the site.
Council leader Bob Price told the Oxford Mail:
"It's not clear at all why they have done it or whether it makes any difference; it's something to do with their internal financial arrangements. We have spoken to a potential operator, because clearly any CPO has to be linked to a plan for operating the stadium, and he is in the middle of due diligence."
The speedway fans in Oxford are continuing their campaign to save the stadium. Their latest full-page advert in the Oxford Mail featured Lee Smethills, the last captain of the Oxford Cheetahs. He commented:
"I followed speedway as a kid as a Belle Vue (Manchester) supporter. Oxford were one of the big teams, with riders like Hans Nielsen. You'd always make sure you were there for Oxford and couldn't wait to see them. That's why - around 20 years later, I was so proud to ride for the Cheetahs.
While I was at Oxford, I turned down offers from several Premier League teams, because that would have meant leaving Oxford and I didn't want to do that. I wanted to be part of the club's future. It was a really good team effort to beat Plymouth by a single point in the play-off semi-final, it's something I'll always remember. There was no disgrace in losing to Scunthorpe in the final, because their team was full of quality riders, such as Tai Woffinden - currently World Champion, and even early in his career it was obvious he was something special.
Riding for Oxford was one of the best moments of my career and I made a lot of friends there. I'm proud to have the tag of being the last No.1 and last skipper of the Oxford Cheetahs, but I'd much prefer to lose that tag and see Oxford Speedway back."
Click on the image below to see the full size advert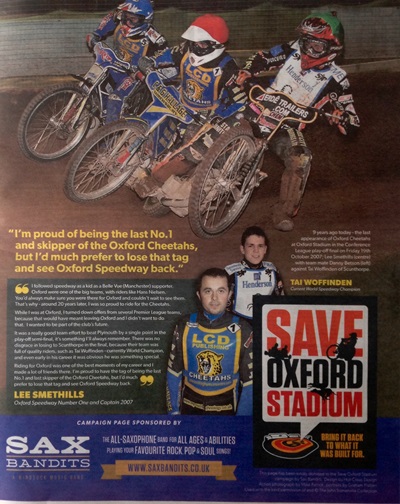 This latest advert appeared in the Oxford Mail on Wednesday 19th October 2016 and was sponsored by saxbandits.co.uk
Thanks to John Fray for his assistance with this article and his ongoing monitoring of developments in Oxford.
This article was first published on 30th October 2016
[ Use Mobile Version ]
Comment on this Article | Contact Us | Go Back to Main Menu