Thoughts on Oxford and 2014
By John Fray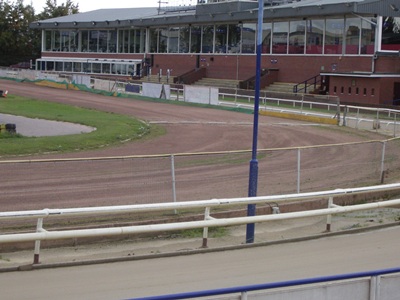 Cowley Stadium
The campaign to Save Oxford Stadium continues with good news that the latest attempt to demolish the building and sell it for housing has been unanimously turned down by the area planning committee. The plans for 220 houses put in front of the committee were appalling and as one councillor described it would be an awful place to live. To replace a recreation and leisure facility with a high density development like the one proposed would be a crime.
The real challenge I believe for the SOS campaign is to prove that the stadium can be a commercially viable again and to this end a business plan needs to be in place before the developers make their final appeal at government level. The use of the greyhound and the go kart track is already guaranteed if the stadium is saved, but the campaign still needs an experienced speedway promoter to make the case for speedway. That should be part of the appeal now within the speedway fraternity.
2014 looks like being a tough year for British Speedway, especially for the Elite League. It is time for a big rethink, but so far the signs are not good with very little of significance being changed to attract bigger crowds promote the sport each time the BSPA meet. There is a real need, especially if Sky does not renew its contract because without that money keeping the promoters costs down many will be in trouble. So now even at this late stage before the season starts who knows what will happen if Sky's money is lost to the sport?
Currently what seems clear is that the riders UK earnings cannot compete with what the top riders are guaranteed by continental promotions while the travelling and the extra meeting commitments all add to the problems, even for the most loyal Elite League riders that are tempted by team places offers overseas. British speedway is gradually losing the top riders. The consequence is that there is a major imbalance of ability not just within the league but the teams as well, which leads to a serious lack of the keen competitive racing that draws the crowd. This trend will sadly continue until the promoters accept that the current Elite League format is no longer viable and that there has to be comprehensive review undertaken which I believe has to bring the premier and elite league together.
There is a desperate need to balance out all the teams, this may not make for the most skilful of riding in the first place but will even out the racing and bring on the more ambitious riders in the combined leagues. Hopefully it will also reduce costs for the promoters who will no longer feel the need to agree contacts with top riders, who will then be free to sign for the continental teams.
This article was first published on 12th January 2014
---

Richard Tyrrell:

"A first class article by John Fray, a man whose letters on the gradual demise of Oxford Stadium, have headlined the letters page of the Oxford Mail in the past few months. Many of us have been desperate to see the stadium survive so that speedway might return but, in the back of our minds, have been doubts about the viability of the present level at which the sport curently operates on a wider scale, and could it now be sustained at Oxford.

There is no doubt that British speedway has suffered dreadfully at the hands of the Grand Prix despite many warnings of future problems in the early 1990s, and it is a shame that the promoters of the day didn't stand and fight. Can you imagine a return of Saturday night speedway at tracks like Swindon, Coventry etc? But we are where we are today. I could never understand why promoters do not promote the sport locally away from race night. When I was young there were always adverts in the local newspapers and on advertising billboards, and the kids around were always talking about speedway. Reading Mr Fray's article, especially the part about attracting bigger crowds, brings to mind the phrase - speculate to accumulate! Who knows - maybe miracles do happen!"
Dudley Jones:

"I, like Richard Tyrrell, would love to see Oxford reopen and I have campaigned for this, despite only having been there once. I agree also regarding the state of speedway. To put it bluntly British speedway sold its soul to a circus. The Grand Prix is definitively not a world championship but a roadshow of effectively invited riders. You might argue that nultiple winners may have some claim to being 'World Champion' but who is to say that there are not very many greater riders outside the sytem, in the wilderness. I have huge respect for Ove Fundin and his views, most recently aired in the excellent Retro Speedawy DVD on Norwich. Ove is in no doubt that the GP circus is a bad thing.

Also, the set up of the sport today with no regular meeting night is a bad thing. See the DVD, Ove speaks more wisely about things than anyone I can think of. I feel very strongly that to give the sport any chance we need regular racenights. Being a speedway supporter is a life style thing, an enjoyable habit When I lived within 50 miles of Ipswich I supported the Witches each week. Thursday was their racenight and only occasionally would they not race that night. I arranged my life to be at Foxhall on Thursdays, in a similar way to countless other supporters of their respective favourites. If out and about in other parts regular race nights would enable the travelleor to turn up at other tracks confident of seeing a meeting. Can you expect a regular fanbase with the present system - no.

We also need local boys in teams, and we need riders who stay more than a season - in short - continuity. If I were in charge I would forget about the GP system, and perhaps bring speedway back to local level, to its roots. Both Olle Nygren and Ove seem opposed to lots of foreigners in our team (which may seem strange). After a few years of 'basic speedway' crowd building GB would emerge stronger on the world stage. Thats more or less what happened in 1964/5. Ove spent more than 10 years with Norwich, and had no desire to ride elsewhere. Indeed, there is very good reson to believe that, if Norwich had not closed (for very little housing money and in the face of gates of 10,000 or so) then he would now have more titles than Mauger.

Many think that abolishing the 'second half' also impacted upon popularity, and I am inclined to agree. There was something to look forward to after the league match, win or lose. The rider of the night contest gave the home team boys the chance to race each other, and the junior and scratch races gave a chance to new talent and local lads. In an age when Eastbourne (Elite League) appear to get similar or maybe less support than a well run third tier team such as Mildenhall, we have serious problems.

I have suggested a separate knock out world final in addition to GP (if we must). Call it the World Knockout Championship if you will, but it would bring back some support and interest. One of my favorite events at Norwich tended to be world championship qualifying rounds which brought lower league racers to The Firs. I am also a F1 supporter, and am not against the GB concept for such sports, because there are not hundreds of F1 drivers driving each week and excluded from GP. "
Bill Elliot:

"Wow! Found myself agreeing with every word written by Dudley Jones re the problems facing speedway right now. Trouble is, the article had so much commonsense contained in it I'm doubtful if the people in charge of the sport will actually pay any attention to it. The monotony of Grands Prix, and watching the same invited riders make it a complete turn off for me, while like he says second halves provided something a little different for spectators and, most important, helped develop junior riders, who these days are extremely fortunate if they can find a junior team in the third tier. The nearest junior track to us in Scotland is several hundred miles away so what chance have we got of developing new talent?"

[ Use Mobile Version ]

Comment on this Article | Contact Us | Go Back to Main Menu