Paisley Lions - 40th Birthday Party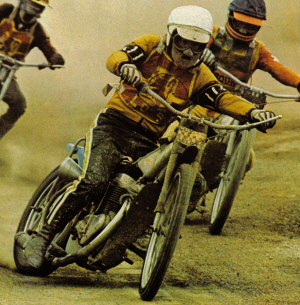 'Cowboy' Colin Farquharson
2015 is the fortieth anniversary of speedway opening at Love Street in Paisley. The Paisley Lions only operated for two seasons but their loyal fans continue to keep their memory alive.
Bill Elliot is chief amongst those and is organising a fun-packed evening that will reunite many of the riders that pulled on a Lions body colour.
He tells us:
"It's taking place in the 5 on 5 Club, in Paisley, on Saturday 26 September, from 7.30pm (the same venue as the reunion in 2011), and to date we've had a fantastic response from former riders.
No fewer than EIGHT have confirmed they'll be attending, those being Sid & Mick Sheldrick, Colin Caffrey, Chris Roynon, Alan 'Doc' Bridgett and no fewer than three of the Antipodean contingent are flying in for the event, namely, Burnett (Bernie) Foot, Colin Farquharson, and track record holder Mike Fullerton.
We're also hoping to do a couple of Skype link ups with others from the time, and all in all it's going to be a night dripping full of nostalgia, with the former riders in attendance, images of them on the big screen, and music from the era all in evidence on what will be a very special occasion.
Tickets are only a tenner a head, and folk interested in attending should get in touch with me at 07854 724184, or email me at bettens6@talktalk.net"
If you'd like to know more about Paisley, then please take a look at this article about the first meeting and these pictures of the Lions in action.
This article was first published on 9th August 2015
[ Use Mobile Version ]
Comment on this Article | Contact Us | Go Back to Main Menu