Reunion Report: Paisley Lions 2015
By Bill Elliot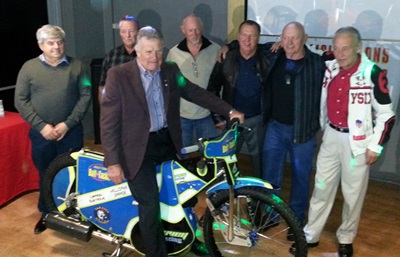 Colin Caffrey, Alan Bridgett, Colin Farquharson,
Burnett (Bernie) Foot, Mike Fullerton,
Sid Sheldrick. On bike, Neil MacFarlane.
The Paisley Lions returned to the town for one night only, as the club's 40th birthday was celebrated on 26 September, when fans and former riders joined to commemorate the brief two years during which time, in 1975-6, the roar of speedway bikes was heard at Love St in the Renfrewshire town, erstwhile home of St Mirren FC.
Australian Burnett (Bernie) Foot and Kiwis Mike Fullerton and Colin Farquharson flew in from the other side of the world to join team mates Sid Sheldrick, Alan Bridgett, and Colin Caffrey at a packed 5 on 5 Club in Paisley, and former promoter Neil McFarlane also joined in the festivities, which took the former riders by surprise.
"I was amazed at the fans' turnout for Saturday's Birthday Party," said former skipper Sid Sheldrick. "I've many great memories from my speedway days, but those from the party are easily the best. It was an emotional night and the way the fans welcomed us with open arms makes me feel very humble. Saturday night is an occasion I'll never forget as long as I live, and I had to say thanks to the people of Paisley. We only lasted two years but I consider it to be the best time of my career."
During the night, fans were treated to a slide show depicting images of the riders who rode for the club, and music from the era, but perhaps the most poignant part of the evening was the reading out of messages from former riders Bob Baker and Stuart Mountford, while a message from the late Tom Davie's sister Lynne had supporters, and former team mates, remembering "Our Tom" with a smile, but with a few tears too, as the Lions' favourite lost his life in a road accident at the turn of the 80's.
On the following afternoon, and courtesy of the Glasgow Tigers management, former riders and supporters watched the second leg of the League Cup Final at Ashfield between Glasgow Tigers and Edinburgh Monarchs, and presented the hosts with a three figure sum which was, in turn, donated by the Glasgow management to the Darcy Ward Fund.
It may have been for one night only, but for those few hours in a club in Paisley, as the music of the time suggested, "The Boys" were very definitely "Back in Town".
This article was first published on 4th October 2015
---

Martin McManus:

"Many thanks for covering this, was glad to be part of it, and, see old faces again."
Ivan Blacka:

"I wish I was very wealthy to the point where I could have the biggest Speedway party ever. I would fly everybody in from all over the world it would go down in history as the biggest party ever. So many great memories from Speedway in England. Who knows this is just a dream and I may win the big lottery one day and this could happen. This is my dream, I hope you all like it."

[ Use Mobile Version ]

Comment on this Article | Contact Us | Go Back to Main Menu