Old Rivals Support Paisley Party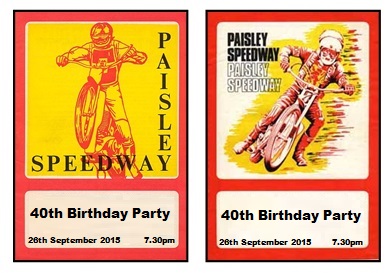 The organiser of a forthcoming birthday party to commemorate Paisley's only speedway team, the Paisley Lions, has received a welcome boost from the club which used to be the Lions' deadliest on-track rivals.
Bill Elliot, who is organising the Paisley Lions' birthday party on 26 September in the 5 on 5 Club in Paisley, was delighted to receive a telephone call from the Glasgow Tigers' management, offering some very special encouragement to make the party go with an extra swing.
Elliot explained,
"Yes, I received a phone call from Alan Coyle, one of the Tigers' management team, who explained to me that they'd heard about our little soiree to celebrate 40 years since the Lions came to Paisley, and that they wanted to help make the night go with a real bang. They've offered a significant quantity of complimentary tickets for their playoff match at the Peugeot Ashfield Stadium the following afternoon, sufficient to ensure that anyone who comes to the Birthday Party and who would like to see the table topping Tigers go for glory, has the opportunity to do so for FREE less than 24 hours later!"
"It's a quite magnificent gesture from the club, and I'm sure that many of our guests, hangover permitting, will want to see the Tigers race the following afternoon, particularly if they haven't been for a match for a while, and would like to re-live the sensation of attending a live speedway meeting. Who knows, they'll maybe get bitten by the bug once again. I've managed over to Ashfield a couple of times this year and the place is unrecognisable from before. The stadium has been re-jigged from top to bottom, and the racing has been second to none, the whole atmosphere of the place is buzzing as soon as you walk in the door."
"Of course, if this sounds like a great chance to have a speedway weekend, then that's because it is, but I have to stress that to take advantage of the offer people do have to be in attendance at the birthday party on the Saturday night. It's a chance to meet up with old friends and riders from a special era in Paisley, with some of the stars flying in from the other side of the world for the event, with the very considerable bonus of being able to see the local Glasgow Tigers race for glory the following afternoon. At that time of the year, it's very likely that the meeting could be a league playoff battle, or maybe even a cup final! If folk are interested in taking advantage of this double header, I can only advise them to get in touch with me at 07854 724184, or email at bettens6@talktalk.net. But better hurry!"
This article was first published on 16th August 2015
[ Use Mobile Version ]
Comment on this Article | Contact Us | Go Back to Main Menu