Perry Barr Survival
By Philip Dalling
One of the pleasures of being a speedway fan is the opportunity to visit new tracks.
Trips in recent years have taken me to brand new 'green field' venues such as the High Edge Raceway at Buxton, the Oak Tree Arena at Highbridge and Leicester's Beaumont Park, together with a visit to the long-defunct but now happily revived Ashfield Stadium in Glasgow.
The complicated history of the site makes it difficult to classify the latest addition to my list of speedway venues visited. The current home of the Birmingham Brummies at Perry Barr Greyhound Stadium is essentially a modern construction, despite occupying the site (and more or less the footprint) of the old Alexander Stadium.
The potential confusion is increased by the fact that spectators are advised to park on the shopping complex across the road, which was the site of the original Perry Barr dog track, where I saw speedway in the 1970s.
The visitor gets the feeling that the entire neighbourhood has undergone extensive change, but one constant factor appears to be the surviving properties in a row of houses opposite the stadium.
On my visit to Perry Barr this season, to see the Brummies ride against Belle Vue, reduced admission applied, and there was the pleasant sight of queues at the turnstiles. Apparently the attendance that evening was the second highest since the Brummies' 2007 revival.
Like at a number of tracks these days, viewing is not perfect at the new Perry Barr, with spectators confined to the impressive three-level glass-fronted bar/restaurant on the home straight and the area in front of the facility, together with the first bend.
I found a viewing spot on the temporary terracing coming out of turn one. Looking over the car park at the rear of the terracing, I couldn't help noticing that the view was similar to the one shown in a 1949 photograph used in my most recent book Speedway The Classic Era.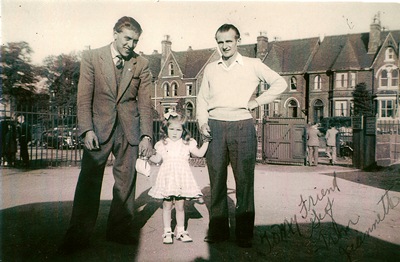 The picture, reproduced above, shows Brummie Geoff Bennett (left) with American star Wilbur Lamoreaux, who rode for Birmingham that season. The gabled houses in the background in the top right hand corner of the photograph appear to be still there in 2012, although inevitably the road between them and the stadium car park is now much busier.
I wonder if the present-day occupants are speedway fans?
The third person in the picture is Wilbur's daughter, Jeanette, who rated Geoff Bennett as her favourite Brummie.
This article was first published on 9th September 2012
[ Use Mobile Version ]
Comment on this Article | Contact Us | Go Back to Main Menu