Riders to Remember....Peter Bradshaw
By Tony Webb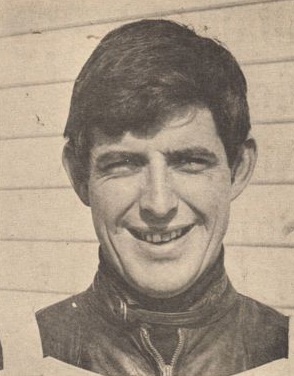 Peter Bradshaw
Peter began his speedway career in Melbourne in 1967, he was a protege of fellow Victorian, World finalist Peter Moore who encouraged him to go overseas. Peter had a classic speedway style very similar to Ken McKinlay. After a promising 1967/68 Victorian season he travelled to Queensland where raced at Rockhampton, Townsville and Cairns with the Bob Sharp troupe.
During the 1968/69 season Peter top scored with 5 points for the Victorian team that were beaten by an English select 39-15 in Melbourne. His mentor Peter Moore lined up a contact with his former boss, the Kings Lynn promoter the late Maurice Littlechild, Peter signed for the Norfolk team and made his UK debut with the Stars Second division side in April 1969. After only two matches he was recalled to the senior side where he was an ever present for the remainder of his debut season riding in 39 meetings with an average of 4.194. Pete also received his first full test cap at Wolverhampton on July 4. In September he was called up for the Second division Australasian team at Ipswich where he put in a fighting display to top the score chart with 15 points.
Peter returned to Victoria for the 1969/70 season in Melbourne where his development was a talking point of the season. On his return to England in April he found he had been transferred to the West Ham team in East London. In a side that tracked three World finalists, Olle Nygren, Christer Loftquist and Sverre Harrfeldt, there was plenty of advice available, Peter's form blossomed.
West Ham team manager Phil Bishop arranged a trip to Holland for a West Ham select in July. There was to be a tragic outcome that shocked the speedway world to the core. After successful meetings in Tilberg and Amsterdam the party of riders were on the way to the ferry at Ostend in a mini bus, when it crashed into three trucks and then into a farmhouse at Lockeren in Belguim. Martyn Piddock and Mal Carmichael were killed instantly. Peter, Phil Bishop and Gary Everett died in hospital. Gary Hay, mechanic Roy Sullivan, Colin Pratt and Stan Stevens all received serious injuries.
Peter was 23 years of age, he left a wife and a 14 month old son. He had ridden 17 matches for his new team and was poised to become a future star.
RIP
British Record

1969
Kings Lynn Starlets....2 - 13 - 7.42
Kings Lynn Stars....39 - 130 - 4.19
1970
West Ham Hammers....17 - 90 - 5.62
International Record

1969
Australia v England @ Wolverhampton 4/7/1969 - 0 points
Australasia v Gt Britain Div 2 @ Ipswich 25/9/1969 - 15 points

1970
Australia v England @ Hackney 17/5/1970 - 1 point
West Ham v Denmark @ Tilberg Holland 12/7/1970 - 10 points
West Ham v Denmark @ Amsterdam 13/7/1970 - 8 points
We want to feature similar articles on riders from any era of the sport's rich history. If you'd like to contribute a piece then email us at speedwayplus@hotmail.com or fill out our form here.
This article was first published on 9th July 2009
---

Geoff Langley:

"I really enjoyed the excellent article on Peter Bradshaw. I loved watching him at West Ham as he was a very entertaining rider and I have often wondered about his background, so the article on him was very interesting. Tony Webb mentioned that Peter had a classic style very similar to Ken McKinlay, which may well have been the case in the early days but by the time he got to West Ham he had developed a style that was very much his own, although slightly reminiscent of Gote Nordin, with his left leg tucked well in, usually right round the white line at West Ham.

He always looked a very classy rider and at the time I really thought that Peter and Martyn Piddock were the future for the Hammers. For most of West Hams hisory there was always seemed to be at least one classy Australian in the side, from Bluey Wilkinson to Jack Young and then Ray Cresp and John Langfield and Peter was undoubtedly part of that hertage."
Dudley Jones:

"I have a few memories of Pete Bradshaw, some of him riding and once when I met him. I those far off days I worked for Dunmow Rural District Council in Essex, where I was a civil and structural engineer. Terry Betts had a garage in the Rodings in our district and Pete and another rider, whose name escapes me, came to our offices one day to discuss aspects of Terry's alterations. Apparently they were working on them. When I went that way I always called in at Terry's garage for fuel and hopefully a chat. I remember, a few years earlier, in 1965, after my beloved Norwich had closed and while, having relocated to Essex, I supported West Ham Hammers. Terry had not ridden in the Stars last season, 1964, but had been persuaded out of 'retirement' for a spell at Long Eaton. This was of short duration ,as he broke his leg after a couple of matches. Speedway Star was speculating as to when Terry would be back for the Archers, but I recall him intimating that he would not be back that year, clearly indicating that he would be with the new Kings Lynn Stars in their first year of league action in 1966. Terry was always to be a favorite of mine, even after I went over 'to the dark side' many years later, and supported Ipswich. Lokeren was very shocking, and sad. We lost Pete Bradshaw, Martyn Piddock ( a great talent) and dear old Phil Bishop, but we should be pleased that Colin Pratt, Stan Stevens, etc., survived (although Colin, a great rider himself, never rode again). Terry was a bit like Ronnie Moore, more interested in the team than the World Final. He had the talent to win it."

Apparently the same mistake was made in the recent article. We've corrected the piece and are happy to print Roger's comments here:

Once again the two matches in Holland on those fateful days have been listed incorrectly! I was there for both these meetings and no matter how I try I cannot get the team names changed. Long long ago one high profile reporter called the team the "Dutch Vikings" this was totally wrong but it has stuck. The teams involved were West Ham (Obviously) and Denmark....yes both teams used Dutch riders. I tried to get this changed again this year when "Classic Speedway" listed the same thing but they decided that even though I was correct it could hardly be called a Danish national team. Not the point of course, it was called Denmark and should remain so, why is it so hard to get History changed? I did offer to "Classic Speedway" that if indeed they want to keep calling the teams by names that suit the team maybe we should start changing some British team names to say for example...Poole v Guest Riders!!!! "
Robert J Rogers:

"Despite losing Peter Bradshaw, by the end of the season he still had the fourth-highest average points per match for the Hammers, making him our top `second string` and like most Aussies, he like the wide open large Custom House Track, once he had got used to its size. Martyn Piddock also had a reasonable average, and the `What If` kicks in, what if they had not gone on the fatal trip to Holland to improve their speedway experience, two possible World Champions in the making? "

[ Use Mobile Version ]

Comment on this Article | Contact Us | Go Back to Main Menu