Peter Clark and the Kiwi Invasion of 1952
By Tony Webb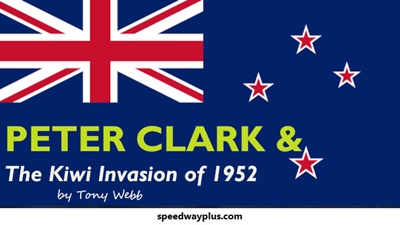 The first speedway meeting I attended as an 11 year old schoolboy was August 20 1951 at Rayleigh, the club had already had one larger than life New Zealander, the one and only Bruce Abernethy from Wellington who was dispatched to the Essex by Wembley his parent track to learn the ropes in July 1948 and maybe keep him away from the distractions of the big smoke!
The colourful Abo scored a maximum in his first meeting at the Weir on July 31. He then rode for another 11 meetings, winning the Raylegh Best pairs and record another full maximum. He was then whisked back to Wembly, his apprenticeship served.
The next Kiwis to be signed were the Hastings pair of Jules Benson and Maury Dunn who were riding in the first meeting that I saw in 1951. I was hooked on speedway from that point and always had a liking for the colourful Anzacs.The first meeting I saw had Jules Benson and Maury Dunn in the team.
In 1952 came the arrival of another exciting young rider by the name of Peter Clark. Peter was one of 24 New Zealanders who arrived in England to race that year.
Peter was in the Rayleigh team within weeks and by the end of the first month had won his first race and was crowned Essex Champion. By the end of the season he was third in the Rayleigh score chart and had represented New Zealand in international events. He went onto a further four seasons with the Rockets and representing New Zealand 13 times. He also raced in Scotland, Wales, South Africa, Sweden, Norway, Poland and Denmark before retiring at the end of the 1957 season.
New Zealand had proved to be a happy hunting ground for the Rockets promotion of Tippy Atkinson and her ex rider husband former West Australian champion and West Ham promoter Arthur Atkinson. In the winter of 1951 Maury Dunn moved up to the elite First division club Harringay. Acting on the advice of Jules Benson, the Atkinsons had signed the little known Hastings novice Peter Clark. He had but a few rides on his home track and down in Wellington but had not torn up any trees at that time. Atkinson could have remembered that he rejected another little known rider from Down under in the name of Graham Warren when he turned up at West Ham in 1948 and was not going to make the same mistake again!
I am currently researching Peter Clark's story in full. He was truly an overnight sensation , a very safe rider and loyal servant to Rayleigh and his promoters, this was the only club he rode for. Although his career was overshadowed by Briggo, Mirac and Ron Johnston he was one of New Zealand's best.
I met Peter at a speedway dinner in Sydney 2012 and found he was living in Queensland at Maroochydore. i have tried to contact him recently without success, if anyone can help it would be appreciated.
Tony Webb
0481 990 364
binbooks@iinet.net.au
This article was first published on 7th March 2021
[ Use Mobile Version ]
---

Mariusz Dubielewicz:

"1957 Test-matches

POLAND versus AUSTRALASIA 14.10. Wroclaw (abandoned): POLAND as PZM 36 (the best Konstanty Pociejkowicz 9 points) vs AUSTRALASIA 12 (the best Trevor Redmond 4 points; PETER CLARKE 0 points)

15.10. Warszaw: POLAND 49 (the best Janusz Suchecki 11 points) vs AUSTRALASIA 23 (the best Ronnie Moore 6 points; PETER CLARKE 4 points)

17.10. Leszno: POLAND as White Eagles 43 (the best Janusz Suchecki 14 points) vs AUSTRALASIA 35 (the best Jack Biggs 14 points; PETER CLARKE 3 points) "

Comment on this Article | Contact Us | Go Back to Main Menu