Riders to Remember....Peter Moore
By Dudley Jones
In the first of this new series, Dudley shares his memories of the Australian rider Peter Moore. We want to feature similar articles on riders from any era of the sport's rich history. If you'd like to contribute a piece then email us at speedwayplus@hotmail.com or fill out our form here.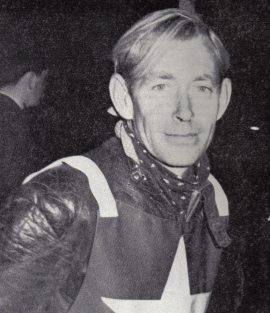 Peter Moore
When I first saw speedway, in the summer of 1962 at Norwich, Peter Moore was a Swindon rider of some repute.
An Australian, he had first ridden in Britain in the early 1950s, with such august teams as Long Eaton, and St Austell. To a teenager Long Eaton's first league involvement then seemed a very long time before, and Peter's introduction to the National league the only tangible link (although the Archers were, of course, soon to return).
Peter had moved to better things, and was part of the great Wimbledon era of the mid 1950s, and at Ipswich around the turn of the '60s.
Like many Australians of the time, Peter was a 'gater'. He was fast, yes, but I soon formed the view that if Fundin, Betts, etc. caught up with him they were sure to beat him.
So, my regard for Peter was not of the same level as that I had for Ronnie Moore, Peter Craven, etc., who could come from the back.
After the formation of the British League in 1965 Peter was still around, although approaching the veteran stage. He figured strongly in King's Lynns first teams, as captain at one time I believe.
By this time I was supporting West Ham, and don't recall seeing Peter often, but our paths were to cross again.
Len Silver revived Rayleigh, in the new second division, and I became a regular supporter. The track was, as always with Len, excellent, and the team were triers and well worth the regular Sunday trip (I recall that on Sundays the admission was very reasonable (free), but the cost of the mandatory programme was a bit steep!)
Anyway, at the start of a new season it was announced that Peter Moore was a new signing.
I was less than thrilled, but there was to be a surprise. I believe that Peter had been out of the sport with a serious injury and, now definitely a veteran, had dropped to the junior league level. The surprise? - Gone was the lightning gating!
Instead Peter was actually not gating well, but he was fighting for position. He was a good scorer too, coming from the back like he never did in his prime.
I believe that Rayleigh may have been his last team in the UK, but for my money those were his most exciting, and impressive, times.
I understand that Peter died a few years ago in Australia, but I shall always recall his 'Indian Summer'.
Submit Your Own Article on a "Rider to Remember"
This article was first published on 25th October 2007
---

Alan Capleton:

" I remember Peter when he came back into the Rayleigh team in probably 1970/1, maybe a year later and he had the bike with the strange handlebars, but could he race and was probably one of the fastest out of the gate at that time. I remember him riding for the Rockets down at Canterbury and I think we won that night either 42-36 or 41-37. The Crusaders fans mocked him and his bike but he soon shut them up. He was stylish and one of the true professionals and still wore those classic black leathers. He was a joy to watch and if only we had racers like him today, the sport would be all the better for it.

I put him in the same entertaining style as Jimmy Squibb, Terry Stone, Allan Emmett, Geoff Maloney, Ted Hubbard, Brian Foote etc all of whom were out and out racers. I started to watch speedway in 1969 and my local team was the Rockets and Saturday night at eight was not to be missed. We saw some characters but Peter Moore stands out as a veteran who could still show the youngsters a thing or two about track craft."
Leigh Moore:

"Peter Moore is my uncle, my father is his brother. Peter died some years ago from complications arising from an operation. I still have some of those handle bars from his bikes. Ivan his brother and he used to make them. Ivan still has some of Peter's photos and trophies and I have some 8mm film he used to shoot in the 1950s and 1960s. I must have another look at them one of these days. It's interesting to read bits and pieces about Peter."
Ian Graham:

"I must have been at Rayleigh at the same time as Alan (see his feedback in this section). I too remember Peter's strange handlebars and I think he still rode a JAP when the others were on to Jawas. I think Alan, it was 1973 that he joined he Rockets as I still have several programmes from Rayleigh meetings that year. Geoff Maloney, Terry Stone, Brian Foote....Saturdays at 8pm at the Weir....yes those were days to remember..!!"
Brian Sloane:

"I have recently come across your piece on the late Peter Moore, although I suspect it was written a little while ago now. I was a great fan of his, having seen my first speedway meeting in 1960, at the age of 13 when he was the star at Ipswich. Looking back, 1960 was probably his best year. He finished 4th in the World Final and would have secured third place had Ove Fundin not beaten him by the narrowest of margins in his last race. Interestingly, Ove Fundin has named Peter as the rider he feared most in his racing career. He was a very fast gater and once in front was very difficult to pass. I felt at the time and have done so since that he was the most underrated of all the Australian speedway riders of his age. He is often mentioned in magazines like Classic Speedway but I have never seen a definitive account of his Speedway career. I have recently been in touch with Peter White in Australia who says that little has been published there about him. I thought this might be the case and sent Brian Darby a photograph of Peter which he kindly put on his excellent Vintage Speedway website. Now that I am retired, I have a little more time to research subjects like this. I was particularly interested in making contact with Peter Moore's nephew who responded to your piece."
If Leigh Moore contacts us then we'll put him in touch with Brian
Brian Dent:

"Yes I remember Peter. and those bars very well, riding for Rayleigh at Barrow in the early seventies. I certainly recall, as has been mentioned, his rapid gating and hard riding style. An exciting rider to watch."
John Raggett:

"I met peter in 1976, I delievered car spares to main dealers in the Nottingham area. He used to beg large wooden crates from me to use to send used car parts back to oz. He was Australian team manager and I went and met him at White City. I was supposed to meet him afterwards but the victory celebrations were a bit hectic. We met a few weeks later when he wanted more crates. He was a great character, lean and fit looking with a great sense of humour, it was an honour to have met him"

[ Use Mobile Version ]

Comment on this Article | Contact Us | Go Back to Main Menu