The Honours System, Handicapping and The Duke of Cambridge
By David Pickles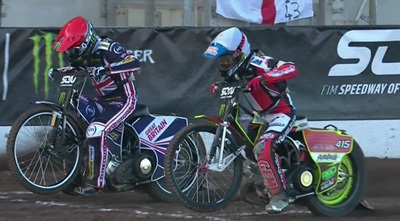 Woffinden and Bellego
at the Speedway of Nations at Belle Vue
Following the latest Queen's Birthday Honours List, published on June 8th, it really is time to form some sort of pressure movement to get speedway recognised. There are some in the sport who are very worthy of note. Has Len Silver, ex-England team manager been recognised for his services to the sport? Why hasn't Tai Woffinden been given an award? Twice a GB World Champion, and massive fundraiser for good causes, notably Great Ormond St, once again he's ignored. But "wheelchair basketball"? Oh yes, give them a gong. It's so politically correct it's unreal.
We need to get our act together. The BSPA need to solicit the services of the Parliamentary All-Party group on speedway and get those in the House of Commons to start earning their corn where our sport is concerned. Quite frankly, I'm sick of waiting for the twice yearly "honours list" to see our sport totally ignored.
* * *
The riders do their best. The fans, what are left, turn up. But the fact remains, it's getting worse. The "Speedway of Nations" (whatever happened to the World Cup?) at Belle Vue, Manchester last Tuesday, finally proved the disparity between riders, and indeed countries.
I first saw our glorious sport back in 1964 at West Ham. That was the dying season of the old National League, and the handicap system, which was seared on my mind. If I have it right in those days, Briggs, Fundin and Knuttson were but 3 riders off 20 yds (let's call it metres now to be politically correct), and lesser leading lights such as Arne Pander and Nigel Boocock, possibly Ron How would have gone off 10 yds with other riders on scratch.
Watching the boring farce that was supposed to be "of nations" last Tuesday, it struck me that maybe a handicap system could be the saviour of speedway. I've often steamed off about the ridiculous and stupid (in my view) starting rule. Tape touching exclusions are killing the sport as a spectacle, but that argument is for another day. But handicapping could just be something that saves it.
Every rider could be graded, and every country based on the individual riders graded as well. An average of between 0-3 points could start at the tapes. A 3-6 point average could be handicapped 5 mtrs back, 6-9 points 10 mtrs back, and an average of 9-12 points 15 mtrs back.
This could be trialled at least for one season, if it's only tried in one division and if it works, which I'm sure it will, could then be extended to individual countries. Nothing wrong with having speedway on an equal footing given the mania these days for "equality". New and young riders who climb the ladder would at least have half a chance when up against established heat leaders, and it wouldn't just keep them on their toes, but give the big boys something to think about as well.
People pay their hard-earned these days to see racing and passing, and that is sadly becoming something of a dim and distant memory at some meetings. Belle Vue, one of the best tracks in the UK, couldn't even produce a spectacle worthy of a live TV broadcast. I would venture to suggest many newcomers to this wouldn't be switching on again.
Some will be querying heats like 13 or 15, so if that race requires 4 heat leaders above an average of 9 then all start from scratch, but varying averages which are calculated every month, would bring an added interest in my opinion to where each rider starts a race.
* * *
The Duke of Cambridge indulged his passion for motorbikes when he visited the I make no apology for cutting and pasting the following short article from ITV News:-
" The Duke of Cambridge indulged his passion for motorbikes when he visited the Isle of Man TT - but his wife may have not been so impressed. Prince William joked that the Duchess of Cambridge appeared sceptical that his official visit to the island happened to coincide with the motorsport event. The Duke, who has a life-long love for the machines, stood feet from the roadside and marvelled at the riders as they screamed past on their bikes."
The point here is, that is has been revealed that Prince William is a MASSIVE motorbike fan, and loves motorsport. So, why haven't UK promoters cottoned on to this and invited him to a speedway meeting?
Before this idea is pooh-poohed, it should be remembered that back in 1947, or it may have been 1948, Prince Phillip was invited to Custom House, West Ham, and presented a trophy. I cannot recall the name of the meeting, as it was 7 years before I was born.
I know things are different these days, because of security etc., but it surely cannot be beyond the realms of possibility that it couldn't be arranged. Imagine the publicity for our sport, imagine the size of the crowd, by having a meeting, maybe annually, named after Prince William, who I'm sure as one of the "lads" would jump at the chance of being involved.
Speedway has a once in a lifetime chance to jump on the bandwagon here. UK promoters owe nothing less to the loyal legion of fans to get our sport back in the spotlight where it belongs.
This article was first published on 10th June 2018
[ Use Mobile Version ]
---

Steve Haire:

"Re: Handicapping.. Being a similar age to Dave Pickles we've probably both 'read the book, worn the t-shirt and seen the film' as the saying goes. Handicapping would be a backward step as is with the reverting to the old tactical substitute rule of replacing a rider off form with a better rider.

Every year they muck around with the rules to try and make all teams equal in stregnth in the belief closer matches are going to get these mythical non speedway supporters to start following speedway. Sport is about competition to see whose the best, not to penalise good teams to give everybody an equal chance of winning (Speedway Nations a good example, Poland usually winning the World Cup so lets reduce it to two man teams, thus giving other nations a better chance of winning).

If speedway needs to take a backward step, then go back to 1968, have two leagues, no track sharing, no doubling up, no maximum team averages, riders on contract and loaned out if surplus. That way you could have a workable promotion and relegation where teams are formed on what the promotions can afford."
Ivor Craine:

"I am amazed at the lack of foresight by speedway administrators that has allowed the sport to decline to the stage where it has no public appeal particularly to the younger generation who are so critical to speedway, as we know it, long term survival.

To be at the stage where we cant get a few hundred extra to keep Rye House going where as the sport used to fill Wembley is unbelievable, Most races are processional with no passing or change of position and you can write the result in your program before the start of the race or at the latest after the first corner. Consequently there is no spectacle or excitement compared to the days of the upright engines when bikes were harder to ride and we had contrasting foot forward and leg trailing styles.

To survive spectacle, uncertainty and excitement must be re introduced into the sport and there is only one way to do this handicap racing.

Having spoken briefly to Keith Chapman at a Polish GP event a couple of years ago it is obvious that for some unknown reason the sports administration are totally opposed to handicap style racing and content to let a great sport continue to slide into history without making the radical changes necessary to save it. "
Bill Dutnall:

"Handicapping. We already have handicapping when under penalty. More often than not the handicapped rider starts at the back and stays there. What pleasure we are expected to get from heat leaders theoretically passing inexperienced reserves baffles me. The result would be the same anyway in this theoretical system. Agreed some races are processional but many are not. Track preparation and design providing more than one racing line would be great help. "

Comment on this Article | Contact Us | Go Back to Main Menu