RIP Plough Lane
By David Pickles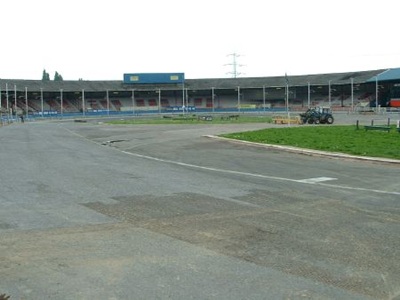 Yesterday, Saturday March 25, 2017 and today, Sunday March 26, 2017, are the two very LAST events at our beloved Plough Lane Stadium, Wimbledon. Saturday is the last dog meeting, and Sunday is the last ever motorsport event since 1928 at the famous old oval. Stock Cars, and Banger Racing bow out this worldwide venue in 2017.
Thanks to greed of Football, AFC Wimbledon in particular, and the failure of the London Mayor to understand the history of the place, the venue of not just the Greyhound Derby, but more importantly to us speedway fans, the Wimbledon Dons, The Internationale and the Daily Express Spring Classic, will be no more when you get to read this.
I was proud to have resurrected the Dons in 1987 and led them as Chairman for a year. I was proud of those I left behind who kept the famous Dons going unil 1991. We have all played our part.
Now all we can do is mourn the fact that greedy football, and politicians have once again ground our beloved sport of speedway into the dirt.
RIP Wimbledon Plough Lane.
This article was first published on 26th March 2017
[ Use Mobile Version ]
---

Chris Maybury:

"The author deliberately ignores a painfully obvious truth when trying to lay blame for the demise of the stadium on "the greed of football and politicians". The fact of the matter is that the owners, the Greyhound Racing Association, have no wish for speedway to exist at Plough Lane (Dingle Brown will confirm that) and in 2017 greyhound racing is now an unpopular, dying sport that is propped up only by the gambling industry. The stadium has been allowed to decay for ten years and the area needs re-generating badly. Neither greyhound racing or stock car racing or (sadly) speedway, can now guarantee the crowds or the funds for that. The building of a new new football stadium by a club run by its own local supporters can ONLY be beneficial thing for the area."
David Pickles:

"In answer to Chris Maybury regarding the death of racing at Plough Lane, I agree it has been obvious for a long time that the GRA weren't interested. One of the reasons I stepped in, in 1987 to give it at least a reprieve. But the greed of football (and some politicians) is still the reason that the roar of the bikes will never ever be heard at Plough Lane again. The current Mayor of London originally said that the application by AFC Wimbledon would be thoroughly looked into, but under pressure from his political friends in Merton, the deal was waved through. The last I have heard is that everything has now been held up because an individual has now applied to have Wimbledon Stadium Grade 2 listed (I wish him luck!). While that is going on, no demolition can take place, but having visited the place last week, it's now a very sad and sorry sight indeed."

Comment on this Article | Contact Us | Go Back to Main Menu