PLYMOUTH - St Boniface Arena
Pictures courtesy of Brian Longman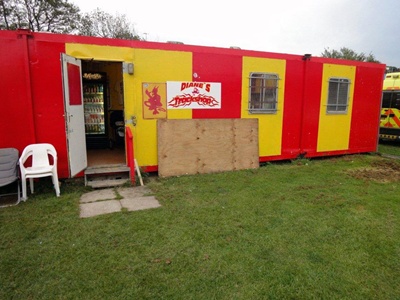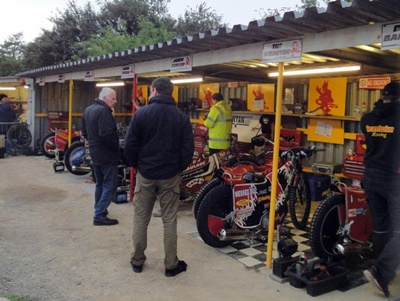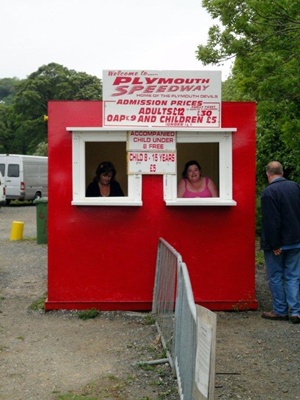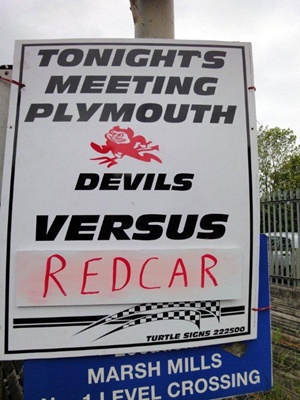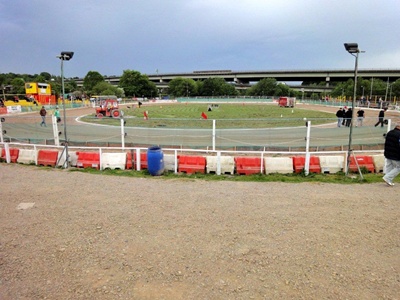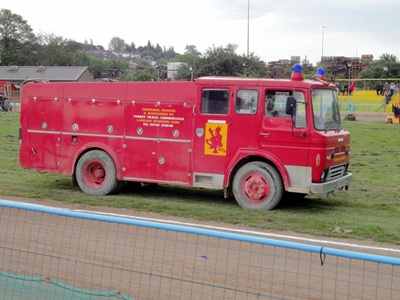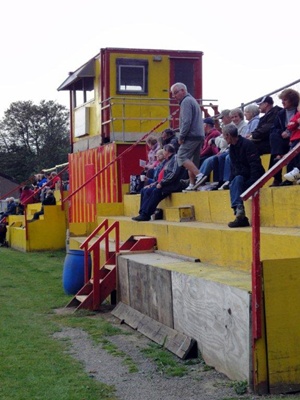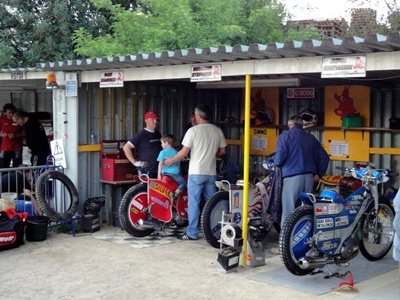 Words and pictures by David Crane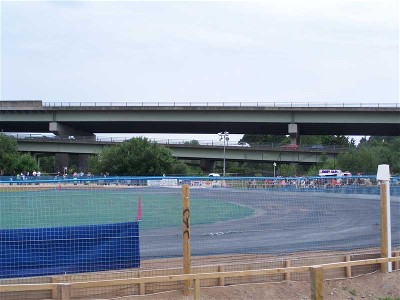 First impressions from the first bend.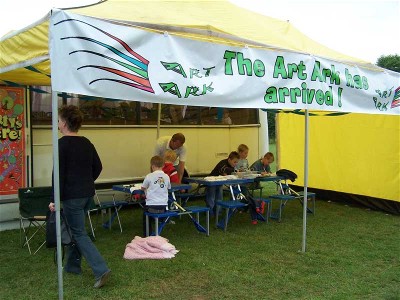 Activities to entertain the kids.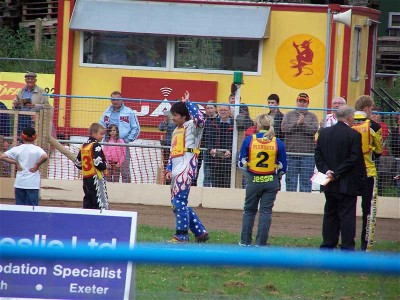 Seemond Stephens greets the crowd.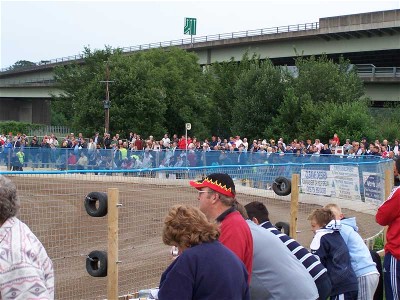 View of packed third and fourth bend.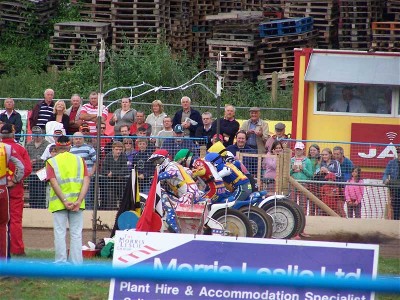 Tapes rise for heat one.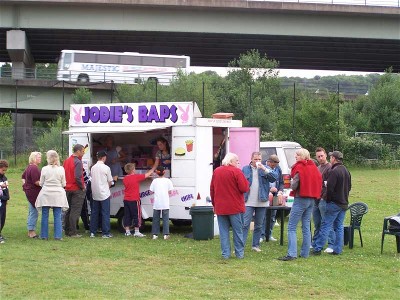 Food outlet with A38 flyover as a backdrop.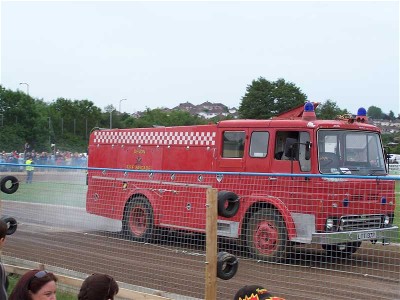 Unique watering facility - a fire engine!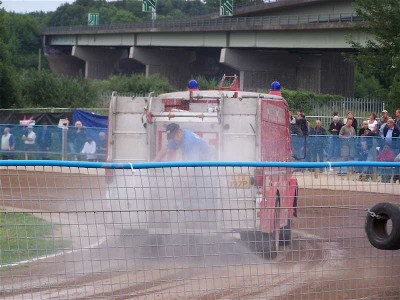 As above.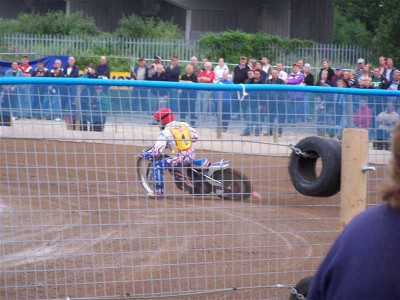 Seemond Stephens on his way to another perfect max.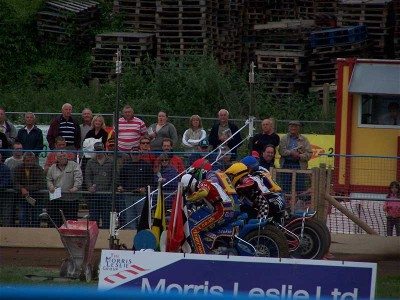 Tapes get stuck as Luke Priest attemps a tactical in heat seven.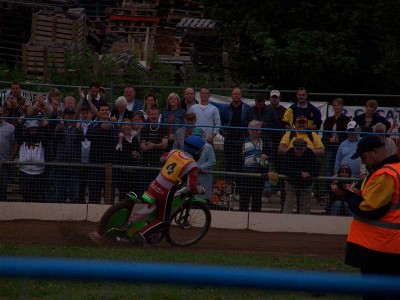 Tom Brown celebrates a win with a doughnut.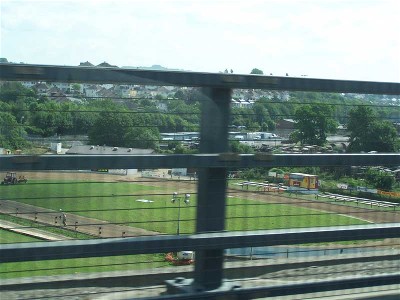 An aerial shot from the passing A38.
This article was first published on 3rd July 2006
---

Tony Webb:

"Race Jackets - I agree completely with Dudley Jones. Bring back the old race jackets!! The sight of the Devils colours bought back memories of Alan Smith, Bill Thatcher, George Wall, Len Read etc. There is something magic in the Lions, Racers, Hammers jackets in their simplicity and the link with the past. Talk to any old supporter and it is the colours and race jackets they remember ...along with the wiff of Castrol R"
Gerry Ralph:

"I haven't been to a speedway meeting since the late 60s so it is fantastic to go along and support the Devils again. Plymouth has been missing this great sport for too long. Long may it last. My son is hooked on it and my 88 year old uncle, Sid Crocker, came along last week, his first time for about 55 years, he absolutely loved it, he took it all in and it brought back so many memories."
Dudley Jones:

"I am really delighted to see Plymouth back. I am old enough to remember the old Devils riding at Rayleigh. The track looks good, well done all those who have made it possible. I just hope that they will go from strength to strength - and continue to have racejackets which mean something to the supporters."
David Torley:

"Great pictures. The fire engine isn't unique though, as this is also what is used at Brough Park to water the track. Plymouth reminds me a little of the old Cleveland Park in Middlesbrough which was also right under the A19 flyover."
John Hill:

"How great is it to see a speedway track where you are so close to the action, the last shot from A38 is the view you would normally have at Swindon!! Let's hope they erect stands for the world cup at Reading or perhaps next year we can bring the world cup to plymouth. Good luck guys."
Ste Bellerby:

"First impressions of the first bend? Cleveland Park Stadium, Middlesbrough. The similarities are striking!"
Mark Lord:

"Great pictures, my daughter and myself are in two of them taken at the tapes. Keep up the great work."
Robert Rogers:

"I notice Tony Webbs comment on the Plymouth item about Race Jackets, I think he is 100% correct. I went to Lakeside last week for only the 2nd time after a long break from watching racing, I did notice with the Kings Lynn team, unlike the Hammers, have no real racing colours (Race Jackets), and it was hard to spot they were called the `Stars`, amongst the adverts. I know a team, like riders, need the funding from Adverts and Sponsors, but I think in the case of Kings Lynn, they have gone too far. I also notice when Sky TV were there (vs Wolverhamton), the Hammers proundly wore Royal Navy Race Jackets to support our Lads and Lasses in the armed services, so it is not a case of not having racing colours so it is easier to see the adverts on the TV, as these would have been too small to see anyway."

[ Use Mobile Version ]

Comment on this Article | Contact Us | Go Back to Main Menu