Let's Promote and Push Speedway II
By David Pickles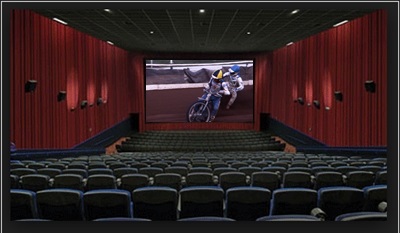 Papah papah papa pa papapapah...
In this concluding part, of "Let's promote and push speedway", I'd like to look in detail at just what can seriously be done to get our sport back in the spotlight where it belongs.
Firstly, the fans. Aside from spreading the word to anyone and everyone, it's vital that efforts are concentrated on taking as many young people to the speedway, as often as possible.
It has to be admitted that the amount of things for young people to do now is so vast, that speedway, like other entertainments, has to compete and compete hard. So, the promoters need to make it a special night out especially for the youngsters. Some tracks already allow access to the pits before racing commences, to meet riders, get autographs and look over the bikes. An excellent beginning, bu t all tracks need to do it for starters.
Have the BSPA looked into the cost of cinema advertising? For a quick 30-second advert in cinema situated near tracks, the cost could be pooled by all promotions and would increase interest.
The more fans that write to national and local sports editors requesting more space for speedway the better. A lot easier to do now with e-mail rather than pen and paper.
The organisers of the Grand Prix should also be far more radical. It's time to grab the bu8ll by the horns, and introduce a Grand Prix into China. China is a country very receptive to new ideas, and if a delegation were to travel there and speak to the appropriate people, imagine the enthusiasm there, and the novelty value for the world's TV and press.
On a very basic and simple level, why not take your old speedway star's to the dentist and doctors waiting rooms each month? Also for us men, the barber's. Just leaving a few lying around is getting the word "speedway" in front of more and more people.
As I said in the first article, we will never get back to the "golden era" of speedway, when crowds were measured in the tens of thousands, but equally it is sad to see some of the tracks existing on crowds now measured in the hundreds. If we ALL pulled together and helped to promote the sport we love, it will be in a much healthier position as it approaches it's 90th birthday.
This article was first published on 20th August 2017
[ Use Mobile Version ]
---

David Cohen:

"Some interesting ideas, and Dave has alluded to what for me is a key area - there's a whole generation of people out there who don't even know what speedway is!"
Gary Greenberg:

"I would love to help promote this amazing sport, something i used to watch as a kid and dreams of being a rider. Now I am a rider and make action movies. I'm hoping to have an event at my new premises in Belfast, instead of being Flat tracking based fun event I'm thinking of jumping the gun and seeing if speedway would fit the bill. Would be interested in some support, maybe a couple of riders, after all there was speedway style racing going on in 1902 in Ballymena?? please any contact would be great Gary Greenberg"
Gary can be contacted on gary@fullworks.com
Charlie Cherington:

"I agree with everything said in both the articles. I'm 13 and whenever I go to a speedway meeting over 60% of the people there are over 50. I love this sport and I'm so glad to see that someone else cares about the promotion of our sport. I would do anything to get speedway back to its golden era."

Comment on this Article | Contact Us | Go Back to Main Menu