Many Thanks Provincial League
By Nicky Nicolson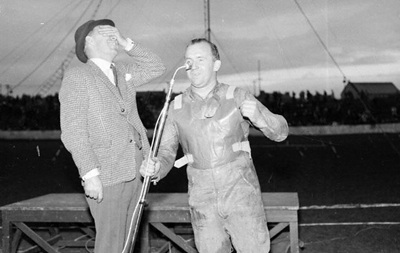 Ian Hoskins and Trevor Redmond
It's fifty years ago this month that the Provincial League was formed, arguably the most important event in post war speedway history for without it there would almost certainly be no speedway in Scotland - and possibly there might be none in Britain
How so? Well let's look at what might have happened, assuming there had been no Provincial League. The boom of the immediate post war years was already over when the Entertainments Tax decimated the sport. TV didn't help either. By the late 1950s the three vibrant leagues that witnessed the Coronation were down to one creaky league whose promoters had little appetite for opening new tracks or for developing junior riders. There seemed some optimism when New Cross was reopened during the 1959 season, meaning that the National League started the 1960 season with ten starters (Belle Vue, Coventry, Ipswich, Leicester, New Cross, Norwich, Oxford, Southampton, Swindon and Wimbledon). However this was to prove to be a false dawn with New Cross closing at the end of the season. Things worsened in the following two years with Ipswich and Leicester both closing due to poor crowds. Then it got serious. Southampton's stadium was bought for redevelopment at the end of the 1963 season and the National League would have been down to just seven tracks. Perhaps this would have finally persuaded the NL to open another track, possibly West Ham but for how long could these six tracks remain viable with each team visiting you three or four times a season?
Rider availability would also have been a problem. There were precious few training tracks and the only experience juniors would get would be in the limited second half races at their home track. New tracks that could have given juniors extra rides and more experience were treated with some suspicion by the existing promoters. Applications to run at Liverpool and Bradford were among those refused licences in the late 1950s. Those that were granted licences rarely managed a second season. Motherwell and St Austell were good examples of this. With tracks closing down in the early 60s, the better "homeless" riders were snapped up by the existing teams. This actually raised the standard of the remaining teams and consequently increased the gap between a tracks reserves and juniors and the very experienced second strings that most tracks now had in their line ups. As riders retired there was a problem finding replacements of a high enough standard. This problem was remedied by handicapping with juniors and reserves starting off the front gate. Hardly an ideal solution!
It is conjecture whether the sport would simply have faded away or whether it would have struggled along in this reduced form. What is certain is that the sport would never have returned north of the border. The PL was a unique opportunity to revive the sport up here - and thankfully Ian Hoskins and Trevor Redmond took it - a life without the Glasgow Tigers would have been terribly dull!!
So let's now look at what actually happened and how the PL was speedway's saviour. The Provincial League began life in 1960 with ten teams (Bristol, Bradford, Cradley Heath, Edinburgh, Liverpool, Poole, Rayleigh, Sheffield, Stoke and Yarmouth) and was initially classed as a junior league for juniors and novices. However teams soon persuaded riders, who had drifted out the sport in the 50s mainly when their tracks had closed, to make a comeback. Within a few years the standard had risen and riders were now prepared to come over from New Zealand and Australia.
It was the Provincial League that tempted Ivan Mauger to return to the UK, and what an impact he was to have on speedway's future! It was a big gamble by Newcastle promoter Mike Parker and it paid off big time! After his early years at Wimbledon, you can be certain that the National League promoters would never have considered trying to persuade him to come over for another try. It is almost certain that Charlie Monk would not have come over to try his luck had there only been a handful of NL tracks in operation. Experienced Aussies like Geoff Mudge, Bluey Scott and Chum Taylor had also found PL berths.
The PL was now a thriving league in its own right and was beginning to make noises that it deserved greater representation on the Control Board. But then came the big split in 1964! With Southampton closing down at the end of 1963. Rather than take the risk of opening a new track of its own, the NL ordered that a PL track should be promoted to make up their numbers. The PL refused to do this and went "black" in a bitter season long dispute that ultimately would lead to the Lord Shawcross Enquiry. This recommended that the PL and NL amalgamated in 1965 to form the British League, with former Provincial League teams now having the same voting rights as former National League tracks. The newly formed British League captured the public's imagination and was to prove to be a springboard to the boom times of the late 60s and early 70s. Without the British League, there would have been no Division Two being set up in the late 60s, and so little there would have been no chance of Phil Crump, John Louis, Dave Jessup etc progressing through the ranks.
The pioneering promoters who both started the PL in 1960 and nursed it to maturity in the following years were certainly risk takers! The going wasn't easy for them. Tracks like Bristol, Liverpool, Bradford, St Austell, Plymouth, Rayleigh, Neath and Yarmouth all opened briefly but none were still running by the time the Tigers joined the fold in 1964. Similarly Sunderland and Middlesboro, who both raced the Tigers in the Northern League competition, had closed by the time September came round in our comeback season. The Provincial League promoters certainly put their money where their mouths were and were also able to put aside personal differences to ensure the league continued, notably Reg Fearman and Mike Parker, who despite some bitter litigation still managed to work together on the PLPA.
Provincial League, we owe you big time, many thanks!!
This article was first published on 6th May 2010
[ Use Mobile Version ]
Comment on this Article | Contact Us | Go Back to Main Menu