---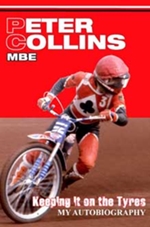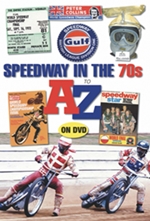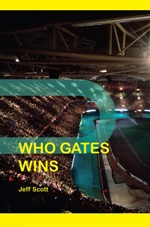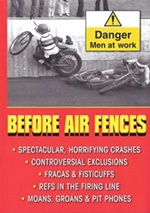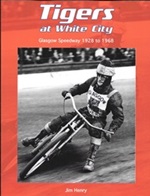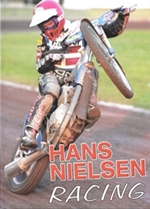 Book Extract:
Quantum of Shale
Round the Tracks
By Jeff Scott
"If you'd signed it, you'd be contractually obliged not to fraternise with the riders."

Plymouth v Weymouth - 11th July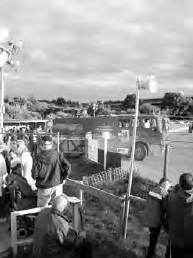 Fire engine bowser
Though the RAC route planner details that Plymouth and Weymouth are based 104 miles apart, over recent years this still hasn't diminished the intensity of the Dorset/Devon rivalry. Given that there are only eight teams in the 2008 Conference League, the chance to do battle on a regular basis is never likely to be more than a few weeks away. If you ignore the Conference League Pairs and the Conference League Four-Team tournament, the Devils and the Wildcats will meet in the Conference League, Conference League Play-offs, Conference Trophy and Devon & Dorset Cup, as well as the KO Cup. It's third time lucky for the staging of the weather-delayed KO Cup Quarter Final first leg encounter at the St Boniface Arena in Plymouth, after initial attempts to stage the meeting were rained off in late June and early July. Not that the weather holds much promise when I set off in the Wildcatmobile (aka Jem Dicken's slightly battered car) driven by the Weymouth Team Manager accompanied by Weymouth Official Photographer and Press Officer, Julie Martin. Given how many times he's already driven there, Jem could be forgiven for driving on autopilot but the winding nature of the cross-country route taken means that his concentration levels have to remain high throughout the journey. Though it's one step short of travelling to a speedway meeting in a rider's van, it's definitely an honour to be able to ride to the meeting with some of the Weymouth club's cognoscenti. During the journey, among many other things talk turned to Luke Priest's recoveries from the severe injuries he sustained at Stoke that would have ended the career of lesser man. Jules notes that Luke "didn't practise on the anniversary date of his crash." With furrowed brow Jem retorts, "Obviously it still bothers him. If I'd known I'd have encouraged him to ride - it's the only way to really conquer it!" The personal tragedy suffered by Weymouth promoter Phil Bartlett and his family after news of the death from cancer of his 9-year-old daughter Hannah became public knowledge is also discussed. I gather that there will a memorial race tomorrow night at Weymouth and a fund-raising collection held. In order not to stifle the free-flow of the conversation, I've agreed not to repeat some colourful opinions and stories. It would be fair to say that both Jem and Jules hold forthright opinions on many of the rich tapestry of characters that make up Conference League speedway in this country. To the outside observer, they're clearly well used to each other's company and appear to have the slightly fractious relationship that you'd expect from an argumentative brother and sister or, perhaps, a long-married couple. Jules says, "We are like a married couple - we bicker and don't have sex!" They periodically fall out so don't always speak or even travel to the away meetings together but, with fences soon often mended, over the last few seasons they've certainly put in the miles together.
We arrive at the St Boniface Arena 90 or so minutes before the scheduled start time of 7.30 p.m. Jem tells me, "I dunno if they have a curfew, I think they do. They can't start the bikes till 7 p.m. and they definitely can't ride on the track till half seven so they warm up quarter of an hour and then have to wait to ride them!" With black clouds overhead, meteorological conditions don't look that positive and the likelihood of a third successive rain off could still happen. One problem with building a speedway track from scratch and its location on a rugby field that suffers from a low water table is, that without a substantial base, the track surface will be affected by surface water or flooding.1 However, promoter Mike Bowden is a builder by trade so is well aware of the drainage issue and, indeed, has successfully worked round this for the past few seasons. Normally Jem would want to keep the scores tight in the first leg and then take advantage in the deciding leg at Weymouth. But, in typical speedway fashion, the second leg has been run first (because of the weather) and Weymouth only have a slender 2-point lead. Jem accentuates the positive, "We've lost away a few times against these but we're getting better here!" Like any team manager, Jem thinks ahead so rummages in his boot to find the black-and-white helmet colour, "doubt we'll need it but I'll take it just in case!" Talk turns to the identity of the SCB official for tonight's meeting, "So long as it's not Graham Flint - he can be a poor decision maker. Actually tonight we've got Dave Robinson so we might get the odd decision go our way!"
Jem heads to the pits area to start his team management duties and Jules follows to prepare her cameras or catch up with the riders. Jem jokes about the Weymouth speedway contract they have this season. "If you'd signed it, you'd be contractually obliged not to fraternise with the riders. You know that anyway! They all know that without me having to remind them!" Jules owns two cameras and two mobile phones that have buzzed and bleeped throughout the whole journey to Plymouth. Some of these communications are flirty texts from one of the rider's dads. "All I did was talk to him!" While they busy themselves elsewhere, I make my way up the slope to the pits gates entrance in search of the programme stall. Outside the locked entrance turnstiles, there's already quite a long queue of dedicated fans keen to stake their respective places inside the stadium. The very attractive admission prices (Adults £9, Disabled £7, OAPs £6 Child [5-16] £5, Children under-5 free) they have at Plymouth contribute to its appeal and, along with some success and close racing, are part of the equation behind the clubs' popularity. Like speedway fans everywhere, they've brought an impressive collection of garden furniture along with thermos flasks, sandwich boxes and the like. Because of the unique topography of St Boniface Arena, some fans have also cannily turned up with empty plastic crates to stand on. Slightly further away, three programme sellers stand in a small group and overlook a ditch full to the brim with storm water. Unlike the friendly outgoing programme seller I met on my first trip here, they're definitely not chatty and, I'm back through the pits gates, before I realise that I've purchased a programme dated 20th June supplemented with a black-and-white insert. Paying full price for an out-of-date speedway programme is one of the regular disappointments of a wet British summer but a quick glance inside this document reveals that its improved immeasurably since my last visit to Devon. Nowadays, it's a 24-page full colour affair packed with adverts but also a range of other articles and columns including contributions from chairman Mike Bowden and captain Seemond Stephens. There's also a gossip column and news section, an article on club history, action shots, a review of visiting riders, the fixture list, Plymouth rider averages along with the Nathan Stoneman (aged 11) Story as well as information on the Plymouth Mega-Ride (the UK's largest charity ride-out involving 8,000 bikers). Sensibly, the club see their programme as a key part of their regular interaction with their fans. Programme Editor, Gary Spiller, has clearly done them proud. Like many fans, Gary has been frustrated by the weather so far this season. "We've had four meetings off out of eight and one of those we did run was very soggy! You spend 15-20 hours doing the programme and then the meeting doesn't happen! You lose the will to live but then start over again."
By now Jem has been to the pits, done the track walk with the riders and returned to his vehicle for the last time before his evening's work really commences. He has a cunning motivational plan, "If I was Phil [Bartlett] I'd offer them an incentive - say £100 a man if they win. It'll motivate them but there'll be no danger of paying out! [pause] I've done the track walk and given the riders the chance to take the 'p' out of me!"
[ Jules] - "Did you tell them how to ride the St Bumpyface track too? They'll tell you to get on the bike and show them!"
[ Jem] - "I went on the bike after the meeting last week and didn't ride like a donkey. I wish I'd gone out before they'd roughed up the track. When they say the dirt's deep on the outside they're not joking! I nearly fell off and I was slowing down. Funny enough, Tom Brown's dad said we could do well if we roughed it up!"
Once the entrance turnstiles located in a bright red terrapin hut open, my book display table attracts some interest if not many sales. Most fans immediately shoot off to bagsy their favourite spot within the stadium but others linger by the DVD stall to chat or half-heartedly finger the merchandise. After weeks of torrential rain in the area, some fans are amazed that the fixture will go ahead. "They say yesterday bends 3 and 4 were under water! How he's got it on is amazing. I think we could struggle 'cause we've got a weakened side tonight. We'll see how strong the squad system is though, won't we? Last year, Mike Bowden said there'd be no doubling up riders and, yet, this year, he has two but never say never! We always do well against these here. You won't get good racing though, 'cause they don't do nothing with the track!" Weymouth number 2, Brendan Johnson also stops for a few words. He's an extremely polite young man and, like many people of his generation, he strikes me as mature and analytical. In his case, about his performances and ambitions. "I feel confident when I get to every track this season. I'm in the top 25 Conference League averages and feeling good everywhere I go. Last night at Swindon, I beat both of the new Aussies they have and that boosts you! That said, I'm just gonna keep my feet on the ground and be myself and do the best I can."
Though rumour has it that referee Dave Robinson will require photographic evidence to back up his track report for Colin Meredith if it cuts up later, the talk among the Plymouth fans has nothing to do with the surface but everything to do with the need to hammer their local rivals. It's two years since I came to a meeting at Plymouth and to the casual eye there appear to have been a number of improvements. These look to me to include the arrival of a new trackshop building, brightly painted yellow wooden terraces either side of the referee's box and what appears to be a handrail on the earth mounds that provide an elevated viewing section on the first bend. Much more noticeable than any change to the stadium infrastructure is the decline in crowd numbers. Though an attendance of this size would be welcome at many Premier League tracks (let alone Conference ones), compared to a couple of years ago, the popularity of the Devils has noticeably waned, particularly when you consider that this is a 'local' derby (albeit a regularly repeated one in 2008). However, if this represents the hardcore fan base that watch most meetings at the St Boniface Arena, then Mike Bowden's reputation as a promoter of an attractive and financially successful club remains well deserved. On the journey to Plymouth, Weymouth Team Manager Jem Dicken had been sceptical about the economics at the club, "With the money he [Mike Bowden] pays them I'm surprised he makes money!" Another thing you can say about Mike Bowden is that he's got a down-to-earth and avuncular presentational style, both when he introduces the teams and also when he welcomes the crowd. "And we're now back at the track for a dry Friday night and we'll see if we can't get through to meet Rye House here next Friday!" Comparison of the original racecard (from the programme dated 20th June) with this evening's shows that the Weymouth Doonans' Wildcats track the exact same 1-7 that they originally intended. While the Devils have replaced Jaimie Pickard at reserve with Danny Stoneman, moved Seemond Stephens to number 5 and switched Mark Simmonds to number 1. Or, at least, they would have, if he were here tonight. Mike Bowden rather sweetly explains that the Devils will run rider replacement for their absent number 1 because he's "taking his first holiday in 15 years".
Tonight the weather in this part of Devon can't quite make up its mind what to do - at 6 o'clock thick black clouds were overhead, by 7 o'clock the sun had broken through brightly and by 7.45 dark clouds had again begun to mass overhead. Whatever the weather situation, the meeting starts promptly at the advertised race time and, working together in unison, the riders, officials and referee fire through the initial heats with great rapidity. With a track length of 216 metres, the Devils definitely race on the shortest track in the country. It's difficult to distinguish the straights from the bends and the effect created - to an infrequent casual observer like myself - appears to be that the four riders frenziedly and almost continuously broadside their bikes. All speedway tracks have a home advantage and it's clear that the tight confines of this circuit require a special riding technique that Seemond Stephens has definitely mastered, if judged by the easy manner with which he zooms away to win the first race. Before he can do so there is a false start that sees Brendan Johnson excluded for a tapes touching offence that he strongly disputes the veracity of afterwards. Seemond's winning time of 54.8 seconds is some distance outside the track record of 51.07 seconds set by Tai Woffinden in May 2007. With race times at other speedway tracks in Britain in the late 50s or early 60s, the kinds of time they announce at the St Boniface Arena sound strangely incongruous. Ex-Plymouth Devil, Tim Webster has his second outing of the meeting in heat 2 and proceeds to win it. Based on his exuberant celebration as he crosses the line, it clearly has great personal significance for him. After the first couple of heats have been drawn, Plymouth stamp their authority on the tie when Nicki Glanz and Tom Brown combine for a 5-1 race advantage that takes the score to 11-7 in a race sponsored by "Allan - a grateful supporter". Though the meeting is only 13 minutes old, we've already had three races! The fourth race sees dust levels increase significantly and also provides another race win for Seemond Stephens. Plymouth reserve Paul Starke has an eventful race - excluded from the initial running of the heat for a tapes offence, he then starts the rerun 15 metres back and, on a track of this perfectly formed size, it's almost an impossible distance to make up over other riders fortunate enough to start from the tapes. To compound matters, Paul tries so hard that he then falls but quickly remounts to gain additional valuable track time. Before the fifth race, a rather unique-looking grader circuits the track three times before the converted fire engine that serves as the Plymouth bowser proceeds to copiously water it. Stood next to me on the mound that overlooks the first bend is a proud granddad and a gaggle of grandchildren apparently on their first visit to speedway if his loud mobile phone conversation is anything to go by: "We're standing outside on a big mound but we're enjoying it!"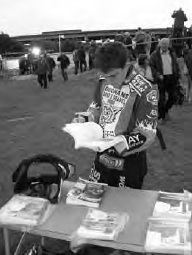 Brendan Johnson reads
after the meeting
Like last season at Lakeside, there are an incredible number of photographers on the centre green (I counted seven at one point). Julie Martin is there in her distinctive white trousers and these contrast with the stylish bell-bottomed black trousers worn for the occasion by another taller lady photographer. Later I quiz Jules for more information, "I think she's from the local paper. I can tell that 'cause the speedway photographers jump around a lot more if they do it regularly!" Regular Devils fans will have become sated to a diet of 5-1s given the recent score lines here against Boston and tonight's visitors Weymouth. The fifth heat sees the Devils power pairing of Tom Brown and Nicki Glanz hammer home their second 5-1 of the night. It's a sight greeted with ecstatic screams of "5-1! 5-1! Michael we got a 5-1!" from an excitable lady next to me. Reasonably enough Michael asks, "What's the score?" Only to be told "Eh, I dunno, what's the score?" There are clearly a number of Wildcats fans dotted throughout the crowd as indicated by the muted cheer that greets Jay Herne's heat 6 win - something he achieves despite the close attentions of Nicki Glanz. A helpful man in front of me evangelises on behalf of the promptness of Conference League speedway, "This is the best to watch - the Premier League is too aggressive - whereas here we get very prompt racing and even prompter announcements of race times, plus riders who want to race and improve".
With little sunshine and a cool breeze, it's a surprise to see a topless rider in the pits. This might be partially explained by a prominent arm tattoo that should really be marked down as an artistic crime and lead to the arrest of his tattooist. It's cool enough for anoraks to be sported widely, though Pits Marshal and Plymouth's Speedway Website Forum Moderator, Darren Fletcher, wears a bright yellow shirt with the name Darren emblazoned across his shoulders. Given the Conference League is ostensibly a training ground for riders to take their first steps within the sport, often they don't always exhibit the smoothest of racing styles. At the St Boniface Arena even those with greater experience at senior level also bounce around on the intermittently bumpy surface of the racetrack. This is particularly noticeable on the third and fourth bends where pretty well all the competitors struggle for balance and control. If speedway were skiing, then this would be the equivalent of a mogul run. Though some of the Wildcats have benefited from regular visits this season, it's clear that they don't have the confidence of the home riders. In the eighth heat, Brendan Johnson bounces backwards from third into fourth after a struggle for bike control on the second bend during his third lap. Though he perseveres, this loss of position is difficult to make up in the 300-odd metres of the race that remains. 19-year-old Tim Webster who celebrates his second successive race win with yet more unalloyed delight wins the race. Later Julie Martin confides, "Tim Webster used to ride here but they kept dropping him. You could see how pleased he was to win here and prove something, whatever that is!" Out again immediately in the next race off gate 4, Tim Webster finds that Tom Brown has lined up incredibly close to him next door on gate 3. Webster attracts the attention of the Start Marshal to ask him to move Brown over. After some discussion with the official, Brown grudgingly retreats only to lines up in more or less the same position. A Plymouth fan next to me acknowledges the psychological gamesmanship, "He hasn't moved much, has he? I reckon about one inch or slightly less". Either keen to psyche out his opponent or irked by the request to move (possibly both), just as the riders come under orders Tom Brown dramatically sticks out his elbows even further than would appear sensible to complete his pre-race intimidation of the Weymouth reserve. It's a sledge hammer tactic to crack a nut since Brown's quick reactions ensure that he gates a considerable distance ahead of his rival before he emphasises his complete mastery of his opponent with an aggressive drive out wide to the fence to block off the outside run that conspicuously fails to materialise. Nicki Glanz has also gated magnificently from the inside gate and the potent Devils Glanz-Brown partnership romps home for their third successive maximum heat advantage and progress the scoreline to 32-22.
Weymouth Team Manager, Jem Dicken, does after all have to use the blackand- white helmet he'd brought along. He chooses to give this garment to Andrew Bargh to wear in heat 10 where team mate Luke Priest'll partner him and the Plymouth Devils track the ultra-consistent Tom Brown (as rider replacement for Mark Simmonds) partnered by Jamie White-Williams. Both sets of riders definitely realise that this could be a significant turning point, both in the meeting and for the overall aggregate score. If Weymouth gain a maximum heat advantage then they'll be right back in the contest but, if this tactic fails, the possibility of an aggregate victory and their further progression to the semi-final of the KO Cup will diminish. Almost as soon as the race starts, the referee Dave Robinson puts on the red stop lights and gets the announcer to warn both Plymouth riders. "The referee says the rider in blue is to remain stationery at the start and the rider in red [Tom Brown] is to come up to the tapes a bit more promptly next time." In the rerun, Andrew Bargh makes a swift start from the tapes to keep the Wildcats slim hopes of aggregate victory alive, albeit with Tom Brown in hot pursuit. As they enter the last corner rather than take the safe option and settle for the points Tom tries a do-or-die dash for glory. Unfortunately he comes to grief and tumbles from his machine, ("Oh no, he tried too hard!") to allow Luke Priest to convert his third place into a vital second place. The boosted 1-8 score takes the score to 33-30 and reduces the aggregate lead for the Devils to a solitary point.
The intensity on the track is suddenly echoed off it with quite a commotion away to my right and nearby to the cars parked in the vicinity of the entrance turnstiles. There are some shouts and people running before a tearful lady is surrounded and escorted to the pits area. During the brief fracas, staff ran and members of the Bowden family mill about while someone is told to run to the entrance gates to ensure that they are properly locked. The only phrase I can make out is yelled by another lady at one of the men: "You should have banned her!" It is difficult to see what has provoked the incident or, indeed, what exactly happened, given the distraction of the track action. Given the intensity of the emotions aroused, you'd immediately have to suspect that the unwelcome visitor can only possibly be a thief, black sheep of the family, disgruntled former business or romantic partner. Curious to discover what was really behind the sudden uproar, I step over to ask the programme sellers who've also been rubbernecking this brief drama. Sensibly children are taught the danger of strangers and it appears that this lesson has been well learnt by the programme sellers who deny any knowledge of any fracas, let alone insight into the reasons behind it or knowledge of any of the parties involved. Hardly a plausible or convincing denial! My curiosity clearly isn't welcome, but vanishes instantly with the sight of four riders lined up at the start gate ready for heat 11. Seemond Stephens again emerges victorious from his third race of the evening while the Wildcats partnership pack the minor places to ensure a drawn heat that keeps the meeting delicately poised. Tipped off about my curiosity about the commotion, a man who resembles a junior version of Mike Bowden strides over and demands peremptorily, "Are you a spy? Or environmental or something?"
[ JS] "No, I'm a guest of the club."
[MB Jr] "What are you writing?"
[ JS] "Notes for my next book. Mike Bowden has given me permission to be here."
[MB Jr] "I'm Mike Bowden junior."
[ JS] "I can see the family resemblance!"
[MB Jr] "What, the receding hairline?"
[ JS] "No, the good looks!"
[MB Jr] "No offence meant. It was a family business! That's all! You know what families can be like. It was nothing at all."
I'm left to my own devices but I've clearly stood out from the crowd because of my curiosity and the apparently alien activity of my note taking. I'm joined by Jules whose hands shake with nerves as she smokes a crafty fag. "I just want to be at home and tell them we've won". Slightly discombobulated by my ostensible thought crime of curiosity, I ask Jules whether she noticed any commotion. "Naw, I was on the centre green screaming! But then, everything's weird at Plymouth. And you can quote me on that!" Heat 12 would be the decisive heat of the KO Cup quarterfinals. Tom Brown led from the gate with the Wildcats Webster and Priest behind him in second and third. If this race order were to remain then the heat will be drawn. However, Paul Starke, the Devils reserve with the number 7 race tabard has saved his best performance of the night for this vital race. First of all he picks off Luke Priest and then, on the last corner of the race, forces his way aggressively past Tim Webster to snatch second place on the line. The delight of the home crowd is unalloyed and the Devils aggregate advantage moved to a useful and probably insurmountable 5 points.
The hero of the hour Paul Starke is given a further opportunity to prove his mettle when given Mark Simmond's replacement ride in heat 13. The previously unbeaten Seemond Stephens flies from the third gate only to have to be stopped almost immediately when the referee illuminates the red lights. Via the announcer, referee Dave Robinson issues "A warning to all four riders to remain stationery at the start". At this news, Plymouth Chairman Mike Bowden strides theatrically towards the start gate to ostentatiously satisfy himself that there is no movement at the tapes for the rerun. A competitive race ensues but ends prematurely when Paul Starke falls on the second bend of the third lap and the race is awarded as a win to Seemond Stephens. Mike Bowden Junior returns briefly to apologise again, "I didn't mean to be rude. There was a lot going on! It's too long a story to go into."
The minimum requirement for Weymouth from the penultimate heat is a race advantage of some sort and this looks highly likely until the moment Nicki Glanz dives aggressively under Andrew Bargh on the third lap to seize the lead and ensure another drawn heat. The intermittent dust problem has continued throughout the meeting but, at the very moment of Nicki Glanz's race-winning manoeuvre, I get thwacked on the forehead with a large piece of shale some riders erroneously claim they don't bother with here! With one race to go, Plymouth are mathematically certain to race Rye House in the semi-finals of the KO Cup ("Even if we lose 5-0, we'll still go through!") The top-end strength of the Plymouth GT Motorcycles Silverline Devils is such that they can rest maximum man Seemond Stephens from the final race of the night and, instead, still track their power partnership of Tom Brown and Nicki Glanz. With regional pride and bragging rights at stake, the riders don't treat the race as a formality. Andrew Bargh manages to split Brown from Glanz and thereby breaks their sequence of maximum heat advantages. The Plymouth promotional team have packed 15, sometimes thrilling races, into 90 minutes and the crowd drifts away to the car park or the pits contentedly.
Optimism dictates that I ignore the darkness and continue to try to sell my books. Still in their kevlars and carrying their helmets, Wildcats riders Brendan Johnson and Kyle Newman stop by for a word. Never afraid to be self-critical, Brendan tells me, "That's the worst I've ever done here [1 paid 2]. I can't believe it! I was excluded in heat 1 incorrectly when I didn't touch the tapes. I have to admit my head went down! It doesn't usually but I was stiff on the bike and everything. It's just so depressing! If I'm hard on myself, it's my way of motivating myself to do better. When we've been here before I've got 7 paid 9 and paid 8. When I was excluded first time out, I asked Jem to call the ref but he's a pussy. He shrugged and said it was too early to call.2 At Oxford last year, Peter [Oakes] was on the phone - whether we won or lost - pressuring the ref! I just can't believe how bad I was but tomorrow night I'm really gonna make up for it with a big score!" Shortly afterwards Phil Bartlett pretends to run down me and my table with his car before he winds his window down to ask, "What are you doing here?" He's stuck in the slowmoving queue, so we chat for a few minutes. Phil is phlegmatic about the Wildcats elimination from the KO Cup and matter-of-fact about the death of his daughter Hannah, when I pass on my condolences. He switches the conversation to the arrival of the red crotchless knickers at his house addressed to Julie Martin that I featured in my last book, Concrete for Breakfast. "She didn't mind about the red knickers being in there. You know who sent them of course?"[ I don't] "What, you still don't know who sent them to her? Well, I'll give you a clue. There's a popular film where the first name of an animated toy character is [name redacted]! So you should now find it pretty easy to find out!"
Since we're all part of the broad church of speedway many of us - fans, riders and management alike - head for much-needed refreshments at a nearby bar to celebrate (or drown sorrows). Some of the riders are too young to drink and, given that they wouldn't able to travel here let alone compete without the help of their parents, there's absolutely no likelihood that tonight will be the night that they'll start! The Plymouth Devils regularly frequent a Harvesterstyle pub with food on the menu, numerous television screens and a large car park. Those inside split into three factions: designated driver, designated drinker, and too young to drink. After some libations, we're soon back on the return journey to Weymouth - via a nearby garage where Jem buys a muchneeded reheated pasty. The aggregate defeat is a definite disappointment but, after some consideration of the ins and outs of the thing, thoughts turn to possible revenge in the League meeting at Radipole Lane the next evening. The consensus in the car is that Weymouth, like Plymouth, would attach far greater importance to League success than they would to any other competition they can enter (or win) this season. Nonetheless, Jem imagines that they'll be delighted with the victory against their rivals and pleased to progress to the semi-finals. However, after a couple of weeks without any home meetings, he believes they wouldn't have been pleased with the size of the crowd. "It wasn't a big crowd for them. When they won their first meeting of the season it was rammed. You couldn't see any space anywhere!" The conversation lapses and Jules resumes control of the communications hub that is her two trilling mobile phones.
For many people involved in speedway, late-night drives are a fact of life. Invariably it's past midnight, there's a considerable distance to go to home and you're stuck in traffic queues through the late-night roadworks. Luckily we head back to Weymouth on a cross-country route, so delay from miles of fluorescent cones and workmen on the roads aren't an issue. However, pitch darkness, winding roads and the narrow high streets of country villages would be if I were at the wheel. Experienced on this route Jem takes it in his stride and, after some prompting, he explains something about his many years' involvement with Weymouth speedway. "I first went in 1974 and I've always been involved at the track. I've been a raker, a pusher, I spannered for Ian Humphreys, I used to put out the fence for the stockcars. I've done what needed to be done at the time it needed to be done. I was involved right up to the time we closed. The last year I can't really remember 'cause I was stood in the bar. When I looked at a photo of the team, I couldn't recognise half of them. You can't really compare them to now they're just different! Obviously riders stick in your mind, people like Martin Yeates. Once I heard the club was starting again I was never not going to be involved. There's three or four of us who work at the track - without us there wouldn't be a speedway club. Well, of course, there would because some others would probably do it! I spend three hours there every night and on a Saturday I work there from 8 a.m. until 11.30 p.m. Since we reopened at Weymouth I've been doing all sorts of things. Like put out the flags, stock the bar, hand out leaflets, pick up the rubbish, clean and paint the kick boards. There's no rules though, unless you do these things it don't look professional otherwise, does it? I write bits in the programme and put it all together and, of course, I'm the manager. When I tell them how to ride they don't listen but, if Boycie [Craig Boyce] tells them, they listen! But I suppose I haven't ridden, so that's understandable. I do my job and I try to motivate them. They're all different but it's something I've taken to! We've done a lot of work over the last few years. I'm a builder so I know the principles of building. A road and doing the track is just the same! If you haven't got a proper base you're lost 'cause the ground moves and you can never get a consistent surface. We have a clay base and we've put in drains. It was a massive job but has made a big difference. One day we had five or six feet of water lying on the track and I forked the drains - the ref said, 'this is off' but was amazed when we got it on. So, I'm the track curator and I know I'm biased, but I think our track is the best racing track! And the most entertaining one in the country! It takes a lot of hard work to get it that way. That's why I love the Blunsdon Blog because they're doing what we're doing! All clubs are run on the unpaid work of people like us. You see Phil [Bartlett] at 5.30 on a Saturday and then you don't see him till 5.30 the next Saturday. But, then he takes the financial responsibility! With holiday-makers we can double the crowd but, that's what we have to do over six weeks in the summer, if we're going to have half a chance of reducing any losses." 11th
How to buy "Quantum of Shale"
Buy at all good track shops (£20)
Order via paypal on the website at www.methanolpress.com
Send a £24.50 cheque to cover P&P made payable to: "J Scott" to

Methanol Press
2 Tidy Street
Brighton
BN1 4EL

This article was first published on 25th June 2009

[ Use Mobile Version ]

Comment on this Article | Contact Us | Go Back to Main Menu