Queensland Museum Plans
By Tony Webb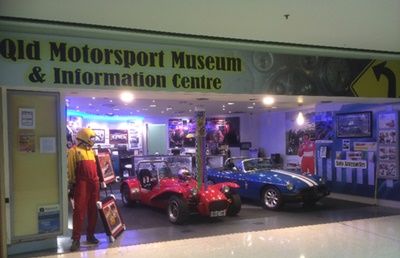 Queensland speedway fans will soon see their long awaited dreams of their own speedway museum come true. Ambitious plans by motor sport enthusiast Ian Bone to extend his Ipswich City Square based Queensland Motorsport Museum and Information Centre to include all divisions of speedway. He is on track for all sections to open by the end of July as display items are gathered. There is capacity to hold display over 70 vehicles and large volumes of memorabilia across all disciplines of motorsport.
Ian has taken a lease of a further 1,600 square metres of showroom below the existing museum, which opened in January 2015. Ian is determined to provide for road and race motorcycles and cars including a special area for speedway - a museum within a museum. There is currently a reference library, theatrette, conference room and retail shop in place. Work has already commenced to move into the new location. The inner city location in the Ipswich City Square, is a 5 minute undercover walk from the rail station and free undercover parking. Opening hours will be extended to 7 days with the support of additional volunteers.
The vision for the Qld Motorsport Museum within the business plan says it all;
To be a social hub that encourages the respect, retention and recognition of our motor sport heritage.
To provide a meeting place, an educational resource and a repository of national and international motorsport history for future generations.

All exhibits will be on loan in a custodianship arrangement. The property has 24/7 security including CCTV and foot patrols. It is adjacent to shops and cafes. This facility ticks all the boxes in the needs for a Queensland based museum, that will enhance the tourist potential and provide a location and archive for the safe custody of speedway memorabilia.

Information can be obtained from Ian at QMMipswich@qldmotorsport.org

This article was first published on 28th June 2015

[ Use Mobile Version ]

Comment on this Article | Contact Us | Go Back to Main Menu