When Radek met Boris in Bydgoszcz
By Jeff Scott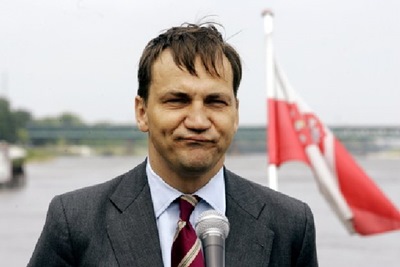 Radek Sikorski
We're all used to out of touch politicians ignorant of the price of a pint of milk or unaware of the travails & everyday experience of their constituents. However, in the afterglow of his bromantic trip to Bydgoszcz with Mayor of London Boris Johnson, Poland's minister of foreign affairs Radek Sikorski has made an early bid for the title of 'The Most Hopelessly Out of Touch Politician in Europe'!
When boasting about his "home town & constituency" Bydgoszcz (in The Spectator diary)...
From the Arctic, I had to hurry back to the Polish countryside to prepare for the historic first visit to our house, Chobielin, by @MayorofLondon and Mrs Johnson. HMG had asked Boris to represent the UK at the 70th anniversary of the Warsaw Uprising, and I asked through official channels if the Mayor might consider a detour to the provinces afterwards. His office cheerfully wrote back:
"The mayor remembers your articles in The Spectator 20 years ago about restoring an old manor house and would be delighted to see how it's turned out"
First, we visited Bydgoszcz, my home town and my constituency. Secretly, I was wondering how he would handle the fact that here I am a bigger celebrity than him. But as we walked into the town square, a roar of English voices rose up from the cafes: "Boris, what are you doing here?". He spent the next 20 minutes posing for photos with fans of Speedway motorcycle racing, who had come to Bydgoszcz for the World Cup. Apparently, our track is one of the best in Europe.
...Radek Sikorski reveals contempt for his own (blue collar) voters with stunning ignorance about the importance, history (seven times champions) & status of the sport of speedway in his home town! It's a stunning gap in his knowledge that Radek then compounds by calling the most popular sport in his city "Speedway motorcycle racing".
It's hard not to conclude that if Radek Sikorski were a London born MP, he'd definitely not know about the "tennis racket playing" at Wimbledon. If Radek hailed from Barcelona, the "football kicking sport" played at the Nou Camp would pass him by. Worse still, if from Rome, the "religion worship building" of the Vatican would bamboozle poor old Radek Sikorski as would the surprize existence of the "Catholic religion leader" based there.
If you (or Radek) would like to know more about Bydgoszcz, there is an easy access "computer information listing" thing called Wikipedia
To go behind the scenes at speedway, you (or Radek) could do worse than peruse the 172 candid colour photographs of Strictly Shale: Circling British Speedway.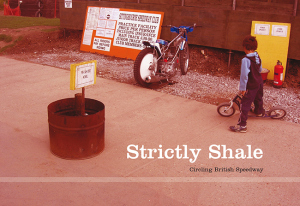 Here's what others are saying about the book:
Tribune (27th June) - review
"his evocative photographs...poignantly capture, in colour, one of the last authentic working-class sports"
Sir Paul Smith (June) - praise
"great book"
Dick Barrie, Berwick programme (5th July) - comment
"often marvellously capturing the very spirit of speedway's people and places around Britain"
Blunsdon Blog (7th July) - review
"a photographic delight"
Esquire (17th July) - feature
"captures the essence of speedway"
Reading Evening Post (17th July) - review
"every picture tells a story...Scott has an eagle-like eye for unusual, obscure and bizarre sights"
Bookbag (23rd July) - review
"[Scott] has an eye for the telling image" "Scott's photography is very good"

Methanol Press

This article was first published on 24th August 2014
---

John Hyam:

"I fail to see whatis wrong with the Radek Sikorski description 'speedway motorcycle racing.' In other speedway-orientated countries (i.e USA, Australia, New Zealand and South Africa) they also recognise sidecars, midget cars and sprint cars as being speedway. In New Zealand, they even have the same Control Board for the classes mentioned as well as it governing small oval car racing (aka stock cars)."
Rob McCaffery:

"Typical Scott, unfortunately."
Andy:

"Jeff Scott has to be the most unreadable , unfunny and condascending author I have ever read in any sport and the comments about speedway motorcycles again proves the point..it might be speedway in the UK but when I'm in Australia then if I say speedway then most assume I mean car racing, speedcars or sprintcars...they don't assume motorcycles, so I have to add motorcycles, or solos for them to get it...and speedways in America are car circuits arent they? One big fuss over one little word."
John Hyam:

"It wasn't Jeff Scott who made the comment - he was just bringing to note a remark made by Radek Sikorski. I agree that speedway is MORE than solo motorcycles and have previously given my views on the subject. And all Radek Sikorski said was 'speedway motorcycles' - no thing wrong in that anyway it was just defining a discipline of what speedway is. And let's not forget, so far doesn't seem to have been mentioned - the great sidecar racers so popular outside Europe and in the UK while not on speedway have an excellent following on the grass tracks."

[ Use Mobile Version ]

Comment on this Article | Contact Us | Go Back to Main Menu