A Rather Special Evening
By Dudley Jones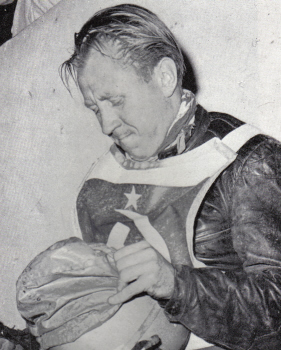 Igor Plechanov
The day in question was 10th July 1964. The place was the Firs Stadium at Norwich.
The year was the year when the Russians sent a test team to Britain. Always ones to do their own thing, the Norwich management booked, and billed as such, the full Russian test team to race in a meeting entitled 'Norwich v. Soviet Russia'.
Perhaps not surprisingly, the powers that be blocked this event, but the usual (very) large crowd were expected and something had to be done.
Four Russians were brought to Norwich. The match was programmed as an 18 heat, seven aside, match and the programme included all seven Russians. After a short debate on what to do, the Russians elected to race the 18 heat format, without the assistance offered (I believe that Norwich may have got one or two big names along to ride with them).
The Russians present that night were the great Igor Plechanov, Yuri Checkranov, Gennady Kurilenko, and Gabdrakhman Kadirov.
Kurilenko was the Russian number 3, but without Samorodov these lads, never having seen the place, were up against it.
It was announced that the Russians would each race in every other race, for the full 18 heats.
Heat 1 saw Fundin and Levai line up against Igor and Yuri. Not surprisingly Ove won, from Igor, with Yuri third.
Heat 2 saw Nygren share the points with the second Russian duo, but in Heat 3 Trevor Hedge got the better of Igor, and Billy Bales made it a 4-2 to the Stars.
The racing was thrilling throughout, of the very highest quality. The lead changed hands in heats 7, 12, and 16, with no less than 10 shared heats.
At the end of possibly the greatest meeting I have seen in 45 years, the Russians were all still standing, and contesting every point - and they finished just 2 points ahead of the Stars.
The scores were as follows:
Norwich Stars
Fundin 18 (maximum)
Levai 0
Nygren 17 (beaten only by Igor)
Read 1
Bales 8
Hedge 9
Trott 0

Soviet Russia
Plechanov 19 (including a fall racing Fundin)
Chekranov 9
Kurilenko 16
Kadirov 11

So close was it that Billy Bales engine failure, when 3rd in heat 14, cost the Stars a draw (the Russians, despite the beating the bikes must have taken, had no mechanical failures). Then again, if Igor had not fallen when contesting the lead...
Fundin and Nygren's scores should not suggest that the Russians were in any way outclassed, both were at their very best that year, and near invincible at the Firs.
My admiration for Igor Plechanov was probably born that remarkable evening at Holt Road.
This article was first published on 31st July 2008
---

Igor Sokolovsky:

"On the same day, July 10, 1964, Boris Samorodov, Anatoly Gruzintsev and Konstantin Krishtal acted in Swindon in the International tournament pairs. Vitaliy Shilo was seriously injured in the first race at Wembley Stadium on July 4 and was in the hospital."

[ Use Mobile Version ]

Comment on this Article | Contact Us | Go Back to Main Menu