Riders to Remember....Ray Harris
By Alan Pennington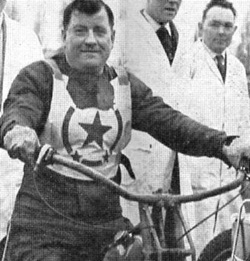 Ray Harris
The first Speedway meeting I attended was as an 11 year old on July 16th 1960 - Stoke Versus Rayleigh at Sun Street home of the Potters. I went with a friend and his family and I knew nothing about Speedway Racing.
Heat One - My first ever race, I now know was won by Reg Reeves from Reg Fearman, Bill Bridgett and Clive Hitch. By the start of Heat Three I had been told what was happening. The man who was about to become my first sporting idol appeared, he was a rather plump man not very sportsmanlike and as I noticed on the Parade very old [He was forty], although he was not alone in that respect, Peter Lansdale was fifty odd.
Ray won that race and his next followed by a third place and a fall, Stoke lost by one point but I was hooked on this new sport and Ray was my favourite.
As for the man himself, as a rider he was never a star, but like many just a middle order rider, somewhat inconsistant maybe, most of his career he averaged between five and seven. His best season being 1961 over eight and 1949 just under eight.
When Sun Street closed in '53 Ray joined Swindon, again averaging around five points a match, before, like many others, forced out due to lack of team places.
Then came the Provincial League in 1960 Ray was voted seventh best rider, but truth is he wasn't as his form dipped towards the end. 1961 season he averaged over eight and was rock solid. A highlight that season being when he took the Silver Sash off Ivor Brown.
Seasons 62 and 63 were poor, a knee problem was blamed but Ray was now 42 and the P.L. was much improved.
Sun Street closed for good at the end of 63 and I had no track, still only 14 years old no money either but in 1964 I went to Wolverhampton v Newport and unbeknown to me Ray had signed for Newport and made his debut. He scored his usual five points and that was the last time I saw him.
Ray created a few records, he won the first ever post war race at Sun Street, the first ever Provincial League race and the first ever P.L. maximum. His career average was 5.57 dragged down by the last three seasons.
Ray Harris retired in 1965 aged 45 and died in 2005 aged 85. I still follow Stoke fifty years on, but no one has come close to replacing Ray as my favourite, the nearest was Mike Broadbank in 1973 and 74 seasons.
Thanks for the memories Ray.
We want to feature similar articles on riders from any era of the sport's rich history. If you'd like to contribute a piece then email us at speedwayplus@hotmail.com or fill out our form here.
This article was first published on 6th January 2011
---

Geoff Langley:

"How nice to have an article about one of speedways lesser lights. I only saw Ray ride twice, both times in 1963 but I remember him well and Alan Penningtons excellent article filled in a few details for me. The first time I saw Ray was early in the 1963 season when I had just started going to Hackney. It was a Provincial League World Championship Qualifier (back in the days when literally everybody went through the qualifying process). I didn't really know who most of the riders were but Ray was down to ride in the first heat so in my ignorance of the fact that the riding positions were drawn I assumed he must be a top rider. The thing that stands out in my mind is that he was a really good gater, rolling like mad but getting away with it. As the tapes went up he was invariably first away but had a strange posture, almost laying flat over the tank and handlebars. However he was passed by all the decent riders especially the Hackney riders which made it interesting but as the article explains he was in the twilight of his career I can now understand why. The next time I saw him was when Stoke came down in the league when he was still gating well but hardly scored anything in a match that was dominated by the tussles between Pete Jarman, Colin Pratt and Norman Hunter. Thanks for reviving old memories !"
Bob Bath:

"Re Ray Harris-here is what I recall-great guy- I first saw Ray ride in 1964 as a member of Newport's PL team-always the reserve. In 1965 in the first season of the BL Ray was still reserve. The Wasps that year were great at home but useless away-they were riding against ex NL riders of a higher level. So Newport were unbeaten at home but could not win away. Long Eaton, another ex PL team, had started off well but then had injuries-at the LOng Eaton v. Newport meeting (which I hitch hiked to) there was a chance we would win. Unbelievably Ray came thru for us - he won 2 races for 6 pts - then was given a third race and scored a further point - the crowd went wild. Good old Ray. Two of his races were aginst Ken Adams his old Stoke skipper and I can recall an older supporter saying- "I never thought I'd see that". It was 27.07.1965 and his three great heats were, Ht. 4, Harris, Erskine, Sharp, Malskaitis. Ht. 8 Harris, Adams,Malskaitis, Penniket. Ht.11 Golden,Adams, Harris,Ray Wilson (ef). Still have the prog. And Newport won 32-46. Thanx for the memories Ray-have a pint of cider for me up in heaven!!"
Alan Pennington:

"It was pleasing to get two replys about my article on Ray Harris from Geoff Langley and Bob Bath. It is nice to know that at least three of us remember the old chap! Ray scored 3 points at Hackney's W.C. Round and yes he was considered to be a very fast gater, which sadly meant he got overtaken a lot. The meeting Bob Bath recalls, I remember seeing the report with the name of Ray Harris with 7 by his name and it really made my day back then, he only rode four times that season. A friend of mine, in the late nineties I used to see Ray at Steam Rallies and he always used to talk of his days at Sun Street, he even took his scrap books for him to see. I'm green with envy - He said he loved the Stoke people and kept in touch with some up to his death. He was also very popular at Newport as well. Ray told my mate his proudest momement in speedway was partnering Alby Golden in winning the Newport Best Pairs in 65. This was the last meeting of the season and Ray retired. Therefore Ray Harris retired a Champion! A nice thought, a nice man."
John Hyam:

"Ray Harris may have dropped out of speedway in the late 1950s when many tracks closed, but he did race regularly on the grass in that period - a formula he was always involved with. One of his travelling companions on the grass at that time was Bill Bridgett, another familiar name at Stoke over the years. Also, in the late 1950s Ray had a spell with Swindon and also raced in Holland and Germany quite a few times. He was especially popular at the Bremen and Oldenburg tracks in Germany where travelling companions over several seasons included Tommy Sweetman, Colin Gooddy and Pat Flanagan."
Julia Ashton:

"I was sat with my Great Auntie Dot today (Ray Harris's wife) and she mentioned something that made me Google Uncle Ray's name and this page came up. I read it out to her and am going to print her a copy of your article for her to keep. There were a few tears in the room and it certainly made an elderly lady very proud and happy to know that someone had such fond memories of Uncle Ray. Thank you so much, we were so pleased to find this. "
John Hyam:

"It was nice to read that Ray Harris' wife Dot is still alive. I remember her travelling with myself (as a reporter), Ray Harris, Pat Flanagan and Colin Gooddy to two speedway meetings in Germany (must be 1956 or 1957). They were international events at Bremen and Oldenburg with Polish, German and Dutch riders in action. Ray was very much the star of both meetings as I recall. He was great personality on and off the track."
Alan Pennington:

"I've just seen Julia Ashton's reply to my Riders I Remember article on her great uncle, ex Stoke Rider Ray Harris [My first hero]. Back then I was only a child and never spoke to Ray [I was never pushy] but I did speak to his wife Dorothy a few times while Ray unloaded his bike.It fascinated me because she always did the driving. I remember her being a very nice lady who took the time to talk to us kids. I am glad my article pleased her, Ray was a lovely man and people who I know now who knew them said they were a perfect match."
Alan Barnett:

"Following Alan Pennington's comments regarding the late Ray Harris, I had the pleasure of seeing Ray during the last three seasons at Sun Street before closure. As a long time friend of Alan's, I thoroughly endorse his comments on this well loved rider. He may have been an unorthodox type of rider to look at, but every team needs this kind of stalwart in their ranks, and having watched Ray on many occasions I was certainly not alone in having a soft spot for this great team man. Sport could do with more of his kind, he just got on with his job, and will be remembered with reverence along with all the 'Potters' of Sun Street."
Eileen Bates:

"I went to Swindon speedway during the second half of the 1950's. My first meeting was at Leicester in 1955. But my home team was Swindon, as we lived at RAF South Cerney. Every Saturday my brother and I stood waiting for the bus into Blunsdon. Ray used to stop and give us a lift to the track! He was such a lovely man, and when my father went on a course in Hereford, he called in on Ray. He wasnt a big star, but he was our star, to my brother and me."
David Bostock:

"An enjoyable article about a really honest rider. I saw him 1960-3 riding for Stoke and always giving of his best."

[ Use Mobile Version ]

Comment on this Article | Contact Us | Go Back to Main Menu