Riders to Remember: Ray Moore
By John Hyam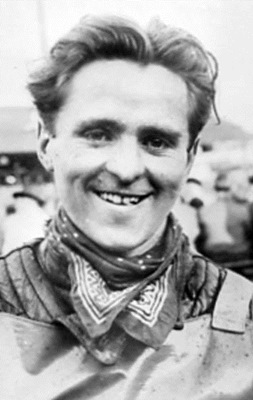 Ray Moore
THE 1950s should have been the golden era in the career of Ray Moore. Instead it was a period of disappointment for both the rider and his supporters.
From the start of speedway's resumption at New Cross in 1946, Moore had been groomed for stardom by promoter Freddie Mockford and Australian star Ron Johnson. Both saw a potential place for Moore as one of the sport's leading riders.
In just two seasons, Moore achieved international status, riding for England against Australia in a 1948 test match on his home track. In his first race he chased home the great Australian star Vic Duggan for a creditable second place, then won heat nine from partner Split Waterman after a disastrous race for the Australians. Bill Longley fell but remounted while Max Grosskreutz fell and failed to finish.
In his third season, Moore was on a near seven points average and a member of a National League championship winning side. But in 1949, there were also small signs that consistency was going from his riding - he ranged from double figures to nil returns in his matches.
And then what may have been the significant factor in Moore's decline happened. His close friend and mentor Ron Johnson crashed and fractured his skull at Wimbledon late in the 1949 season. After that, Johnson was but a shadow of his former self while, at the same time, the story-book hopes that Moore would be one of England's best rider in the 1950s began to unravel.
It has never been established if the serious injury to Johnson had any effect on Moore's own attitude to the sport. But his decline as a leading rider was rapid in the early years of the 1950s.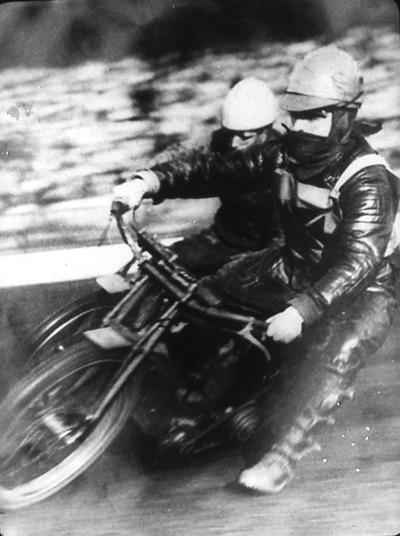 Ray in action for New Cross
At the end of the season he was marginally below a five points average, and in the early part of 1951 he was struggling to stay above four points. It was form that saw him drop finally out of speedway's big time when he moved on loan into the National League Division Two with Fleetwood. The desired move to help rekindle his old promise did not happen - and he struggled to a near 2.5 average.
That Fleetwood form should have been a signal for Moore to bow out gracefully from a sport in which he had promised so much. As in boxing circles, the chance of a major come-back went Moore's way when he started the 1952 season back in Division One with Norwich. But there was no story-book return to the big time. He started in 13 matches but could only average 2.71 points. There was yet another parting of the ways with a club for Moore.
For his part, Moore was confident the old rich magic of the 1940s would fulfill itself for the 1950s and in 1953 he moved into the sport's third tier of racing with Oxford in the Southern League. He finished his only match for the side without scoring and bowed out of the sport.
Seven years later at 38 years of age, Moore made one last bid to fulfill what he regarded as his potential to be a star rider. It was 1960 and his old club New Cross had reopened under the promotion of Johnnie Hoskins. In pre-season practice, Moore looked sharp and, as he had done throughout his career, was using good equipment. But he failed to make any impression in his only match and on the advice of Hoskins again retired.
From speedway, Moore switched to big circuit car racing and soon created an impression as a four-wheel performer. It all ended in tragedy on April 21 1964 when he was killed racing at the Oulton Park track.
It will probably remain as one of speedway's great mysteries why a speedway career that had initially promised so much for the 1950s should have just faded away. The 1949 injury to Johnson and his subsequent decline as a leading rider reason may have been a sub-conscious reason for Moore's decline over the first part of the 1950s. That, of course, is pure conjecture.
This article was first published on 17th September 2017
[ Use Mobile Version ]
---

Shaun towler:

"Hi, I'm a family member of Ray, which is his middle name! his first name is Cyril. Also his death was March 21st 1964 (year I was born) Not April!!. Hope this helps, Always loved the stories of him from my Nan, & my Mother who stills talks about him."

Comment on this Article | Contact Us | Go Back to Main Menu