We Had Joy, We Had Fun
By Arnie Gibbons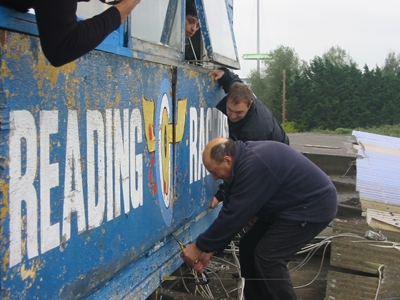 The End of an Era
After Dave Mullett completed the final four laps of the Smallmead track fireworks rounded off the evening. I stood near the exit as the sky lit up and the sound of 'Seasons in the Sun' filled the arena. At this point I gave up trying to hold in the tears. As I sobbed away, I looked to my left; and standing there unobtrusively was Anders Michanek. With a small smile we acknowledged each others presence and then 'Mighty Mich' turned and walked through the gates.
'Ladies and gentlemen Anders Michanek has left the building'. And at that moment I knew it was all over.
From a personal perspective the opening lines of 'Seasons in the Sun' made it the perfect accompaniment to the final moments of Smallmead.
'Goodbye to you my trusted friend
We've known each other since we were nine or ten'
I was indeed ten when I first got to know my one true love - the Reading Racers. It was love at first sight (and first smell). She was young, vivacious, brash and exciting to spend time with. Admittedly I wasn't always faithful. I spent 17 years living in the Midlands and the Long Eaton Invaders provided a rival for my affections. But I always came back to my first love. We shared the highs - drinking champagne from the knock-out cup with Pat Bliss and Jeremy Doncaster at Bradford in 1990. And we shared the lows - sitting on the steps of Hackney hospital in on 16 July 1982 as Denny Pyeatt fought for his life. I even forgave her when she had a mid-life crisis and exchanged the 'Racers' tag for the 'Bulldogs'.
Those memories, and many more, were recalled on Smallmead's final evening. The racing was fairly incidental, although an undistinguished field did provide some good on track action. Ulrich Ostergaard was a popular winner. With Reading's reputation for nurturing Swedes it was fitting that the stand out rider on the final night was an ambitious youngster from Sweden - Linus Sundstrom.
The Racers legends (including Swedes Anders Michanek and Tony Olsson) took centre stage. But for me the greatest thrill came from talking to some of the lesser lights. Mike Vernam and John Hammond may not be the first names that come to mind when the Racers are mentioned but they were the first two Racers to come to the tapes on that fateful night - 5 October 1970 - when I met my destiny at Tilehurst. I was able to tell them of the special place they occupied in my memories. In the interests of historical accuracy I should point out that both riders failed to finish gifting Eastbourne a 5-0. (That first race was won by future Racers Dave Jessup.)
Despite that start Racers went on to beat Eastbourne with Richard May recording a 12 point full maximum to establish himself as my first hero. Of all the compliments I have received for 'Tears and Glory - The Winged Wheel Story', Richard's have been the most effusive. I found it very humbling to hear the praise from my first Racers idol in person.
I've usually kept my idols at arms length. I was happy to watch their on track heroics without trying to become their drinking buddy. For some of the legends it was the first time I had ever spoken to them. I was able to thank them for the many happy memories they had given me, but it seemed such an inadequate response.
Mark Legg was another person I sought out during the day, to thank him for the extra 1 and a half seasons that he had given us after the Bulldog implosion. Mark and Malcolm Holloway did a good job on the 'End of Era' meeting, largely by sticking close to the template established by Exeter` whose 2005 farewell set the gold standard for final meetings.
There were plenty of Racers specific touches - the Dave Lanning race commentary reminded me of childhood Saturday's watching 'World of Sport' and the Racers triumphant 1980 season. The presence of 'Diddy' David Hamilton provided a reminder of another championship winning season - 1973 when he was the Tilehurst announcer. David seemed enthused and animated throughout the day.
There were plenty of tangible reminders of the past on display as fans came with old race jackets, programme boards and other artifacts. I've not seen John Davis's seven-incher for nearly 30 years. (7 inch black vinyl singles now seem pre-historic.)
While the meeting celebrated Reading's many successes the evening wouldn't have been complete without remembrance of the sad times. A minute's silence for all those associated with Reading speedway who had lost their life gave me time to contemplate - not just the loss of Denny Pyeatt and Geoff Curtis but also Josef Angermuller and Kevin Holden (who was killed riding against Reading). My thoughts didn't stop there: Peter Arnold (Reading's first announcer who died in a road crash travelling home from Tilehurst), Dick Bailey (Racers first team manager) and Bill Dore (who in 1974 joined Reg Fearman in the project to build Smallmead in the middle of an economic crisis - let's hope Grosvenor casinos show similar boldness).
My thoughts strayed even further - to those who shared my passion for the Racers. People like Edna Chandler, a comforting maternal presence on all the away coach trips of my youth. And people like Leroy Hall, one of my companions on those trips who left us suddenly.
No farewell meeting would be complete without the final walk of the track. I came prepared with plastic bags for my souvenir scoop of Smallmead shale (cue jokes about the difficulty in finding any on the infamously slick track). At the end of the lap at the starting gate I met a woman holding the 'Geoff Curtis Bar' sign. Like everything about Smallmead the sign was faded and the paint peeling. The sign's owner, a charming lady called Anne had been Geoff's girlfriend at the time that the shocking news of his death made its way from Australia via the pre-historic telecommunications system of 1973. She hopes that it will be displayed in a new bar at the new stadium in 2010.
So finally after another hour or so in the bar it was time to leave. I'd arrived at 2.45pm, more than three hours before the meeting's start to find queues at the gates. It was a joy to see Smallmead packed once more (just a shame the back straight couldn't be re-opened for the night). A crowd of 3,000 - 3,500 (my estimate) contrasted with the sub 500 crowd two weeks earlier against Redcar. By the time I left, just before midnight only the stragglers remained. I said my goodbyes in the car park to Mick and Pete, like me veterans of 1970s away trips, as we tried to instil some optimism into our speculation about the future.
While I loved the harmonies of the Mamas and the Papas I never really felt that 'Monday Monday' was appropriate to Smallmead. The much loved tune did receive an airing on the final night, and the couplet:
'But when every Monday comes around
You'll find me a-cryin' all of the time'
suddenly fitted the mood. From now on you'll find me shedding a little tear when Monday comes around.
---
Arnie's history of Reading Speedway - Tears and Glory, the Winged Wheel Story - is still available from the Reading Speedway Website for £15 (with free p&p for orders to UK addresses).

This article was first published on 30th October 2008
---

Gerald:

"What a wonderful story of high's & low's. A true tale of one's love & passion for this addictive sport. Memories of heroes in a polite private acknowledgement of ones presence. And the oh so sad story of the lady gathering shale with her beloved's name badge. My heart goes out to all of you Racers, but take heart that you will be back soon. We however, may not be so fortunate. 'Ommer Um Cradley'. Gerald."
Annie:

"A very well written article and sums up what a lot of people must have been feeling that day. I only wished I could have been there but whatever happens those days of Smallmead will stay in my memory forever. Mostly happy days and all those friends I have met along the way. We have a lot to be thankful for and I just hope that the new stadium does happen. Thanks Smallmead."
Terry Stone:

"I did enjoy your article. The 'Men in Black' rode at the last meeting at Reading. We hope that all the fans enjoyed our races as much as we did. I rode at the old track at Tilehurst for Rayleigh Rockets and remember it well. Thanks to all the fans for their welcome. We at Rayleigh lost our track, hope you get yours back and we can come back some time to race for you again."

[ Use Mobile Version ]

Comment on this Article | Contact Us | Go Back to Main Menu