Red Monteith
Bill Elliot recently acquired some items from the collection of the late Jack 'Red' Monteith. Red was a popular reserve at both Glasgow White City and Old Meadowbank in the fifties and sixties. We're delighted to be able to share some of these items with you.
Red (centre) with a couple of colleagues. Get in touch if you recognise them.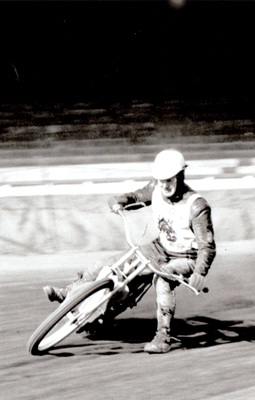 Red in action at White City.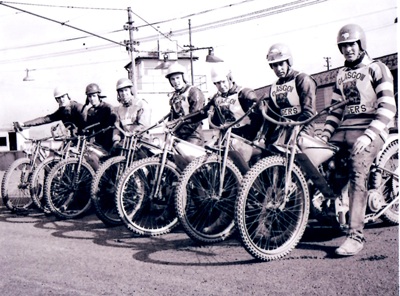 (l to r) Bill McNeil, Eric Hanlin, Bill Landels, Bill McMillan,
Red, Joe Hicks, Bruce Ovenden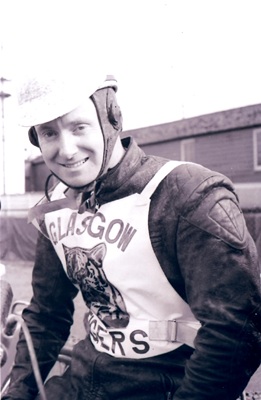 Red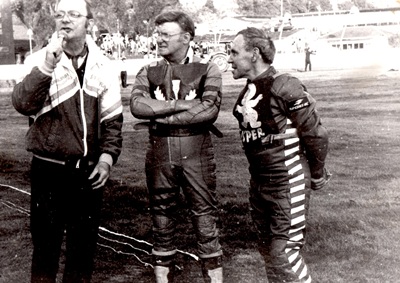 Red and Ken 'Casper' Cameron at a veteran's demonstration at Powderhall in 1988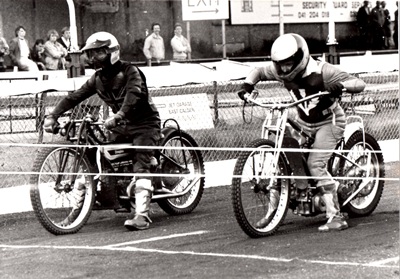 Brian Bassett and Red at the Powderhall tapes in '88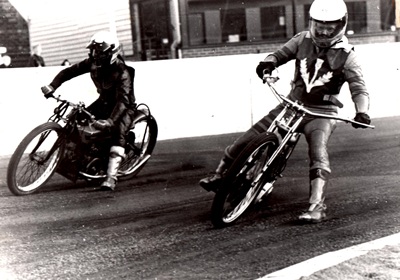 Brian and Red enter the third bend at Powderhall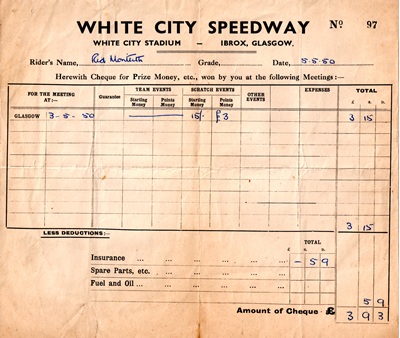 One of Red's payslips from White City.
This article was first published on 28th April 2011
---

Jim Henry:

"Re first photo. The guy on the left I think is Bill McNeil who was a junior at Motherwell."
Lee Morris:

"Thanks for sharing these great old photos. Am I correct in saying that Glasgow speedway honour Jack (Red) Monteith by choosing a reserve race to be run for the Red Monteith Trophy, with the winner receiving a very handsome inscribed silver plate?"
Matt Mckie:

"The Jack "Red" Monteith memorial salver was donated by Chemtec UK, Jack's employer at the time of his death ( 12th Jan 2010 ) The salver is awarded to the winner of the reserve's race ( Spring trophy Glasgow v Edinburgh ) Matt McKie , work colleague of Jack and Glasgow supporter."

[ Use Mobile Version ]

Comment on this Article | Contact Us | Go Back to Main Menu