Reg Fearman : Right of Reply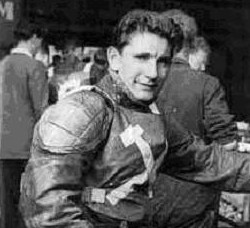 Reg in 1949
Reg Fearman was unhappy with some comments made in our 'Recent Feedback' section of the site. We repeat these comments today and Reg's reply.
John Bailey said
"I remember Reg being at Long Eaton in the 60's and when he arrived at Station Road on race days and if the weather forecast was bad and he had taken out insurance against being rained off it was off quicker than lightning but if he had no cover the meeting was on at all cost. It was all hands to the pumps and sawdust came out of every building that was dry.
One occasion the meeting was Long Eaton v a Polish touring side and all the track staff had a bag of sawdust to spread on the track. This started and the bags were cut open and its contents spread on the track, but there was one problem it was wood shavings not sawdust. It did the job and there are photos about of a Polish rider (possibly Zenon Plech) riding in what looked like a snow storm.
Happy days and in them days Promoters like Reg promoted and you got two and a half hours of entertainment. There was always a second half when the top riders from both sides raced for a sponsored heats and final (the cash was usually split between the 4 finalists). Everyone went home happy. I remember an Elite track 2 years ago which started the meeting at 7.45 pm and at 8.30 the promoter ordered a long track grading to make sure the meeting went past the hour with an entrance fee of £12. If only we could have the old times back with just great riders not over paid icons."
Rik Trense said
"Geez... Reg Fearman is a name that I have not heard of for more than sixty years and with all respect to Reg as he has done marvellous things with his life for speedway since the early days of his career.
But you know what boys are and Reg was both envied and ridiculed for his novice rides for West Ham. He used to proudly display his speediron on the concrete entrance to his prefab where he lived.
He would spend hours polishing it up and posing with it and there must have been a hundred guys, that were avid cycle speedway stars in their own right, that reckoned given the chance, they could lick the pants off of poor old Reg.
It was either during the interval or after the actual match that the novices were allowed out on the sacred cinders of West Ham to hack their way round and try not to fall off. Howdy Byford was one of the up and coming novices, along with Reg.
The Royal Navy took my attention for the next 12 years and Korea was a full time job whilst Reg was coming to fame.
However it is nice to read about old times and acquaintences especially as the sun is setting on our lives.........."
Reg Fearman's Reply
I have recently accessed the SpeedwayPlus website and was disturbed to find that I have been seriously maligned in two e-mail letters relating to the Reg Fearman Interview by Steve Harland.
In fact, I find them most derogatory and defamatory. The first one by John Bailey, alleges that I took money by false pretences during my promotion at Long Eaton 1963-67 inclusive. At that time, John Bailey was a snotty-nosed kid hanging around the speedway on a Tuesday and had no inside knowledge whatsoever of whether or not a meeting was insured against rain (pluvius). I find his remarks extremely distasteful. In fact, only the first and last meetings of the season and BSPA events - if any - were insured against loss.
Sawdust was used on many occasions by British promoters, copied from Poland originally, and on one occasion we did have wood shavings delivered by mistake.
With regard to the second correspondent, I could either ignore his comments and treat them with the contempt they deserve or put the record straight. I have chosen to do the latter.
Rik Trense is a liar and a blackguard. He says he hasn't heard of me for over 60 years - when I was 12 years of age or younger? - strange. Where has he been for the past 50 years? He obviously missed my speedway career 1949-1985 as an International speedway rider, Chairman of the British Speedway Promoters Association Division 1 and Division 2 for 12 years, England and Great Britain Team Manager including two tours to Australia 1973/74 and 1977/78 and President of the Veteran Speedway Riders Association.
I did not live in a prefab. let alone polish my speediron in public on a concrete slab; No. 137 New City Road, Plaistow, E13 was never bombed. My parents, sister and I lived there from 1933-1954 so Mr Trense has got it so very wrong.
Envied I may have been but I am sure not ridiculed. After-meeting practice did not take place in my time at West Ham. Practice was 6.30 am to 8.30 am on a Wednesday morning after the Tuesday night meeting. Team members and juniors including myself availed themselves of those two hours.
I, too, was a cycle speedway rider 1946/1947. Howdy Byford was not one of the novices in my time but an established team member.
Mr Trense says that the Royal Navy and Korea were a full-time job for him. I, too, saw service in the Royal Artillery 1951-1953 and in fact was on the Korea Draft but as my extraordinary qualities were recognised, I was taken off the draft and helped to train other intakes for Korea and elsewhere.
He also suggests I am an acquaintance. Nothing could be further from the truth. I suggest Rik Trense puts the snaffle bit between his teeth, clamps it real tight and keeps his mouth shut on matters he knows sweet f.a. about.
The sun might be setting on Mr Trense's life but it certainly isn't setting on mine.
---
John Bailey's Reply
I would like to reply to Reg Fearman's comments regarding my experiences at Long Eaton. Firstly I was not a "snotty-nosed kid", in fact I was a mug it would seem, in my twenties who helped put down and lift the sheets on the dog track (for nothing). I was one of the 4 or 5 people who went on the track at 6am (after a meeting) before going to work to sweep the shale off the dog track (for nothing).
I was one of the track staff (starting gate) who purchased my own overalls and kept them clean to look the part at every meeting (for nothing). I was one of the mugs who got covered in dust sweeping the pits area before a meeting (for nothing). I was one of the few who helped put things tidy after Stock Cars (for nothing).
My late mother sold programmes on the Station Road entrance and became very friendly with your late wife Joan and they spent a lot of time talking in the office and she told me when meetings were off or on and insurances were mentioned on a number of occasions.
If you had read what I wrote regarding you, wet meetings and the sawdust, in no way have you been seriously maligned or were my statements derogatory or defamatory. I in no way either thought or suggested that you took money under false pretences, in fact if you read what I said properly you would see "happy days when promoters like Reg promoted and you got two and a half hours of entertainment".
I then went on to talk about 2nd halves and "everyone went home happy" concluding "If only we could have the old times back with great riders not over paid icons".
I do not see anything in my comments against you in any way, quite the opposite. I have always classed you as a friend but maybe I was wrong. I take exception to your comments and I would remind you Reg that if it was not for the so called "snotty-nosed kids" and other mugs maybe you would not be as comfortable as you are today in the sun.
---
Reg Fearman's Reply
John,
Of course we are friends. You were no more a snotty-nosed kid in my days at Long Eaton than I was a cheat insofar as I was cancelling speedway meetings for the pluvius insurance money. You were one of the many appreciated volunteers who helped out at the speedway. If it wasn't for the volunteers many of the less successfully attended tracks would not have survived and I suppose the same goes for today's speedway some 40 years on. The volunteers are there, doing what they can for the survival of their speedway as you did and others back in the 1960's.
My late wife, Joan, as my right hand in all our business activities, had that wonderful disposition that she was friendly to your mother and indeed to everyone - the rich, poor, healthy and especially those failing in health. Having said that, she would not divulge inner sanctum information to anyone. She would be the last person to let her left hand know what her right hand was doing.
I have to say that I appreciated in your e-mail the accolades you gave regarding my promoting skills.
I am a great believer in destiny in that our lives are mapped out for us from the day we come into this world and one way or another I would be "living comfortably in the sun". But perhaps that I took risk, opportunity, and put my money where my mouth is and worked for 47 years (38 in speedway) also has something to do with it. My promoting days at Long Eaton were torturous insofar as the stadium was run down and the track was shared with stock car racing. On a Sunday morning, after a stock car meeting, I would arrive at the stadium at 7.30am with my own gang and start to repair the track - holes the size of craters - and pick up pieces of car wreckage which included nuts and bolts which could be so dangerous to a speedway rider. To see the damage was soul-destroying and for only 2,500 to 3,000 people turning up for the speedway each Tuesday. Rememer the 1960's were the halcyon days of speedway and attendances. I believe it was the winter of 1965 that I had contractors come in and excavate both bends and relay a base of limestone at great expense. It made the "pain" more bearable on a Sunday morning after the Saturday night stock car meeting. What a relief when we were able to transfer the operation to Leicester Stadium in 1968 (operated by Charles Ochiltree's Midland Sports Stadiums Ltd) - a smart stadium, well-cared for and with a speedway attendance to die for of more than double that of Long Eaton. With crowds like that, it made one feel that one's promotion was appreciated.
Reg Fearman
2 February 2006
This article was first published on 20th January 2006
---

Dudley Jones:

"I was most dissappointed to see the remarks about Reg Fearman. I have been a supporter of speedway since 1962, at Norwich, West Ham, Rayleigh, Ipswich, Kings Lynn and occasionally at Hackney,Somerset, Poole, Cradley, Swindon and Coventry...and Long Eaton.

Reg, like Len Silver, Charles Ochiltree and others, have immensely enriched my life because they put their money on the line to give us all the sport we love. Reg has, I believe, achieved much more in his life than most of us, and I believe that in retirement in France, he probably still achieves more than most of us - and enjoys it.

Well done Reg, and thank you for the years of pleasure seeing your teams in action. Long may you continue."
Colin Mackie:

"After reading the above article, I must request that you please don't allow SpeedwayPlus to go down the road of a number of speedway websites where people just want to throw mud at one another. I've always found the site to be very entertaining."

[ Use Mobile Version ]

Comment on this Article | Contact Us | Go Back to Main Menu