Speedway Researcher Update
By Jim Henry
Jim Henry brings us up to date with recent developments at the Speedway Researcher website.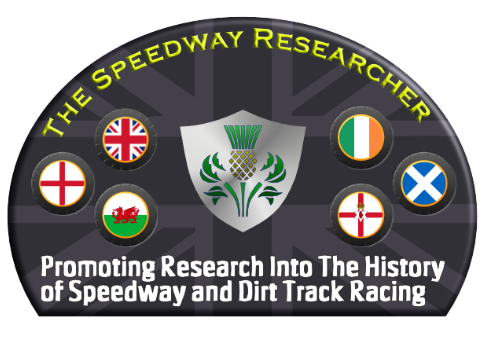 Over the past few months the contents of the site covering the pre - war years have been significantly revamped. The revamp has been based on the massive amount of work undertaken by Bob Ozanne. Bob, assisted by Allen Trump, compiled a very comprehensive set of details for official fixtures e.g. National League, NationalTrophy and ACU Cup.
Bob has also been working on Belle Vue records and, in partnership with George Carswell, has pulled together details of the Manchester riders activities in South America in the pioneer days.
Sadly Bob has decide to step back from his leading role in the pre war section and Keith Corns is taking over Bob's lead role. Those interested in pre war Speedway owe Bob a great debt of gratitude and I would like to record my personal thanks for his massive contribution to the web. Thankfully Bob is to continue with contributing to the site as it would a sore if he packed in completely.
Bob and George are currently working on more details of the Manchester men in South America. Elsewhere on the web the compilation of gaps in the war time Belle Vue data shows a fairly short list and the. National League gaps continue to close.
In recent days the details of the Wombwell 1948 British Championship round have been added together with details a previously unknown meeting at California in 1953.
Work also continues on the era 1965 onwards as a number of contributors lead by Steve Wilkes and Gary Done regularly find more details.
Finally for now I would like thank Gramham Gleave for all his great work trawling through newspapers in the north unearthing long forgotten details of tracks like Salford and Liverpool Seaforth.
I would also like thank everyone who has supplied me with information which extends the details carried in the web site. Your efforts are really appreciated even tho they may not be openly acknowledged in the public domain.
A Merry Christmas and great New Year to everyone contributing to the Speedway Researcher site and to speedway folks everywhere.
This article was first published on 22nd December 2019
[ Use Mobile Version ]
---

Jim Henry:

"I was just thinking that speedway fans stuck indoors due to the current lockdown might wish to make productive use of their spare time. The Speedway Researcher web site is worth a look if you want to relive meetings of the past. The site still has many gaps in its records and it would be fantastic if anyone with a collection of programmes could provide information which will fill the gaps. No offer of help would be turned away. "
Jim Henry:

"As the Covid shutdown continues we at The SpeedwayResearcher web site continue to add to the records of speedway racing in the UK. Work is progressing on the more recent era and it is hoped that the 1981 season details will be added in due course. Work is progressing apace on the pre war era but there are still a fair few gaps to fill.

Often we have details of the race 1 - 3 and heat times and are seeking the 4th placed man. Second half details are often a bit sketchy and need to be completed. Can you help us fill these gaps? If the answer is yes - we would love to hear from you.

We currently have list of the information we are seeking for 1938 and 1939 seasons? Hopefully we will be producing needs lists for 1937 in the very near future and a needs list for 1936 is quite well advanced. We are quite happy to acknowledge any help but, equally, we do not disclose sources if you wish to remain anonymous . The Speedway Researcher web site has recently introduced a feature called collectors corner. See the site for details. As ever - any help is welcome."
Jim Henry:

"Hi. Still bored with Covid? We have now needs lists for meeting details in the UK 1933 - 1939 on The Speedway Researcher web site. Any help to fill gaps would be welcomed. On a different note - the visits to Argentina in the pioneer days by riders from Manchester are available on The Speedway Researcher website. The credit for this very fulsome record as to go to George Carswell who worked with Bob Ozanne. Much of the information has been drawn from contemporary sources in Argentina which George has had translated into English. This is an amazing bit work which deserves to be better known."
James McGinty:

"Well done Jim Henry. Nice memories of when the speedway was in Coatbridge. Great work."

Comment on this Article | Contact Us | Go Back to Main Menu