Roger Abel - You Have Two Minutes
By Tracy Holmes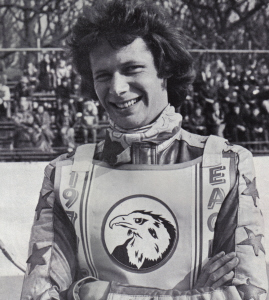 Roger Abel
Tracy Holmes puts Roger Abel 'On Two Minutes.'
What are you up to these days?
Still working for 'C.W.F Hamilton Marine', still riding my Triumphs, have just finished building myself a jet-boat.
How's the health?
Excellent, still fighting fit!
Any family stuff you would like to share?
Still married to Jill [32 years now], 3 children, the oldest Jonathon followed me into speedway but has taken up road racing now. Our daughter is working for 'Spec Savers' and our youngest son is back to the States to do a Ph D in plant science. No grandchildren either. Jill and I often go out on our Triumphs. So still 'Bike Mad' and long may it last !!
Do you see much speedway these days?
Yes, I go out to Moore Park, go down to Invercargill to watch the Bert Munro.
Do you have speedway projects on the go?
I have a 2 valve Jawa that I am wanting to restore, time willing!
Any message for friends and fans?
If in Christchurch, look us up, we have spare rooms now the kids have left. Still have English mates coming out to catch up after 30 years, life is great !
Good for you Roger, get that Jawa restored and get slidin...
This article was first published on 9th April 2012
[ Use Mobile Version ]
Comment on this Article | Contact Us | Go Back to Main Menu