Ron Butcher
By Robert J. Rogers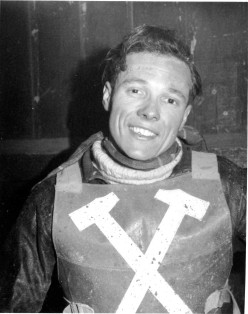 Ron Butcher
One of the strange but wonderful things about the internet is the fact you can have friends in many parts of the world that you have never met, Ron was one such of these. Ron Butcher was a Speedway Rider, and even better than that a West Ham rider!
I am sure Ron would be the first to admit, not one of the top flight, but one of the many 'Second Strings' who are the Backbone of this great sport of ours.
He was introduced to me about 18 months ago via the internet by another ex-Hammer Reg Fearman who he rode with and against and who went on to manage an English World Cup Winning Team, still sadly a rarity in our sport.
We become great friends and I would tell stories of the Fun and Games with the Lakeside Hammers and keep him up with the goings on in Modern Newham, and he would tell stories of the Fun and Games with the West Ham Hammers in the 1950's and stories of the West Ham Area.
He would talk of his friends, people I considered heroes.
He rode with the best, he rode with Jack Young, the twice Australian World Champion, captain of West Ham and the man voted when Speedway ended at West Ham back in the early 70's as the overall No1. West Ham Rider.
I suggested to him that the Speedway Museum History Website would love to hear about his escapades and he was sending regular chapters from his memories.
These stories brought to life the Greats of West Ham, the good times, and sometimes bad, but always fantastic stories which brought many both on and off the track to life.
I received one morning one of these wonderful e-mails, but for some reason, the last bit of the message was missing, so blaming the Computer for cutting Ron short, I waited for the rest of the e-mail to arrive later.
Sadly what did arrive was the e-mail you do not want to read,
"Hello. This is Stephen Reid, Ron's son in law. I regret to have to tell you that Ron passed away this morning. Terri and I came round after he hadn't answered the phone and I found him."
Ron, I am sure you are now at the Big Track in the Sky, and swapping stories with your fellow Greats of the Sport.
RIP Ron, and one last time, UP THE HAMMERS!
You can read more about Ron on the Custom House Years website.
This article was first published on 28th July 2013
[ Use Mobile Version ]
Comment on this Article | Contact Us | Go Back to Main Menu